Best Student Loan Consolidation Rates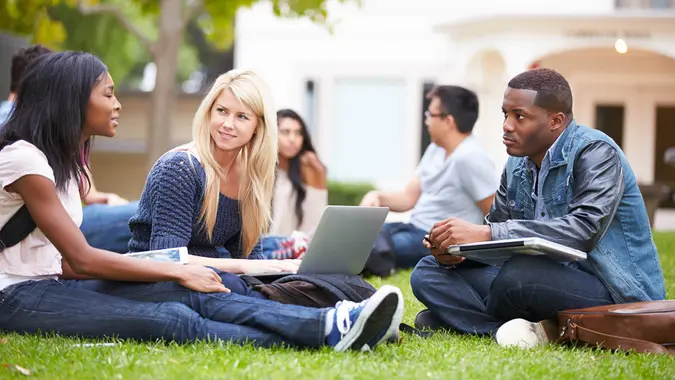 Monkey Business Images / Shutterstock.com
Many college students graduate with loan debt, sometimes from several different lenders. One way to improve your financial health is to consolidate your student loans. When you consolidate your student loans, you combine several federal student loans into a single loan. A new lender pays off the existing loans, and you pay only one monthly fee to the new lender.
GOBankingRates compared rates offered by various student loan consolidation companies to determine which provided the best rates. Review the table for a quick overview of available options, and read on to learn about the best student loan consolidation rates.
Best Student Loan Consolidation Rates
Lender
Variable
Rates
Fixed
Rates
Loan Amount
Range
Average
Savings
SoFi
2.54% to 7.38%
3.25% to 7.13%
$5,000 to full balance of qualified education loans
N/A
LendKey
2.56% to 7.94%
3.15% to 8.12%
N/A
$16,000
Earnest
2.57% to 5.87%
3.25% to 6.32%
$5,000 to $500,000
$21,810
Education Loan Finance
2.69% to 6.01%
3.09% to 6.69%
$15,000 minimum, no maximum
$26,215
CommonBond
2.72% to 7.27%
3.14% to 7.25%
$5,000 to $500,000
$24,046
College Ave
2.75% to 6.95%
3.5% to 7.5%

$5,000 minimum $250,000 maximum for those with medical, dental, pharmacy or veterinary doctorate degrees $150,000 maximum for all other undergraduate or graduate degrees

N/A
Laurel Road
2.8% to 5.9%
3.37% to 7.02%
$5,000 minimum, no maximum
$20,000
Information accurate as of May 2, 2018.
Related: 10 Best Private Student Loans
7 Lenders With the Best Student Loan Consolidation Rates
Whether you choose a variable rate or fixed rate option when consolidating your student loans, you will have to pay interest on any loan you take out with your new lender. Fortunately, there are several companies who provide competitive loan consolidation rates, with some offering rates as low as 2.54 percent. For each of the lenders in GOBankingRates' list, the terms range from five to 20 years, except for College Ave, which has a term range of five to 15 years.
Keep reading to find out more about the seven best lenders for student loan consolidation.
1. SoFi
If you refinance your student loans with SoFi, you'll pay no prepayment penalties or hidden fees. You can get pre-approved online in just two minutes, and you can select your rate and term to choose between saving on your monthly payment or saving on total student loan interest. You can refinance both federal and private student loans with SoFi. To be eligible for SoFi consolidation loans, you must be a U.S. citizen or permanent resident, and you must be employed or have another source of income. You also must have graduated with an associate's degree or higher from a Title IV school.
2. LendKey
LendKey allows you to refinance your federal and private student and graduate loans into one loan, which can help to simplify your finances. There are no origination fees when you refinance through LendKey. LendKey offers flexible repayment options, including the option to pay interest only for the first four years. You can also save an additional 0.25 percent on rates if you sign up for automatic payments. To be eligible for student loan refinancing with LendKey, you must be a U.S. citizen or permanent resident. Refinancing is only available to applicants with qualified private education loans from an eligible institution.
3. Earnest
With Earnest student loan refinancing you can tailor your exact monthly minimum payment, increase your payments at any time to pay off the loan faster, choose bi-weekly payments to save on interest, make extra or early payments without fees, defer a payment and consolidate your private and federal student loans. Earnest analyzes each applicant's full financial profile and offers competitive rates based on your qualifications. You can receive your estimated rate within just two minutes. To be eligible for Earnest student loan refinancing, you must be a U.S. citizen or permanent resident, be employed or will be employed within six months and have a minimum credit score of 650.
4. Education Loan Finance
You won't have to pay application fees, origination fees or prepayment penalties with Education Loan Finance's student loan refinancing. In addition to competitive rates, you might also qualify for cash bonuses. If your loan is approved and you accept the refinancing offer within 30 days of your initial application date, you'll receive a $100 Fast Track Bonus. You also can receive $400 if you refer a friend and they refinance their loan with Education Loan Finance. To be eligible for student loan refinancing, you must be a U.S. citizen or permanent resident and have graduated with a bachelor's degree or higher. Your interest rate is based on your credit history, repayment term and other factors.
Read: 15 Ways to Pay Off Student Loans
5. CommonBond
In addition to variable-rate and fixed-rate loans, CommonBond offers a hybrid rate. If you choose the hybrid rate, your loan term will be 10 years; rates will be fixed for the first five years and then variable for the next five years. APR rates with the hybrid option range from 4.11 percent to 6.26 percent. Choosing a hybrid rate might minimize your interest rate, monthly payment and total interest. No matter which rate plan you choose, you'll pay no origination fees and no prepayment penalties. And with the CommonBridge program, you can temporarily postpone payments if you run into financial difficulties. To be eligible for CommonBond student loan refinancing, you must be a U.S. citizen or permanent resident who graduated from one of the 2,000 Title IV universities or graduate programs that qualify.
6. College Ave
With College Ave's student loan refinancing, you can begin making full payments right away or pay only interest for the first two years. The application takes only three minutes, and you'll receive an instant credit decision with no application fees. If you are a Nationwide member, you are eligible for lower APR rates: 3.25 percent to 7.25 percent with fixed rates, or 2.5 percent to 6.7 percent with variable rates. There is also a 0.25 percent auto-pay interest rate reduction.
7. Laurel Road
There are no origination fees and no prepayment fees with Laurel Road's student loan refinancing. Laurel Road also offers financial hardship support and an auto-pay discount. In addition, you can earn up to $400 if you refer a friend and they refinance their student loan with Laurel Road. To be eligible for student loan refinancing with Laurel Road, you must be a U.S. citizen or permanent resident who graduated from a Title IV accredited institution. Loan eligibility depends on lending criteria including your credit profile, monthly income and monthly debt payments.
Find Out: 6 Things to Know Before Refinancing Your Federal Student Loans
Consolidating Federal Student Loans vs. Private Student Loans
When you opt for student loan debt consolidation, you can extend the loan term, choose an alternative repayment plan and/or switch from a variable interest rate to a fixed interest. However, by extending the loan term, you could end up paying more in interest. You might also lose borrower benefits that came with the original loan, such as interest rate discounts or principal rebates. Once you consolidate student loans, you cannot "un-consolidate" them.
If you choose private student loan consolidation, look for a lender that offers competitive interest rates. If all your loans are federal student aid loans, you can opt for federal student loan consolidation and consolidate your loans using the government's Direct Consolidation Loans service. You can also consolidate loans through a private lender, but in these cases, interest rates will be determined by the lender rather than the government.
Who Should Consider Student Loan Consolidation
If you are considering student loan consolidation, first make sure you have a clear picture of your current student loan situation. Determine which of your loans are federal and which are private, and how much interest you are paying on each loan. Also make a note of whether your rates are fixed or variable, and what your monthly payments are. Once you have all this information in front of you, you can shop around to see what your APR rates and monthly payments would be if you consolidated and refinanced your loans with a new lender. If savings are significant, you might opt to consolidate loans.
Consolidating your loans might not be the best option if the majority of your loans are federal loans, as these loans often come with benefits that will be forfeited if you consolidate. The special benefits that come with federal loans include public service forgiveness and economic hardship programs.
Learn: 10 Creative New Ways to Pay Off Your Student Loans
GOBankingRates is a personal finance and consumer interest rate website owned by ConsumerTrack, Inc., an online marketing company serving top-tier banks, credit unions, and other financial services organizations. Some companies mentioned in this article might be clients of ConsumerTrack, Inc., which serves more than 100 national, local and online financial institutions. Rankings and roundups are completely objective, and no institution, client or otherwise, paid for inclusion or specific placement. Any opinions, analyses, reviews or recommendations expressed in this article are those of the author's alone and have not been reviewed, approved, or otherwise endorsed by the companies included in the article. All fees and rates are subject to change at the issuers' discretion, and some bonus offers might no longer be available on the issuers' websites, depending on how you access the web page.