Biden's Student Loan Forgiveness: How 'Disappointing' Supreme Court Ruling May Actually Improve Conditions for Borrowers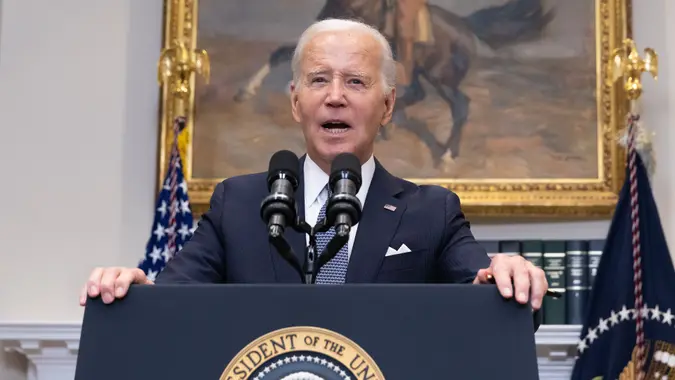 ©Shutterstock.com
Just a few hours following the Supreme Court — in a 6-3 June 30 decision — striking down President Biden's student loan forgiveness program, the administration announced it intended to take new steps to help borrowers.
"While today's decision is disappointing, we should not lose sight of the progress we've made — making historic increases to Pell Grants; forgiving loans for teachers, firefighters, and others in public service; and creating a new debt repayment plan, so no one with an undergraduate loan has to pay more than 5% of their discretionary income," Biden remarked in a June 30 statement.
The administration announced it was seeking an "alternative path to debt relief" and also announced it had finalized the "most affordable repayment plan ever created, ensuring that borrowers will be able to take advantage of this plan this summer — before loan payments are due."
The repayment plan — called the Saving on a Valuable Education (SAVE) Plan — will cut monthly payments to $0 for millions of borrowers making $32,800 or less ($67,500 for a family of four) and save all other borrowers at least $1,000 per year, according to the Education Department. The SAVE plan will replace the existing Revised Pay-As-You-Earn (REPAYE) plan. Additional benefits will go into effect in July 2024.
"We started the process to provide relief to as many people as we can, as fast as we can, through rulemaking. Under the law, this path will take time, but we are determined to keep fighting for borrowers and we will keep you updated in the months ahead," Secretary of Education Miguel Cardona declared in a statement.
The administration also said that it was instituting a 12-month "on-ramp" to repayment, running from Oct. 1, 2023, to Sept. 30, 2024, "so that financially vulnerable borrowers who miss monthly payments during this period are not considered delinquent, reported to credit bureaus, placed in default, or referred to debt collection agencies."
Will Sealy, founder and CEO of Summer, said the steps announced by the Biden administration will enable many of the 43 million borrowers — who won't receive relief through student loan forgiveness and are now faced with resumption of payments — the opportunity to manage this financial burden.
"Crucially, the SAVE income-driven repayment (IDR) program will help borrowers meet their other financial obligations, along with federal and state loan assistance programs that are already available," said Sealy, adding that this new IDR plan can help as many as 73% of all borrowers lower their monthly payments and get on track for forgiveness.
"While IDR plans are not 'get out of debt-free' cards, they help borrowers make progress toward paying off their loans by adjusting payments to their financial situation as it evolves," said Sealy.
As for the "on-ramp" for financially vulnerable borrowers, Sealy said it will also offer borrowers struggling to afford payments time to adjust without long-term damage to their credit.
"Getting borrowers to participate in the repayment process by giving them a lower payment option — rather than simply forcing them to default on their loans — is better for taxpayers too," he added.
Finally, Sealy said that beyond the government programs, employers looking to help struggling employees manage repayments can also contribute directly to their student loans, or start matching student loan payments toward retirement plans in 2024 under SECURE Act 2.0.
In addition, some experts agreed that while the decision is a blow to millions of borrowers, it could pave the way for additional reforms.
Zack Geist, founder of Student Loan Tutor, said that the court's decision is going to be a catalyst for future reforms to income-driven repayment plans and public service loan forgiveness.
"This will make monthly payments more affordable," said Geist. He added, however: "This is not the most viable outcome for borrowers that were expecting to be debt-free from federal student loans pending this decision but will open the door to more options in the future to better manage this debt."
More From GOBankingRates