Can You Use a Personal Loan To Pay Off a Student Loan?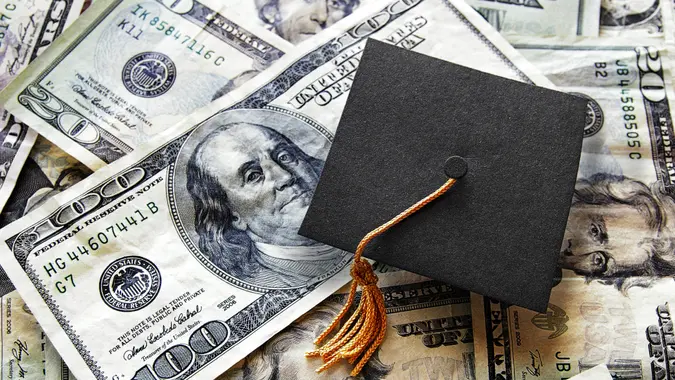 zimmytws / Getty Images/iStockphoto
You might've heard of people taking out personal loans to pay off their student loans, but wondered if it's a good idea. A typical student loan is designed to be paid off over 10 years, according to the Education Data Initiative. The same source indicated that, despite 2013 data indicating an average actual repayment timeline of ~21 years, more recent borrowers have seen slight improvement to "shorter timelines (~18.5 years)."
See: Will Student Loans Become More Expensive After the Fed Interest Rate Increase?
Student Loan Forgiveness: Biden Administration Makes It Easier for Those Misled by Schools to Have Debt Erased
Personal loans can offer you quick access to funds, which can be beneficial if you're having difficulty repaying your student loans. But many lenders have terms that forbid using a personal loan to pay off student loan debt, according to CNBC.
"If you aren't sure if a particular lender will allow you to use the funds for this purpose, you should be up front about your intentions to avoid breaching the lender's terms of use. If you use the money for a prohibited purpose, you could be held responsible for paying back the full amount immediately," CNBC's Jasmin Suknanan wrote.
Another potential drawback in considering the use of a personal loan to pay off student loan debt: Personal loans typically have higher interest rates and shorter repayment terms than student loans. Further, as Suknanan explained, "If you take out a personal loan with the intention of using the money to pay off your federal student loan balance, you will lose all the protections that come with federal loans. That means you won't be able to qualify for any federal loan repayment programs, like an income-driven repayment plan, grace periods for repayment and public service loan forgiveness (PSLF), and you'll lose access to the current forbearance period as well."
On the other hand, if you have good credit, you may also be able to get a personal loan with a low interest rate.
Current interest rates on federal student loans, according to the Department of Education, vary depending on the academic status of the borrower (undergraduate student, graduate / professional student or parents of a graduate / professional student) and range from a fixed 4.99% in the case of the former to a fixed 7.54% Direct PLUS loan option for the latter. Loan interest is based upon these factors in conjunction with the date of disbursement, although Perkins Loans borrowers face a fixed interest rate of 5% regardless of date of disbursement. These figures do not include related loan fees.
In the case of private student loans, per Forbes, private lenders offer fixed rates ranging from 3.65% to 12.5%, and variable rates from 4.49% to 15.3%.
Take Our Poll: What Are Your Financial Priorities in 2023?
More: How To Get the Student Loan Interest Deduction
Alternatively, refinancing a loan can be a good option because it usually results in a lower interest rate and, in some cases, lower monthly payments. Refinancing terms are also (generally) less restrictive than those related to using a personal loan to pay off student loan debt — but, as Suknanan pointed out, "you'll typically lose federal protections on your student loans" if you do opt to refinance.
More From GOBankingRates