Economic Impact of Student Loan Resumption Shockingly Not as Negative as Predicted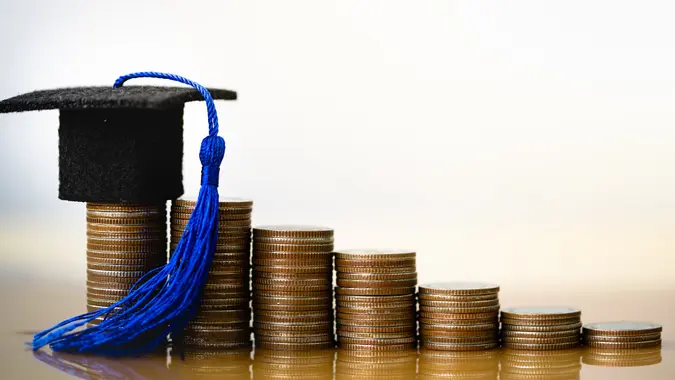 Ta Nu / iStock.com
Despite warnings that the economy might take a hit with the resumption of federal student loan payments following a three-and-a-half year pause, that doesn't appear to be a big problem so far, according to a new report from JPMorgan.
Payments resumed on Oct. 1, 2023, meaning roughly 28 million borrowers had to carve out room in their budgets for something they haven't had to pay since March 2020. But as MarketWatch reported, the JPMorgan team said the economic impact is not nearly as negative as some anticipated.
On the contrary, when the end of the payment pause was announced over the summer, there was a big rise in payments from borrowers who wanted to start repaying before interest kicked in again.
"The flow of payments has cooled somewhat following his initial surge, and we think the figures seen in more recent weeks (reflecting the period in which payments were actually due) are probably indicative of where the new underlying trend may settle in at," JPMorgan wrote in its report.
That trend refers to an annual student loan payment rate of roughly $75 billion, or about 0.2% to 0.3% of GDP, MarketWatch reported. That's up from about $10 billion during the pause. If payments led to an equal decline in consumer spending, GDP growth would slow by around 1% per quarter.
"However, we don't expect to see as large of a drag on economic activity," JPMorgan wrote. "A generally favorable backdrop for household balance sheets could be allowing households (in the aggregate) to make these payments relatively easily. And the early payments coming from many individuals add support to this idea."
JPMorgan's assessment aligns with views of other economists. Many suggest that the loan payments alone shouldn't hit the economy too hard, instead predicting a "small ding," CNN reported earlier in October.
The wild card is how other economic headwinds might impact payments and consumer spending. Those headwinds include high interest rates, rising debt and delinquencies, slowing wage growth and an inflation rate that is still above what the Federal Reserve would prefer.
Many borrowers are on solid enough financial footing to overcome these challenges as payments resume, experts say. But for those on a tight budget, the resumption of student loan payments will only intensify their financial woes
"I think households are better equipped to handle this than they would've been before the pandemic, before the stimulus programs," Emerson Sprick, senior economic analyst with the Bipartisan Policy Coalition, told CNN. "Of course, the lowest-earning households still collectively owe around $7 billion a year in student loan repayments. And for lower earners, that's going to be hard."
Meanwhile, Wells Fargo economist Shannon Seery expects the resumption of student loan payments to shave 0.4% to 0.6% from annual consumer spending.
"That's relatively small, when you think about that broken out on a monthly basis," she told CNN. "We still maintain the view that the student loan issue isn't the straw that's going to break the camel's back here. It's another burden, and it's coming at a time when the household sector is more financially vulnerable."
Similar projections have been put forth by Oxford Economics, which expects the resumption of payments to shave  0.1% from GDP this year and 0.3% next year.
"I think the economy's in a better position to withstand this than we might have thought, but I do still think it's one thing that's going to contribute to a slowdown of economic growth as the year winds down," Nancy Vanden Houten, senior economist at Oxford Economics, told CNN.
More From GOBankingRates