5 Types of Student Loan Borrowers Who Could Still Have Their Debts Forgiven by Biden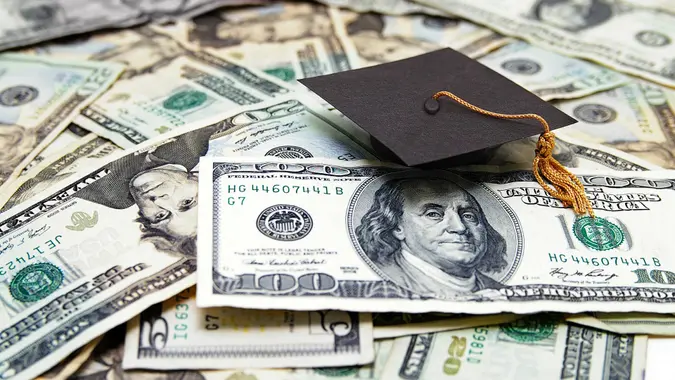 zimmytws / iStock.com
Before the Supreme Court struck down President Joe Biden's original student loan forgiveness plan, almost 40 million Americans were expected to receive financial relief. As of August 2023, student loan debt in the United States totals a staggering $1.766 trillion, according to The Education Data Initiative.
Now, the Biden administration is attempting to cancel education debt another way, experts have warned that borrowers should temper their expectations.
Biden Administration's New Plan for Student Loan Relief
Given the legal challenges of passing sweeping debt forgiveness as originally attempted, the president's Plan B for relief is likely to be narrower in its reach.
Unfortunately, with Plan B, "a much smaller number of borrowers will be eligible," said higher education expert Mark Kantrowitz.
Kantrowitz estimated that less than 10% of federal student loan borrowers will qualify for this round. Under the Biden administration's original plan, rolled out in August 2022, more than 90% of borrowers would have seen their balances cleared or reduced. The plan only excluded those who earned above $125,000 as individuals or married couples earning more than a combined $250,000.
The Biden administration has been highly criticized for reducing its plans and many are pressuring him to take on his legal opponents to achieve widespread student loan cancellation. On the campaign trail, Biden promised to cancel at least $10,000 of student debt per person. The original plan was going to do just that, plus cancel an additional $10,000 more for borrowers for those who received at least one federal Pell Grant during their time in college.
"Anything less than what Biden promised will be felt as a letdown, even a betrayal," said Astra Taylor, co-founder of the Debt Collective, a union for debtors, in a previous interview with CNBC.
5 Groups Who Still Might Benefit From Plan B Student Loan Forgiveness
Fortunately for some, these 5 groups still stand to benefit from this new plan for relief:
Borrowers with balances greater than what they originally borrowed: This group is composed of individuals whose federal student loan balance has ballooned to two or three times their original loan amount due to accruing interest. Many have been forced to request a payment forbearance as the monthly bills they receive don't even cover any of the loan principal, just the interest payment.
Borrowers who have been paying off their loans for decades: It's reported that the Education Department is looking at providing relief to borrowers who "entered repayment many years ago." It's still unclear who exactly this would apply to. It's worth noting that about 2.7 million borrowers age 62 and older currently owe around $115 billion in student debt, according to Kantrowitz.
Borrowers who were defrauded by private universities: Borrowers who attended college programs that either did not provide a program of educational or financial value is another group that's being considered for relief. This has largely been a focus of the Biden administration, which has already forgiven about $22 billion in student debt for these individuals.
Borrowers eligible for relief but who've never applied: The Biden administration is also looking to target those who are already eligible for student loan debt relief under existing government programs but who've never applied. These include some existing income-driven repayment plans as well as the Public Service Loan Forgiveness (PSLF) program.

Borrowers in financial hardship: Lastly, the Biden administration is focusing on student loan forgiveness for those who are experiencing financial hardship. They're hoping that this particular angle won't face legal challenges.
More From GOBankingRates