Experts: 4 Strategies for Paying Student Loans With High APRs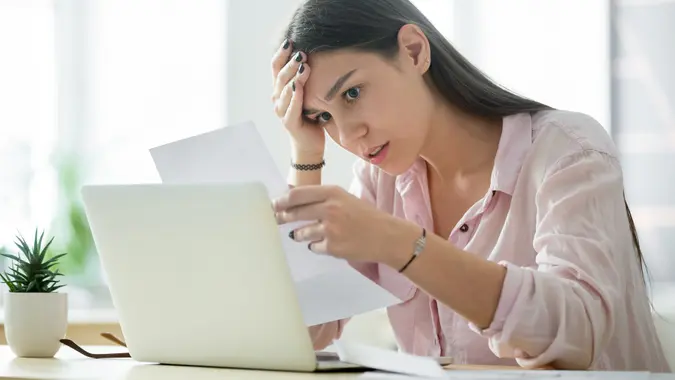 fizkes / iStock.com
Borrowing money to fund your college education is never cheap, but some student loans carry much higher interest rates than others. Among all existing borrowers, the average student loan rate is 5.8%, according to a recent report from the Education Data Initiative. On new federal loans, the current rate is 4.99%, though that rises to 6.54% for direct graduate and professional loans and 7.54% for Parent PLUS graduate and professional loans.
The good news for federal student loan borrowers is that they haven't had to pay interest (or their loans) since March 2020, when payments were paused as part of COVID-19 relief efforts. But those payments will soon resume — and so will the interest charged on them.
If your student loan has been stuck with a high annual percentage rate, now is the time to do something about it. Here are four strategies that could save you money.
Enroll in Automatic Debit
Signing up to have your student loan automatically debited can reduce your interest rate by as much as 0.25%, according to the Federal Student Aid site. Under this arrangement, your student loan servicer will automatically deduct your student loan payment from your bank account each month. This has the added bonus of ensuring you always pay on time.
Make Interest Payments While Still in School
Most student loan servicers — including the U.S. Department of Education — let you make interest-only payments while you're in school. With this option, interest will not build up and add to the total amount you owe. This should help you pay off your loan quicker when you graduate.
Pay More than the Minimum
If you pay extra money each month on your student loan you can reduce the interest you pay. Doing so also reduces the total cost of your loan over time. Even if you overpay by enough that you have satisfied the next monthly payment, keep paying every month. Also, ask your loan servicer if the additional payment amount can be allocated to your higher-interest loans first.
Take Our Poll: What Are You Worth to Your Company?
Research Debt Forgiveness Options
Federal student loans borrowers might be eligible to have some or all of their debt cancelled through various Department of Education programs, including the Public Service Loan Forgiveness program, which is available to certain borrowers who work for government or not-for-profit employers. Under this program, remaining balances of federal student loan debt can be waived after you've made 120 consecutive payments, or 10 years' worth. Another option is the Teacher Loan Forgiveness Program, which can reduce your Direct Loan by up to $17,500 after you work as a teacher for five years at an eligible school or educational service agency.
More From GOBankingRates