How to Answer FAFSA Questions and Ace Your Student Aid Application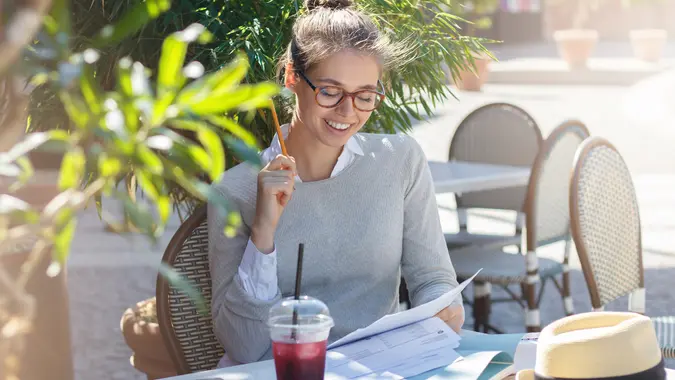 Damir Khabirov / Shutterstock.com
The Free Application for Federal Student Aid is a gateway to your share of billions of dollars the federal government provides each year to students in the form of grants, student loans and work-study opportunities based on financial need. But completing the FAFSA isn't something you should do in haste, and it's helpful to do some research before you begin. After all, the more you know, the better chance you have of qualifying for the maximum amount of student financial aid.
FAFSA FAQs
Your answers on the FAFSA will help the U.S. Department of Education's Federal Student Aid division decide how much money you qualify to receive in the form of loans or grants and whether you are eligible for a work-study opportunity. Here's information you should know to help you complete your application correctly:
Should I Fill Out the FAFSA?
Even if you don't think you'll qualify, you have nothing to lose when you apply for financial aid because need-based aid isn't based on income or assets alone. The formula also considers your family size and your year in school. In addition to potentially qualifying for need-based aid, it's important to apply because some schools won't consider you for merit-based scholarships unless you apply for FAFSA. You must fill out the FAFSA each year you are in college or graduate school in order to be considered for federal aid.
Do I Have to Pay to Fill Out the FAFSA?
Never submit your information on a website that charges you money to apply or asks for your credit card information. The official website is fafsa.gov — any other websites claiming to be the official site are fake. You can get free help completing the FAFSA from the financial aid office at your college, via FAFSA on the web or the Federal Student Aid Information Center.
Who Is Your Legal Guardian?
Question 55 of the financial aid application asks "Does someone other than your parent or stepparent have legal guardianship of you, as determined by a court in your state of legal residence?" For most people, the answer should be "no" because your parents are your guardians.
The answer should only be "yes" if you have a copy of a court's decision that states either someone besides your parent is your legal guardian or that you were in a legal guardianship immediately before you reached the age of being an adult in your state.
Learn About: 9 Creative Ways to Pay for College
Are You Interested in Work-Study Opportunities?
Unless you are 100 percent certain you won't take a work-study position, you should check yes when Question 31 of the FAFSA asks if you are interested in being considered for a work-study position. Selecting "Yes" does not require you to accept any job offered — you still have the flexibility to say no if it's not right for you.
Plus, work-study positions offer benefits other jobs don't. "While Federal Work Study monies are taxable, they do not affect how much aid a student is eligible for the following year, whereas a part-time job does impact your earnings," said Sallie Traxler, navigation guru and founder of My College Navigation Hub.
Read: 2018 FAFSA Deadlines You Need to Know
What Is Household Size?
The size of your parents' household impacts your financial aid. The Department of Education reports that these questions are commonly answered incorrectly, especially when you don't live with your parents.
When Question 73 asks about your parents' household size, you should count:
Yourself
Your parents
Any children — other than yourself — who receive more than half of their

 

support from your parents

 

during the academic year, even if they don't live with your parents
Any other people who are not children of your parents but who live with your parents and receive more than half of their support from your parents during the academic year
When Question 95 asks about your household size, you should count:
Yourself
Your spouse if you are married
Any children — and if married, your spouse — who receive more than half their support from you during the academic year, even if they do not live with you
Any people who live with you and receive more than half of their support from you during the academic year
Unborn children if they will be born during the school year
What Is Your Net Investment Value?
Question 42 of the FAFSA requires you to report the net worth of your investments to assist with determining financial need. Investments include any real estate other than your primary residence, rental property, trust funds, UGMA or UTMA accounts, brokerage accounts, bank accounts and stocks and bonds. Calculate the net value of each investment separately by subtracting the amount of debt associated with each asset, but not allowing the value to go below zero.
For example, if you own a rental property worth $150,000 and it has a $100,000 mortgage against it, the net value is $50,000. But if the mortgage debt equals $200,000, the net value is $0. You cannot use the excess debt to offset other assets.
Find Out: How to Calculate Your Net Worth
How Do You Report Grandparent-Owned 529 Plans on Your FAFSA?
Although having the grandparents own the plan means it isn't reported as an asset, any distributions count as nontaxable income for the student, which is assessed at 50 percent, said Jim Slowik, co-director of College Funding at My College Planning Team.
"While students don't have an asset protection allowance, they do have a small income protection allowance," said Slowik. "Currently, the student's gross income protection allowance is $6,420. What this means, however, is that every dollar over the income protection allowance is assessed at 50 cents on the dollar."
How Much Is My Business Worth?
The value of your business is a bit of a trick question because the vast majority of FAFSA applicants don't actually need to answer this question. "Under FAFSA rules, assets of a business with fewer than 100 employees are not assessed when determining the Expected Family Contribution or EFC," said Slowik.
Up Next: How to Check Your FAFSA Status