FAFSA Application: How to Apply for Federal Student Aid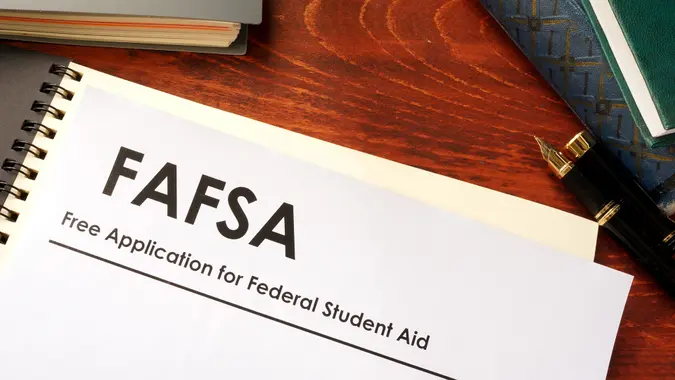 designer491 / Shutterstock.com
Paying thousands of dollars a year for college on your own isn't easy, but applying for federal student aid could net you the funds you need to pay for a majority of your expenses. Although the application will take you up to an hour or more to fill out, it's a good use of your time because of the likelihood that you'll be approved for some type of aid. Find out what it takes to apply, so you'll be prepared if you choose to cover your college expenses with a federal loan.
What Is FAFSA?
The Free Application for Federal Student Aid — aka FAFSA — is the first step to determining whether you're eligible for college financial aid for undergraduate or graduate studies. Before granting financial aid, colleges and universities in the U.S. require that you fill out the application and submit it.
How to Apply for Federal Student Aid
To apply for federal student aid — such as a loan, federal grants or funding for a work-study program — you will need to submit a FAFSA form each school year. Although you can fill out a paper form and mail it in, you can also submit the entire form online through the Federal Student Aid website.
Submitting this form is free, and you're under no obligation to accept a loan. Additionally, some private loan providers might also use your FAFSA application to determine whether you're eligible to receive funds.
FAFSA 2018 and FAFSA 2019 Deadlines You Need to Know
Making sure you're aware of the FAFSA deadline for the upcoming school year is critical for receiving financial aid in a timely manner. Every state and college has a different deadline for submitting the FAFSA application. You can check in with your advisors to find out specific dates and if additional application materials are needed. Find a list of state deadlines and guidelines for submitting your FAFSA to the Department of Education.
Here are other important application and submission deadlines:
FAFSA 2018-2019 Deadlines
Standard Federal Deadline for Online Submissions
2018-2019: Midnight Central time June 30, 2019
2017-2018: Midnight Central time June 30, 2018
FAFSA Corrections or Revisions
2018-2019: Midnight Central time Sept. 14, 2019
2017-2018: Midnight Central time Sept. 15, 2018
Federal Student Aid for the 2018 – 2019 year
Apply Between Oct. 1, 2017, and midnight Central time, June 30, 2019
Federal Student Aid for the 2017 – 2018 year
Apply Between Oct. 1, 2016, and midnight Central time, June 30, 2018
Learn About: How to Get More Financial Aid
How to Apply for FAFSA Online
You can apply online or fill out a paper application. Both require the same information, but the fastest and easiest way is with FAFSA on the web. Use the FAFSA help bar on the right side of the page as you work through each section. Here's how to complete a FAFSA application online:
Enter your FAFSA login details. After you select the "Start a New FAFSA" button on the Federal Student Aid website home page, you'll be taken to a login screen. Enter your FSA ID if you have one, or begin by entering identifying information, such as your full name and Social Security number.
Read the disclaimer notice. Either decline or accept to move forward.
Select the school year for which you are applying for financial aid. Check with the college you are attending for information if you are unsure.
Create a save key. You'll need to select a four-to-eight character save key for easy access to your application if you need to save it while applying.
Review introductory information. Review frequently asked questions on an introduction page or move forward by clicking "Next."
Complete student demographic information. You'll provide basic information including your marital status.
Provide your school information. You'll list all schools you are attending or applying to in this section.
Declare your dependency status. You'll need to answer some questions to determine if you're an independent or dependent student.
Provide parent demographic information. Details such as marital status and household size are required here.
Provide financial information. This information is used to calculate your Expected Family Contribution — aka EFC — which is a number used by schools to calculate how much federal student aid they can set aside for you based on your family's financial strength.
Complete the application. Electronically sign and submit your form.
After You Submit: How to Check Your FAFSA Status
What Happens After You Apply for FAFSA
A step-by-step process occurs once you submit your FAFSA. Here's what happens:
Your information is shared with all the colleges and career schools you listed on your application as well as state agencies to determine if you qualify for financial aid funds.
Each school will calculate how much federal student aid it can offer you.
The U.S. Department of Education will send you a Student Aid Report within three days to three weeks summarizing your information.
The school you are admitted to will send you an award letter telling you how much aid you're eligible to receive.
As a first-time borrower, you'll have to complete entrance counseling to learn more about your rights and responsibilities related to your loan before you can receive student loan funds.