How Do Federal Student Loans Work?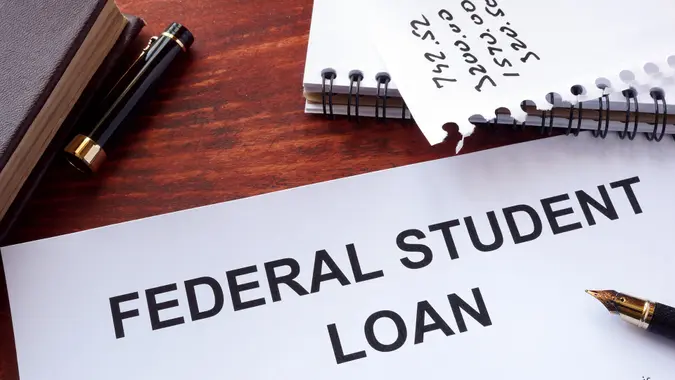 designer491 / Shutterstock.com
On the surface, federal student loans are straightforward: You borrow money from the government to go to school, and when you get a job, you pay it back. In reality, the student loan process is a bit more complicated. Learning how to get federal student loans and what kind of financial aid package you might qualify for are important first steps.
Here's a look at how getting financial aid for college works.
What Is a Federal Student Loan?
A federal student loan is a loan made by the U.S. government that usually offers borrowers more flexible repayment options and a lower interest rate than a private loan. The U.S. Department of Education authorizes two broad categories of government student loans: The William D. Ford Direct Loan Program and the Federal Perkins Loan Program.
Direct Loan Program
Types of federal student loans under the Direct Loan Program include:
Direct subsidized loans, for undergraduate students demonstrating financial need
Direct unsubsidized loans, for undergraduate, graduate and professional students, with no financial need requirement
Direct PLUS loans, for students and professional students, and Parent PLUS loans, for parents of dependent undergraduate students
Direct consolidation loans, allowing combination of federal loans
As of July 2017, the interest rate for both subsidized and unsubsidized loans for undergraduates was 4.45 percent. Unsubsidized loans for graduate students carried an interest rate of 6 percent, and Direct PLUS loans had a rate of 7.00 percent.
The subsidized loan maximum is $3,500 for freshmen, $4,500 for sophomores, and $5,500 for juniors and seniors. A graduate student can take out up to $20,500 in unsubsidized loans.
Federal Perkins Loan Program
Under the Federal Perkins Loan Program, schools become lenders to undergraduate and graduate students with exceptional financial need. The interest rate on a Perkins Loan is 5 percent. As an undergraduate, you can borrow up to $5,500 per year, with $27,500 being the total you can borrow, depending on your financial need, other aid you receive and the availability of funds at your college.
Graduate and professional students can borrow $8,000 per year, with a $60,000 limit applying to the total amount you borrow as both a graduate and an undergraduate.
How to Apply for Federal Student Loans
Regardless of income, most students qualify for at least some type of financial aid for college.  The first step to apply for a student loan is to complete a Free Application for Federal Student Aid. Here's the information you'll need to complete a FAFSA:
Social Security number
Alien registration number — if you're not a U.S. citizen
Federal income tax returns, including W-2s and other records of income
Bank statements/investment records
Records of untaxed income
An FSA ID
You'll also need to file your parents' information if you're a dependent.
After submitting your FAFSA either online or via mail, you'll receive a Student Aid Report so you can verify that your FAFSA information is accurate. Then, the information will be sent to the schools you listed on your FAFSA so that they can calculate your aid offer.
FAFSA Application: How to Apply for Federal Student Aid
How to Qualify for Federal Student Loans
To qualify for federal student aid, you must meet the following general eligibility requirements:
Demonstrate financial need (for most aid programs)
Be a U.S. citizen or eligible noncitizen
Have a valid Social Security number
Be registered with the Selective Service, if male
Be enrolled or accepted for enrollment
For Direct Loan Program funds, be enrolled at least halftime
Maintain satisfactory academic progress.
Sign a certification statement that you are not in default of a federal loan, do not owe money on a federal grant, and will use federal student aid only for educational purposes
Demonstrate your qualification to obtain a college or career school education
Eligibility doesn't mean you'll automatically get a financial aid package, but it does mean you qualify to apply. Colleges calculate your financial aid based on your enrollment status, the cost of attendance, and your expected family contribution. The exact amount you'll be offered, if any, depends on the individual school.
Can You Consolidate Federal Student Loans?
Federal student loan consolidation can be an option for borrowers with more than one loan. A direct consolidation loan can allow you to consolidate multiple loans into a single loan, which results in one student loan payment and can reduce the interest on federal student loans.
The government also offers a number of student loan forgiveness options, which can help you wipe out your remaining debt if you meet certain qualifications.
Find Out: How Student Loan Consolidation Works
Federal Student Loans vs. Private Student Loans
Federal student loans are funded by the U.S. government. Private student loans are funded by non-governmental financial institutions, such as banks, credit unions, state agencies or schools. Check out the other differences outlined in the following table:
Federal vs. Private Student Loans
Requirements and Options
Federal Student Loans
Private Student Loans
Repayment
Typically after school
Typically while in school
Interest rate
Fixed
Fixed or variable
Subsidized
Typically, yes
No
Credit Check
No, except for PLUS loans
Possible
Cosigner
Not required
Might be required
Deferment Options
Possible
Typically, no
Prepayment Penalties
No
Possible
Loan Forgiveness Options
Numerous options
Unlikely
Tax-Deductible Interest Options
Typically, yes
Typically, no
It's likely you're eligible for some type of federal financial aid, so you should complete a FAFSA even if you think you won't qualify. To supplement federal student aid offers that are less than what you might need, look into private student loans. And when you already have multiple existing federal loans, know that consolidation is an option and could lower your interest rate.
Up Next: Student Loan 101 — All Your Options, From Federal to Private