Navigating Student Loan Repayments: 5 Things To Know Now, According to Experts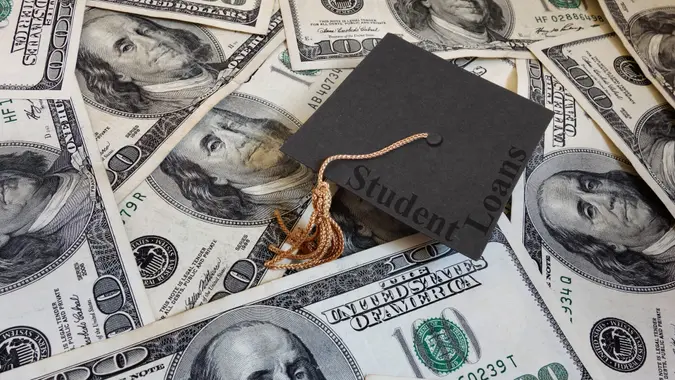 zimmytws / iStock.com
After a longstanding moratorium enacted around the onset of the pandemic in the U.S., student loan repayments recommenced in October. For millions of Americans, the pressure to pay down hefty debt is back on — and the burden may be more intense for some than it was pre-pandemic, given the rise of inflation.
What do you need to know about how to navigate student loan repayments right now? GOBankingRates tapped expert minds to get the answers. 
Know Where You Stand Financially 
The first thing to know when it comes to navigating student loan repayments is where you stand financially. This means taking inventory of all your debt, however daunting a task this may seem. 
"Knowing and understanding the details surrounding your financial situation is crucial in developing a strong plan for the best next step in navigating the repayment of your loans," said Kaitlin Walsh-Epstein, CMO at Laurel Road, a digital banking platform and brand of KeyBank.
"First, look at the balance or how much you owe, your interest rates, your fixed monthly payments and your payment dates.​ It's also important to understand which loans are private or federal because your repayment options and approach to repayment will differ for these.​"
Now is also the time to factor in all your other monthly expenses and bills including credit cards, mortgage, car payment or rent payment, along with any other student loans. 
Know the Nature of Your Loans 
It's extremely important to know what your specific loans are and the options you have in terms of repayment. 
"O​ne of the very first things that borrowers with federal loans need to do is determine which specific type of student loan they have, as the repayment options will be different," said Joe Price-Gault, senior manager and student loan consultant at GradFin, a Laurel Road partner offering public student loan forgiveness (PSLF) counseling.
"I​n​come-driven repayment plans and federal forbearance and public service loan forgiveness options are available strictly for direct federal loans," Price-Gault added. "Many borrowers have older federal loans that were issued prior to the inception of the direct loan program. As such, these borrowers may not realize they don't qualify for some of the newer forgiveness options. However, there are ways borrowers can qualify those loans, especially with the one-time adjustment through the end of 2023."
Additionally, private loans can have fixed or variable interest rates, with a fixed rate indicating the interest will not change over the timespan of the loan, and a variable rate indicating it could be subject to change with the market.  
"Often with federal loans the government will set the amount you can borrow based on the loan and education type, whether a borrower is taking out the loan for undergrad or graduate studies," Walsh-Epstein said. "You can find your personal loan details through your loan servicer account and your StudentAid.gov account." 
Look Into Income-Driven Repayment Plans 
Though there's no argument that paying down student loans is a challenge, it may be not quite as difficult as you think if you can go for an income-driven repayment plan, for which most federally-backed loans are eligible.  
"The specific type of plan you are eligible for depends on your circumstances," said Richard Barrington, a financial analyst for Credit Sesame. "In general, the way these plans work is they base your payment on how much you earn. Depending on the plan, this could be between 10% and 20% of your discretionary income.
"Discretionary income is based on the difference between how much you make and the poverty rate in your area. So, your payments should actually be less than 10% and 20%."
Barrington highlighted a catch: "A lower monthly payment could take you longer to pay back your loan, resulting in you owing more interest; however, as a way to make monthly payments affordable, it's a great option. In order to get your payment reduced according to your income, you need to apply for the program. Don't wait to do this; the sooner you apply, the sooner you can benefit from a reduced payment."
Explore the Route of Consolidation 
If you have multiple student loans you owe on, consider consolidating them. 
"[This can] simplify your payments or refinancing to potentially secure a lower interest rate," said Andrew Latham, CFP, managing editor at SuperMoney. "Although be cautious: Refinancing federal loans with a private lender may forfeit certain federal loan benefits."
Learn About the SAVE Plan 
The new SAVE plan sports numerous new benefits for student loan borrowers. Some important changes went into effect last summer, while others will be implemented in July 2024. Additional benefits are forthcoming.  
"The new SAVE plan can be extremely valuable in the right situations," said Robbie Morris, financial planner at Roots Financial Planning. "If you were previously using REPAYE, you are automatically converted to SAVE. The plan has a higher poverty line deduction to help lower payments even further. If you have undergrad-only loans, you will only have to pay at 5% of income as opposed to 10%. This goes into effect in spring 2024. Additionally, there is a 100% interest subsidy on any interest accumulation greater than your required monthly payment."
Skipping or Delaying Payments Could Mess Up Your Whole Financial Life 
It's crucial to make any required payments; failure to keep up could have consequences for many years to come. 
"Besides damaging your ability to get credit, [unpaid student loan debt] could even impact your ability to get a job or an apartment," Barrington said. "Don't turn trouble with student loan payments into an even bigger problem." 
Stay Educated on All Things Student Loans 
The student loan space is always changing — more so now than ever before. As such, it's critical to stay educated on your options, realities and all the new developments. 
"Over the last three years, the decisions around student loan repayment and forgiveness have evolved several times — with that, there are still active conversations within the Biden administration for additional changes in the near future despite the pause ending and payments resuming," Price-Gault said. "No matter what, it's crucial to stay informed about what is going on with student loan forgiveness and affordable repayment options to ensure you're making the best decision to pay down your debt and secure your financial future."
More From GOBankingRates