New Student Loan Bills Are Riddled With Errors — Here's What To Watch Out For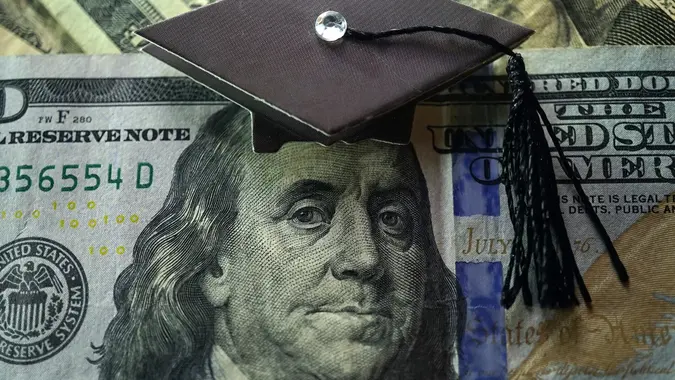 Kameleon007 / iStock.com
The COVID-19 student loan payment pause has finally come to an end at the beginning of this month. However, federal student loan borrowers have found themselves facing a perplexing and frustrating ordeal: new student loan bills riddled with errors. While navigating the complexities of loan repayment can be challenging, these inaccuracies only compound the confusion.
Biden's New Student Loan Repayment Plan
The Biden administration's Saving on a Valuable Education (SAVE) income-driven repayment (IDR) plan was rolled out in time for the end of the student loan payment pause. It's designed to save millions of borrowers money on monthly student loan payments. It's stated that "borrowers who earn less than $15 an hour will not be required to make payments, and anyone who does earn more will save more than $1,000 on payments. The SAVE Plan also ensures that borrowers never see their balance grow due to unpaid interest as long as they keep up with their payments."
Over 4 million people have already applied for the new plan, which bases bills on income and family size, but there is a significant delay in application processing and the plan faces opposition in Congress. Additionally, there are many errors in the statements that borrowers have been receiving recently, adding to the frustration and anxiety of borrowers who are eager to secure more affordable repayment terms.
Errors on SAVE Student Loan Bills
The Washington Post spoke with borrower Mary Ansell, who thought it was strange when she received two student loan payment statements on the same day last month.
"One statement said Ansell's monthly payment had dropped to $0, a change she expected after taking on a part-time job at a lower salary. Then a second statement from her servicer, the Missouri Higher Education Loan Authority (MOHELA), said she would owe $99 a month. Confused, Ansell called her servicer. A representative promised the company would reprocess her payment. In the meantime, her loans have been put in forbearance," The Washington Post detailed.
"We're seeing people receive payment amounts that are hundreds of dollars more than what it's supposed to be," said Abby Shafroth, the director of the National Consumer Law Center's Student Loan Borrower Assistance Project. "It is creating a lot of confusion, distrust and frankly making people extremely anxious."
A video from Mountain Democrat indicated that one borrower is still waiting to be properly credited for an $18,000 payment. The Education Department acknowledged that an estimated 420,000 borrowers have been affected by the miscalculations. These errors may be indicative of a need for more funding at the Education Department, as well as the circumstance of an overwhelming number of borrowers resuming payments all at the same time. Student loan servicers just can't seem to handle them all at once.
Steps To Take To Avoid Overpaying On Your Student Loan Bills
Here are a few steps that you can take to identify errors and ensure you're not overpaying on your student loan bills:
Review your bills thoroughly: Begin by carefully reviewing your student loan bills upon receipt. Pay close attention to details such as the loan balance, interest rate, payment due date, and payment allocation. Any discrepancies should be noted and documented.
Cross-check with loan agreements: Compare the information on your bills with the original loan agreement plans and terms. Ensure that the loan balances and interest rates match the terms outlined. Any deviations should be considered potential errors.
Document all correspondence: Maintain a record of all communication with your loan servicer. Document phone calls, emails, or written correspondence related to billing errors. This documentation can be invaluable when seeking resolution.
Contact your loan servicer promptly: If you identify errors on your student loan bills, reach out to your loan servicer promptly to address the issues. Be prepared to provide evidence and documentation to support your claims. It's essential to maintain a record of your interactions with the servicer.
Make sure the SAVE Plan is right for you: While the new income-based repayment plan, commonly referred to as the SAVE plan, offers relief to many borrowers, it may not be the ideal solution for everyone. Consider factors such as your income, family size, loan amount, and other financial obligations. The SAVE plan may result in a higher monthly payment if you're earning significantly more money than before the payment pause took place.
The prevalence of errors in new student loan bills underscores the importance of vigilance and proactive communication for borrowers. While these discrepancies can be frustrating, borrowers have the right to accurate billing and transparent loan servicing. Be sure to diligently review bills so you can safeguard your financial interests.
More From GOBankingRates