9 Steps To Take If You Can't Keep Up With Your Student Loan Payments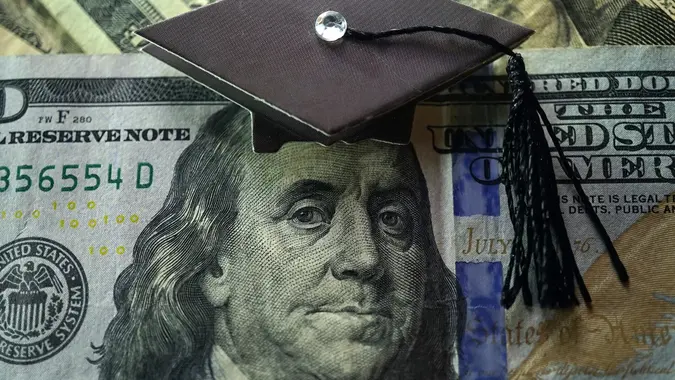 Kameleon007 / iStock.com
Student loan debt is a national crisis, with approximately 45 million Americans steeped in a total of $1.6 trillion in federal student loan debt. A fair portion of that could soon be eliminated, if President Joe Biden's student debt relief plan, which includes loan forgiveness of up to $20,000 per eligible borrower, goes through. But currently, the plan is tied up in court, with its fate to be decided sometime in the months ahead. 
Mortgage Interest Rate Forecast for 2023: When Will Rates Go Down?
$2,000 Quarter? Check Your Pockets Before You Use This 2004 Coin
In the meantime, borrowers still have a reprieve from monthly payments under the student loan moratorium, but that is set to expire either 60 days after the Supreme Court issues a decision on the student debt relief program or 60 days after June 30 — whichever comes first. 
It's a nerve-racking time, with many student loan borrowers unsure of what they will owe and when. It makes planning difficult. It also makes the question, "What can one do if they can't keep up with their student loan payments?" even more confusing. But we've got answers from the experts.
Contact Your Lender Immediately
The first thing you should do if you're struggling with student loan debt repayments is contact your lender. They may be more amenable and/or flexible than you may think.  
"Lenders may be able to work out a repayment plan that fits your budget," said James N. Osborn, Jr., the founder and partner at Envest Asset Management. "They may also be able to offer some temporary reduction in payments or even suspend payments for a period of time. But you'll want to contact them before you start missing payments. Missing payments can lead to late fees, lower credit score, or worse, like garnished wages."
Refinance Private Student Loans 
One option that borrowers who are paying back private student loans right now should consider is refinancing their loans to a lower fixed interest rate.  
"For borrowers that have private student loan debt that are currently making payments, it is best to refinance the loans to a lower fixed interest rate that is affordable for their budget and pay these off as fast as possible with what the borrower can manage," said Zack Geist, founder of Student Loan Tutor. 
Take Our Poll: Do You Think Bankruptcy Is an Acceptable Way To Escape Student Loan Debt?
Don't Refinance Federal Student Loans to Private Loans  
Note that it is not the best course of action to refinance federal student loans to private loans because you will "lose out on all federal benefits available through the Department of Education and no longer take advantage of Income-Driven Repayment Plans, where the remaining balance at the end of a 20-to-25-year term is forgiven in as a taxable event of canceled debt," Geist said.   
Consolidate Your Loans
Balancing a few different loans? Consider consolidating them.  
"If the reason you're struggling to keep up with your loans is because you have several loans with different payment dates and amounts, consolidating your loans may be a good bet," said Jonathan Petts, a former bankruptcy lawyer and the co-founder and CEO of Upsolve. "You'll only have one loan payment to keep track of and consolidating often lowers your monthly payments."
If You Have a Commercially Held Federal Family Education Loan, Check Out This Website 
If we're talking about borrowers who need to pay back their student loans now, then we're likely talking about those that have commercially held federal family education loans and are not able to benefit from the freeze that has been in effect since March 2020. 
"These borrowers can go on to the Department of Education's website, Studentaid.gov and apply for a full consolidation to a Direct Loan that will be handled by the Department of Education and automatically qualify for the $0 payment and 0% interest until the freeze is lifted either 60 days after the Supreme Court decision on Biden's proposal of up to $20k or if no decision is made by June 30th, payments are set to resume 60 days from that point," Geist said.   
If You Go for a Direct Loan Now, You Won't Get the Up to $20,000 (If It Happens)  
Though the fate of Biden's student debt elimination hangs in the air, many are hopeful about not losing it. But you will lose it if you consolidate to a direct loan right now.  
"Due to the current legislation in place from the Biden proposal, the clients that are consolidating to a direct loan now will not benefit from the up to $20k," Geist said. "When the borrower consolidates their loans into a direct consolidation loan, they can choose an Income-Driven Repayment plan that will take a percentage of discretionary income (any money shown above 150% of the Poverty Guideline Index) ranging from 10%-20% depending on the plan for an updated monthly payment that will better suit their financial situation."
In Geist's opinion, 'Revised Pay As You Earn' is going to be the best option for an Income-Driven Plan, "especially with the proposed revision to this program to 225% of the Poverty Guideline index and potentially as low as 5% discretionary income on undergraduate loans and the built in interest forgiveness subsidy."
Talk To Your Employer
Some workplaces provide tuition assistance as a perk for their employees. Yours may be one of them. It surely doesn't hurt to ask. 
"Make sure you understand the benefits that your employer provides so you can take advantage of them," Osborn, Jr. said. 
Increase Your Income 
Increasing your income could be the best way to keep up with student loan repayments. This is especially effective while lowering your expenses. 
"If you've changed your repayment plan to an IBRP and you're still struggling to pay your loans, consider asking for a raise at work, looking for a higher paying job, or taking on gig work," Petts said. "You can also take a look at your biggest expenses like housing and transportation and see if there are ways to save there.
Seek Legal Advice or Help From a Financial Advisor
Talking to a lawyer or financial advisor who specializes in student loan debt can help you understand what is available to you and what your rights are. 
"Lawyers can provide insight on potential legal strategies to help reduce your student loan debt," Osborn, Jr. said. "Financial advisors can also help you understand your options and help you create a plan to help you manage your debt."
More From GOBankingRates