Student Loan Borrowers Will Save Additional Money With These Changes Coming in 2024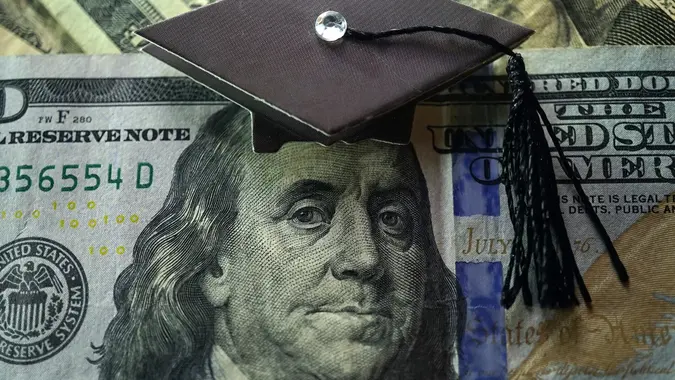 Kameleon007 / iStock.com
The recent end of President Joe Biden's federal student loan forgiveness plan at the hands of the U.S. Supreme Court has left millions of borrowers scrambling to come up with a strategy to begin repaying debt again. Payments are expected to resume in the fall following a payment pause that began in March 2020.
Borrowers who seek other loan forgiveness options can look into programs like Public Service Loan Forgiveness and Teacher Loan Forgiveness, which provide pathways to debt cancellation. But even if you don't go that route, there are ways to save money on your student debt through programs due to take effect in 2024.
In a June 30 announcement that followed the SCOTUS's decision to kill loan forgiveness, the White House issued a memo detailing a pair of initiatives that aim to provide debt relief "for as many borrowers as possible, as fast as possible."
One of them is a 12-month "on-ramp" to repayment that runs from Oct. 1, 2023 to Sept. 30, 2024. Under this program, "financially vulnerable borrowers" who miss monthly payments during that time period won't be considered delinquent and won't be reported to credit bureaus, placed in default or referred to debt collection agencies.Payments will still be due and interest will accrue during the period, but the interest won't capitalize at the end of the on-ramp period.
The other program, called Saving on a Valuable Education (SAVE), is an income-driven repayment (IDR) plan that aims to cut monthly payments in half. Some borrowers will qualify for $0 monthly payments under the plan, while all other borrowers will save at least $1,000 a year. The plan will also ensure that borrowers don't see their balances grow from unpaid interest.
By law, the regulations will go fully into effect on July 1, 2024, according to the White House. But some of the benefits will be implemented this summer, before the student loan payment pause ends.
Here are highlights of the SAVE plan:
For undergraduate loans, the plan will cut in half the amount that borrowers have to pay each month from 10% to 5% of discretionary income.
Increase the amount of income considered non-discretionary and therefore protected from repayment. This will guarantee that no borrower earning less than 225% of the federal poverty level — up from 150% previously — will have to make a monthly payment. Those who earn the income threshold (about $15 an hour for a full-time worker) or less could qualify for a $0 monthly payment on the SAVE plan, CNBC reported. 
Forgive loan balances after 10 years of payments instead of 20 years for borrowers with original loan balances of $12,000 or less. The U.S. Department of Education estimates that this reform will help nearly all community college borrowers be debt-free within a decade.
Eliminate charges to borrowers with unpaid monthly interest. Unlike other IDR plans, this means no borrower's loan balance will grow as long as they make their monthly payments — even when that monthly payment is $0 because their income is low.
All student borrowers in repayment will be eligible to enroll in the SAVE plan, the White House said. Borrowers will be able to enroll later this summer before any monthly payments are due, though no specific date had been set at the time of the announcement.
Borrowers who sign up for or are already enrolled in the current Revised Pay as You Earn (REPAYE) plan will be automatically enrolled in SAVE once the new plan is implemented. To learn more about the new SAVE plan, visit the Department of Education's website.
Also beginning in July 2024, borrowers who have granted the Education Department access to their tax information will be automatically enrolled in an IDR plan if they are 75 days late on their loan payment, CNBC reported.
Federal loans are considered delinquent the day after you miss a payment, but loan servicers don't typically report it to national credit bureaus until you're 90 days delinquent. Automatic enrollment won't necessarily reduce your monthly payment to $0, according to CNBC, but it should make your monthly payment more manageable and help you avoid defaulting.
More From GOBankingRates