Student Loan Forgiveness: 6 States That Would Be Impacted The Most Through Biden's Plan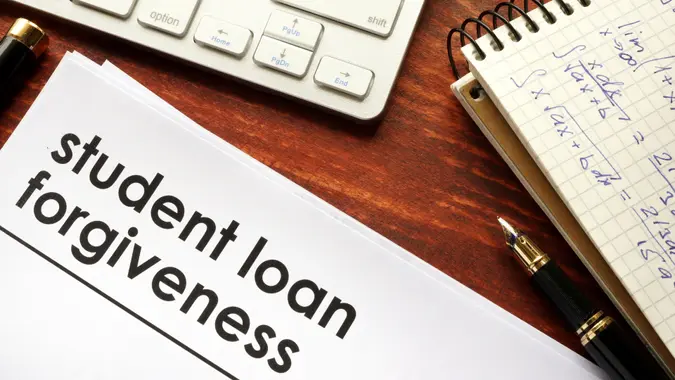 designer491 / Getty Images/iStockphoto
On Feb. 28, President Joe Biden's student loan forgiveness program will be taken up in the Supreme Court. Two cases are challenging the loan forgiveness program, which is currently paused due to legal proceedings.
Student Loan Forgiveness: Timeline of Events Leading Up To the Supreme Court Review
Learn: With a Recession Looming, Make These 3 Retirement Moves To Stay On Track
One case was brought by individual borrowers who did not qualify for the full $20,000 forgiveness. The other is by a group of Republican-led states: Arkansas, Iowa, Kansas, Missouri, Nebraska, and South Carolina.
Before the legal proceedings halted the student loan forgiveness, 26 million applications were submitted. As expected, large states with big populations had the most applications and lower population states had the least.
Approximately 16.5 million of those applications were approved for discharge. The White House recently released data showing the number of fully approved applications by state.
The six states that would be impacted most by Biden's plan are as follows:
California – 1.47 million applications approved
Texas – 1.39 million applications approved
Florida – 1.05 million applications approved
New York – 998,000 applications approved
Pennsylvania – 743,000 applications approved
Ohio – 702,000 applications approved
The Department of Education's data from last week shows how many borrowers per congressional district were fully approved for debt relief, with 60% to 65% of eligible borrowers applying or automatically deemed eligible in most districts.
Take Our Poll: How Much of a Tax Refund Do You Expect in 2023?
Discover: The IRS Has Refunded $15.7B as of Feb. 3 — Here's How Much the Average Taxpayer Is Getting Back
In the six Republican-led states that are challenging the student loan forgiveness program, 1.1 million student loan borrowers have already been approved for forgiveness, with another estimated 2.9 million student loan borrowers that could potentially qualify.
Millions of Americans are waiting to see how the Supreme Court rules on the Biden student loan forgiveness program.
More From GOBankingRates