Student Loan Forgiveness: AOC Tells Scared Follower All Is Not Lost if Supreme Court Rules Against Biden's Plan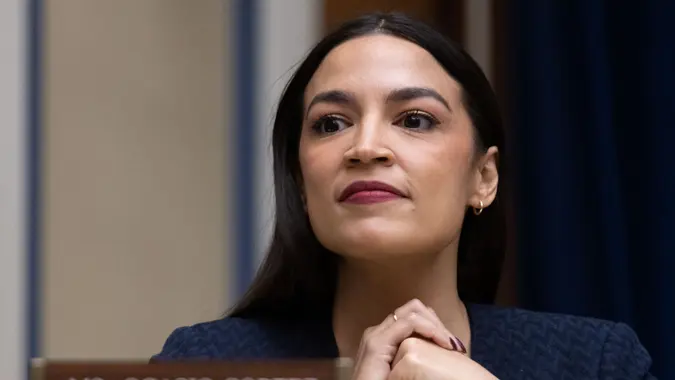 Shutterstock / Shutterstock
President Joe Biden's federal student loan forgiveness plan got pushback almost as soon as it was announced back in August 2022, and its fate now rests in the hands of the U.S. Supreme Court following a series of legal challenges. But even if the court rules against the plan (as many expect), at least one lawmaker — U.S. Rep. Alexandria Ocasio-Cortez (D-N.Y.) — holds out hope that it will still survive.
Ocasio-Cortez addressed the issue in a recent Instagram post replying to a question from one of her followers, Business Insider reported. The question was: "What can we expect on the student debt forgiveness case? I'm scared that it won't work."
Ocasio-Cortez answered that there are "two major parts" to the question: how SCOTUS will rule on forgiveness, and the grounds/rationale for the ruling.
"What happens next on student loans depends on both," Ocasio-Cortez wrote. "If the court rules that the program as-is is legal, the program will proceed as designed and Biden admin may just change some deadlines since applications were frozen (that'd be up to them)."
If the Supreme Court strikes down the plan, Ocasio-Cortez said that doesn't necessarily mean it will disappear altogether.
"If the court rules against Biden's loan program, I STILL don't think all is lost," she wrote. "It depends on the grounds of the court's ruling. The worst-case scenario is SCOTUS tossing out all authority to do anything on it. But that would be dangerous for the court's legitimacy and rulings are usually more nuanced than that. If they point out some aspect of the program that they take issue with, it's possible that gives us something to work with."
Ocasio-Cortez has long been a vocal supporter of the Biden forgiveness plan. After the plan was unveiled last summer, one of the congresswoman's Instagram followers asked her, "How does cancelling student debt help us who paid their loans?"
Take Our Poll: Do You Think Bankruptcy Is an Acceptable Way To Escape Student Loan Debt?
As People reported at the time, Ocasio-Cortez took issue with the premise of the question. In her reply, AOC wrote: "I've said it before and I'll say it again: Not every program has to be for everybody. Maybe student loan forgiveness doesn't impact you. That doesn't make it bad. I am sure there are certainly other things that student loan borrowers' taxes pay for. We can do good things and reject the scarcity mindset that says doing something good for someone else comes at the cost of something for ourselves."
Whether or not her support is enough to save the plan is another matter. Some analysts suggest the majority-conservative Supreme Court will rule against the plan, and any other attempts to salvage it will fall short. If that turns out to be the case, millions of federal student loan borrowers will likely have to resume payments sometime in late August.
More From GOBankingRates