Student Loan Forgiveness: More Than a Dozen Briefs Have Been Filed in Support of Biden's Plan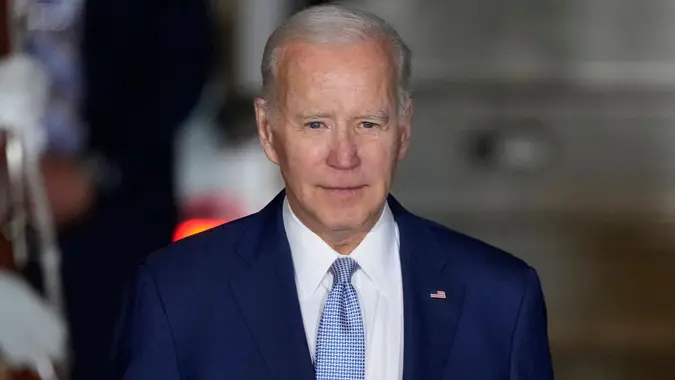 Fernando Llano / AP / iStock.com
With the Biden administration's federal student loan forgiveness plan in limbo due to a series of legal challenges, supporters have been busy filing briefs urging the U.S. Supreme Court to authorize the plan.
Student Loan Forgiveness: Timeline of Events Leading Up To the Supreme Court Review
Learn: Get Your Credit Score On Track With These 3 Tips for Success
Student Loan Forgiveness: New Income-Driven Repayment Proposal Could Shrink Debt for Millions of Americans — Do You Qualify?
Earlier this week, dozens of organizations and individuals — including civil rights groups, labor unions, legal experts and state governments — filed amicus briefs with the nation's highest court, Yahoo Finance reported. The briefs were filed in anticipation of SCOTUS's review of lawsuits that challenge the legality of the plan, which aims to cancel up to $20,000 in federal student debt per borrower.
Arguments in a pair of cases — Biden vs. Nebraska and Department of Education vs. Brown — are scheduled to be heard by the Supreme Court on Feb. 18, 2023. A decision is expected by June, which is about 10 months after President Joe Biden first unveiled the loan forgiveness plan.
Although the U.S. Department of Education had hoped to begin canceling student debt as early as November 2022, the plan remains on hold. In response, the Biden administration has extended a loan repayment pause that will end no later than June 30, 2023.
As Yahoo Finance noted, those who filed amicus briefs counter two key arguments made by challengers to the plan. One of those arguments is that the plan oversteps Biden's executive authority. The other is that states and borrowers who claim that the plan hurts them financially – due to loss of business or potential tax consequences – lack legal standing to challenge the plan.
"These briefs reinforce and expand on the U.S. Department of Justice's case that student debt relief is legal and necessary and that legal challenges brought against student debt relief lack standing," the Student Borrower Protection Center (SBPC) said in a Wednesday email to Yahoo Finance.
Find Out: 6 Shakeups to Social Security Expected in the New Year
Student Loan Forgiveness: Biden's New REPAYE Plan Doesn't Include Parent PLUS Borrowers
The legality of the Biden loan forgiveness plan was challenged almost as soon as it was announced. But even legal experts who question whether the plan is lawful say that the Supreme Court should not reject it. As CNBC reported, that view is shared by William Baude, a law professor at the University of Chicago Law School; and Samuel Bray, a University of Notre Dame law professor.
In an amicus brief filed with the Supreme Court on Wednesday, Baude and Bray wrote that 'the standing theories that have been thrown at the wall in these cases are wrong, and many of them would have dangerous implications."
They specifically pointed to lawsuits brought by six Republican-led states. In these suits, the states argue that companies that service federal student loans – including the Missouri Higher Education Loan Authority (MOHELA) – would lose profits as a result of federal student loan forgiveness.
But Baude and Bray counter that MOHELA should have brought the legal challenge, and not the states themselves.
"Missouri is not the proper party to pursue relief for MOHELA's lost loan servicing fees," Baude and Bray wrote in their brief.
More From GOBankingRates