Student Loan Forgiveness: Are We Overlooking the Bigger Picture?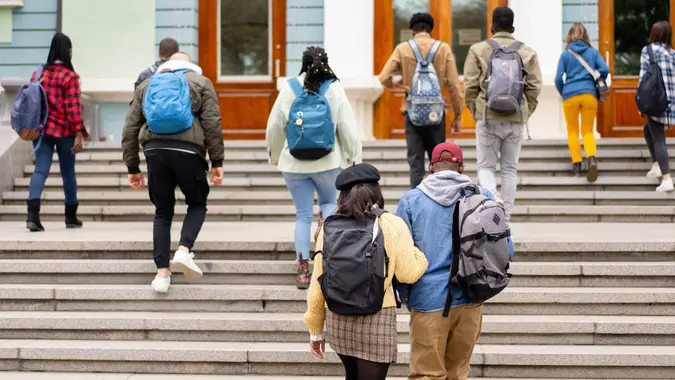 Vladimir Vladimirov / iStock.com
Student loan borrowers are waiting in limbo as Biden's federal forgiveness plan continues to be debated in the U.S. Supreme Court. But between this and the student loan pause, which GOBankingRates reported could continue indefinitely, nothing addresses the actual problem — the cost of higher education.
Explore: 'Big Short' Investor Michael Burry Expects 'Tuition Hikes' If Student Loans Forgiven
Student Loan Forgiveness: Will You Qualify for $0 Payments Under Biden's New Plan?
Betsy Mayotte, president and founder of The Institute of Student Loan Advisors, wrote in Barron's that these latest developments are more like a "Band-Aid" and less like a long-term solution to inflated college expenses.
The cost of higher education rose faster than wages and other measures like the Consumer Price Index, Mayotte noted. Over the last 10 years, Congress and the Department of Education introduced programs to make payments more affordable instead of addressing borrowing levels.
Over the past decade, the average cost of college tuition increased by 20%, from $11,397 to $13,677, Best Colleges reported. According to an analysis by U.S. News & World Report, the average debt among recent graduates who took out student loans is $30,000, and the average student loan payment is between $200 and $299, per recent Federal Reserve data.
Mayotte believes none of these policies will tackle the real issue and that until lawmakers "take robust action to incentivize the states to reinvest in higher education, educate consumers to prioritize the return on investment in their college-choice decision, and give colleges and universities some skin in the student debt crisis, this issue will only continue to get worse."
By reinvesting in higher education, Mayotte says college costs — state and private — should go down.
More From GOBankingRates