Student Loan Forgiveness Update: Biden Administration Files Briefs With SCOTUS Defending Plan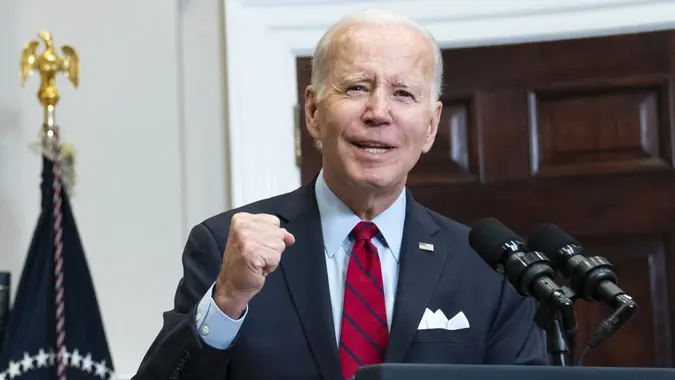 Pool/ABACA/Shutterstock / Pool/ABACA/Shutterstock
After weeks with no updates, there's a new development in the ongoing battle around the federal student loan forgiveness program. Last night, Jan. 4, the Biden administration officially filed a legal brief with the U.S. Supreme Court in which they defended the plan to provide relief to 45 million American student loan borrowers.
See: Student Loans 2023: Could Side Gigs Be Key To Paying Off Debts?
The Future of Finances: Gen Z & How They Relate to Money
According to CNBC, a team of lawyers from the Department of Education and the Department of Justice filed paperwork which "argues that the challenges to the plan were brought by parties that failed to show harm from the policy." Per CNBC, government lawyers have argued that the definitive existence of said harm — which, they argue, is not in evidence — would be a requirement to have a legitimate case. The legal team also "denied the claim that the Biden Administration was overstepping its authority, laying out its argument that it is acting within the law."
In fact, The New York Times reported that the lawyers presented the Heroes Act of 2003 as one defense, noting that through this legislation the White House does have the authority to move forward with the student loan relief program. The government's lawyers suggested that the pandemic would qualify as a situation which "allows the secretary of education to grant relief during times of war or national emergency."
U.S. Secretary of Education Miguel Cardona also released a statement last night, writing: "We remain confident in our legal authority to adopt this program that will ensure the financial harms caused by the pandemic don't drive borrowers into delinquency and default."
Supreme Court Arguments To Commence Soon
The fate of the relief program, which aims to provide one-time debt cancellation payments of $10,000 to eligible student loan borrowers and $20,000 to Pell Grant holders making under $125,000, is currently in the hands of the Supreme Court. Arguments from both sides are scheduled to begin on Feb. 28.
So far, the Supreme Court has agreed to hear two lawsuits, as CNBC reported — "One brought by six GOP-led states that argue that forgiveness will hurt the companies in their states that service federal student loans, and another involving two plaintiffs who say they've been harmed by the policy by the fact that they are partially or fully excluded from the loan forgiveness." The New York Times reported that the states presenting a legal challenge include Arkansas, Iowa, Kansas, Missouri, Nebraska and South Carolina.
Take Our Poll: Do You Think Student Loan Debt Should Be Forgiven?
More: Can Student Loan Borrowers Change Their Servicers?
Though this new development is a big legal step, it doesn't change the current status of the program. As the New York Times reported, The Supreme Court has "left in place an injunction issued by a lower court blocking the administration from proceeding with the program until the legal questions have been resolved."
More From GOBankingRates