Student Loan Forgiveness: Update to Biden's REPAYE Program Reveals Must-Know Changes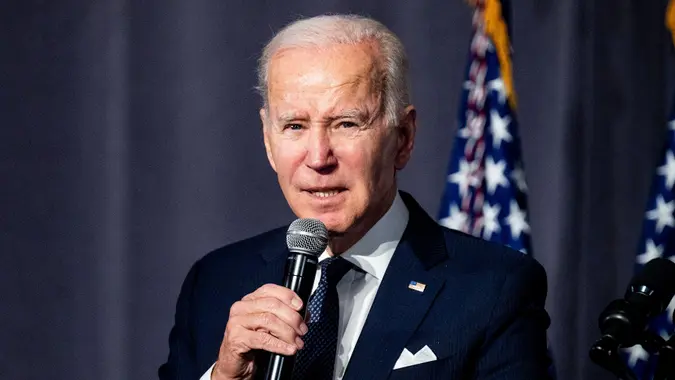 Michael Brochstein / SOPA Images / Shutterstock.com
Among several recent proposed changes the Education Department has announced, it has updated the timeline for student loan borrowers seeking forgiveness under a one-time account adjustment, according to reports.
Explore: More Young Americans Able To Buy Houses Due to Payment Pause
Discover: Protect Your Financial Future With Gold and Silver
Learn: More Than a Dozen Briefs Have Been Filed in Support of Biden's Plan
In April 2022, the Department of Education announced updates that "will bring borrowers closer to forgiveness under income-driven repayment (IDR) plans," including a one-time adjustment of IDR payment counters "to address past inaccuracies and permanently fixing IDR payment counting by reforming ED's IDR tracking procedures going forward," the department said.
Indeed, as the Student Borrower Protection Center (SBPC) said, IDR was originally designed to offer borrowers a reduced monthly payment tied to their income, not their outstanding balance.
"In theory, federal law also provides that after a 20 or 25 year IDR repayment term, the borrower's debt is canceled in full. However, in recent years, investigations by SBPC and the National Consumer Law Center, National Public Radio, and the Government Accountability Office revealed widespread problems with IDR," according to the SBPC.
Take Our Poll: Are You In Favor of More Inflation Relief in 2023?
Forbes reported that when the adjustment was announced in April, the guidance said borrowers could start receiving student loan forgiveness by the fall of 2022, and all others should receive their one-time retroactive credit by January.
In an updated guidance in October 2022, the Department "maintained that borrowers who cross the 20 or 25-year threshold following the account adjustment would start receiving student loan forgiveness in the fall of 2022, but that all other borrowers would not receive retroactive IDR credit until July 2023," according to Forbes.
In another December update, the Department pushed this timeline further, saying: "Based on the newly eligible months from the one-time account adjustment, borrowers who have reached 240 or 300 months' (as applicable) worth of payments for IDR forgiveness or 120 months of PSLF will begin to see their loans forgiven in spring 2023. All other borrowers will see their accounts update in summer 2023."
See: Which Income-Based Repayment Plans Will Be Phased Out Under Biden's REPAYE Program?
Find: How Student Loan Payments Can Help Build Your Retirement Fund
Forbes noted that the reason the Department is no longer citing the July deadline is that Congress did not provide additional funding to the Education Department's Office of Federal Student Aid in the most recent omnibus bill.
More From GOBankingRates