Student Loan Forgiveness Update: Why It's Delayed and What You Can Expect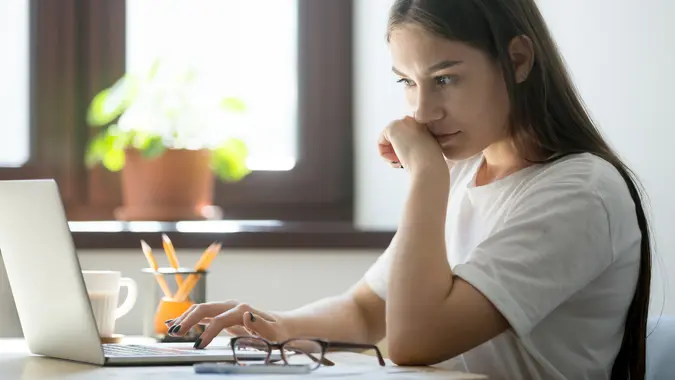 fizkes / iStock.com
People who still have significant student loans have been eagerly awaiting news on President Biden's debt relief plan, but its fate now rests in the hands of the Supreme Court.
First announced on Aug. 24, 2022, in accord with Education Secretary Miguel Cardona, the plan would cancel up to $20,000 in student loans for Pell Grant recipients and up to $10,000 for non-Pell Grant recipients.
See: 20 Useless Products That Car Dealerships May Try To Sucker You Into Buying
Mortgage Interest Rate Forecast for 2023: When Will Rates Go Down?
To qualify for forgiveness, individuals have to earn less than $125,000 and married couples/heads of household must earn less than $250,000, according to the U.S. Department of Education. About 26 million Americans filed applications for student loan forgiveness as soon as the process was open, and 40 million may be eligible.
The pause on student loan repayments and interest accrual was originally passed as part of the CARES Act in 2020, under former President Trump, but the Biden administration has extended the student loan repayment pause multiple times, due to economic hardships.
According to the Federal Student Aid website, "Because of this, no one with a federally held loan has had to pay a single dollar in loan payments since President Biden took office."
With repayments set to expire in June, however, Biden's forgiveness plan was the next step in economic relief for those carrying student loan debt. However, it has not gone according to his administration's plan.
Political Hot Button
Unsurprisingly, the Student Debt Relief Plan has been hotly contested along political lines. This was never more evident than when six Republican-led states — Arkansas, Iowa, Kansas, Missouri, Nebraska and South Carolina — along with two borrowers — Myra Brown and Alexander Taylor from Texas — filed a lawsuit claiming the Biden administration "unlawfully invoked the COVID-19 pandemic to claim 'breathtaking and transformative power,'" according to a court filing.
The 8th Circuit Court of Appeals, in which the case was filed, blocked the forgiveness plan, ruling that suspending loan payments and interest would harm the Missouri Higher Education Loan Authority (MOHELA) and negatively affect the state's funding of higher public education.
Take Our Poll: Do You Have a Second Job or Backup Plan in Case You Are Laid Off?
Yet, according to a Politico analysis of applicants by zip code, many Americans will greatly benefit from such debt relief. They found that there were more borrowers living in lower-income areas who applied for relief than those who live in wealthier neighborhoods. The bulk of the applications came from cities where the average per-capita income is below $35,000.
As a result of the legal hold-up, the Department of Education was forced to stop accepting any applications for the Student Debt Relief Plan in November 2022, and loan service providers were required to stop discharging any debt or interest until after the case is heard by the Supreme Court. The highest court in the U.S. began hearing arguments in the case on Feb. 28.
As student loan holders wait to see if they will be able to ease their educational financial burdens, many are opening 529 plans — tax-protected educational savings accounts that enable a parent to save for a student's education tax-free, so long as the funds are used for eligible educational funds.
Supreme Court Will Decide Debt Relief
The Supreme Court is chewing over those oral arguments made on February 28, for and against the plan. The justices must determine whether the six states and two borrowers even have a legal right or "standing" to challenge the program. They must also determine if the Biden administration did in fact, overreach in its authority with the proposed plan.
While many experts believe SCOTUS seems poised to block Biden's plan, others believe one of the president's lawyers may have saved it.
The attorney defending the Department of Education, Solicitor General Elizabeth Prelogar, told the Supreme Court, "The states assert standing based on injuries that are highly speculative, that they have inflicted upon themselves, or that fall upon a third party that is a stranger to this litigation," she said. "And private respondents purport to assert that the plan injures them because it provides too little debt relief, but seek a remedy that would result in no debt relief at all. This Court should reject those convoluted theories."
Repayment Pause Extended
The Biden administration has extended the current student loan and interest repayment pause until after the court makes its judgment. Payments will resume 60 days after the court case's resolution if the court weighs in the Biden administration's favor. If the debt relief program is shot down, or pushed out past June 30, 2023, student loan payments will resume 60 days after that, making it likely that many students will have to begin paying on their loans by the summer.
As stated, according to CNBC, Solicitor General Prelogar's arguments may just save it, with one law professor calling her push for the program a "brilliant performance." Though the more liberal judges, such as Sonia Sotomayor, Elena Kagan and newly minted justice Ketanji Brown Jackson are likely to vote to uphold the forgiveness, CNN reported that even conservative judge Amy Coney Barrett was asking "pointed" questions of the states opposing the program, which could herald a yes vote as well.
Meanwhile, for those 26 million people who put in an application to have their student loans forgiven, and the many more who hope to apply, until the Supreme Court makes its ruling, the fate of the Debt Relief Plan is still up in the air. Stay tuned, though.
More From GOBankingRates