Student Loans 2023: Biden Administration Issues Warning About Borrowing Money — Are You Affected?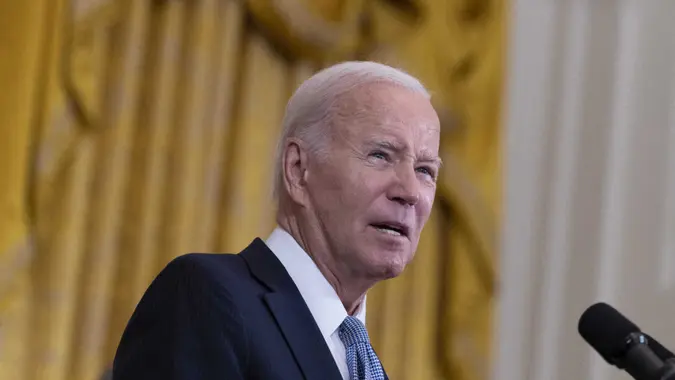 Pool/ABACA/Shutterstock / Pool/ABACA/Shutterstock
The Department of Education said that the share of federal student loan disbursements going to graduate students is at its highest point in history — something that is cause for concern, as the amount students pay for post-secondary credentials "is often only weakly connected to the labor market payoff for the credentials they earn," according to a new report.
"A closer look at borrowing trends and the outcomes of graduate programs, however, suggest cause for concern," department economists wrote in the report. "There is generally very little correspondence between the amount students borrow to finance their advanced degrees and their labor market outcomes."
According to the report, on average, graduate school completers with debt in 2016 borrowed $66,502 in total to finance their graduate education, up from $53,140 in 2000.
"Lack of oversight and essentially a carte blanche is currently in place for colleges and tuitions to charge whatever they want to allow the chase of the American Dream," said Zack Geist, founder of Student Loan Tutor. And according to Will Sealy, CEO and co-founder of Summer, the report from the Biden Administration puts hard numbers to the concerns that many graduate school students have been confronting for years. "Post graduate degrees are major investments that can put real financial strains on individuals, especially as U.S. salaries have stagnated relative to the cost of higher education," he said.
The economists also said that while graduate education plays a critical role in society, it is important to ensure that students do not end up with debts that harm their financial health. In turn, they reiterated that the Biden-Harris Administration has already taken "historic steps" to address the strain that increased borrowing for graduate school has put on borrowers, including fixes to the Public Service Loan Forgiveness program.
In addition, they said that the Department is also working to address the issue of unaffordable debt in graduate school proactively, protecting both students and taxpayers from programs unlikely to pay off.
Geist said, currently, there is no cap on Grad PLUS loans from the government and the maximum a borrower can receive is based on what the college or university charges for tuition with an additional amount allotted for living expenses, books and other higher education related costs.
"Tuition costs have increased on average of 7-8% per year and the institutions can justify those increases and overall costs based on the top earners in a specific field," he continued. "This may be the catalyst of the government capping the total amount borrowed and requiring private loans to be taken out in order to achieve the same goal, which are not eligible for federal forgiveness programs and make certain degrees more unattainable such as fields in holistic medicine."
More From GOBankingRates