Student Loans: Court Allows $6 Billion in Forgiveness Funds To Proceed for 200,000 Borrowers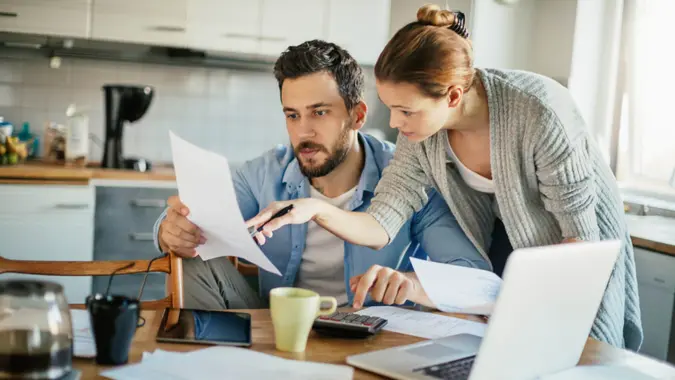 Geber86 / Getty Images
Federal student loan borrowers hoping for canceled debt due to school misconduct moved a step closer to getting relief thanks to a federal appeals court ruling handed down last week. It could mean $6 billion in student loan forgiveness for more than 200,000 borrowers — though it is not related to the Biden administration's federal student loan forgiveness plan, which is currently being reviewed by the U.S. Supreme Court.
On March 29, the Ninth Circuit Court of Appeals denied a request that would further delay student loan forgiveness and other debt relief under a settlement to resolve so-called borrower defense to repayment claims, Forbes reported.
A "borrower defense to repayment" means you have legal grounds to discharge federal student loans if your school misled you or engaged in other misconduct in violation of certain laws.
As previously reported by GOBankingRates, the initiative was unveiled on a new webpage launched by the U.S. Department of Education's Federal Student Aid agency, under the heading of "Borrower Defense Loan Discharge." The page provides detailed steps you can take toward a borrower defense to repayment.
If the Education Department approves your application for borrower defense, the agency will discharge any remaining balance on the federal student loans you took out to attend the school. The department might also refund loan payments you already made.
Borrowers who've been misled by colleges have long had the right to request loan forgiveness. But many borrowers have accused the Education Department of illegally delaying or arbitrarily rejecting hundreds of thousands of borrower defense to repayment applications — especially under Betsy DeVos, education secretary during the Trump administration.
A class action lawsuit, Sweet vs. Cardona, was filed pitting thousands of student loan borrowers against the Education Department, Forbes noted. That case was settled last fall, paving the way for $6 billion in student loan discharges to more than 200,000 borrowers who attended one of several dozen mostly for-profit schools listed in the agreement.
However, in January 2023, three schools listed in the settlement agreement appendix — American National University, Everglades College Inc., and Lincoln Educational Services — aimed to challenge the case and block the relief, calling the settlement unfair. In February, a federal district court ruled that the settlement could proceed, leading the three schools to appeal to the Ninth Circuit Court of Appeals.
After that ruling, a temporary order allowed the Education Department to proceed in implementing student loan forgiveness and other settlement relief for most covered borrowers. However, the department was told to pause relief for borrowers who attended the three schools while the appeal moved forward.
Finally, on March 29, the Ninth Circuit Court of Appeals denied the schools' motion for a stay pending appeal, according to an update on the Project on Predatory Student Lending (PPSL) website.
"This means that settlement relief for those who attended the three intervening schools — American National University, Everglades College/Keiser University, and Lincoln Tech – can proceed," the PPSL update stated. "At this time, the Department of Education can move forward with relief for all class members."
According to a Ninth District Court of Appeals court filing, the appellants failed "to demonstrate a sufficient probability of irreparable harm to warrant a stay of the challenged settlement pending these appeals."
Take Our Poll: Do You Think Bankruptcy Is an Acceptable Way To Escape Student Loan Debt?
Covered borrowers can now expect relief on a rolling basis, according to Forbes, with those in the settlement agreement's approved list expected to receive automatic student loan forgiveness and other associated debt relief over the course of the next year. For more information about who qualifies for student loan forgiveness and other relief under the settlement, visit the PPSL's informational website.
More From GOBankingRates