Student Loans: 4 Hidden Reasons You Can't Seem To Pay Them Down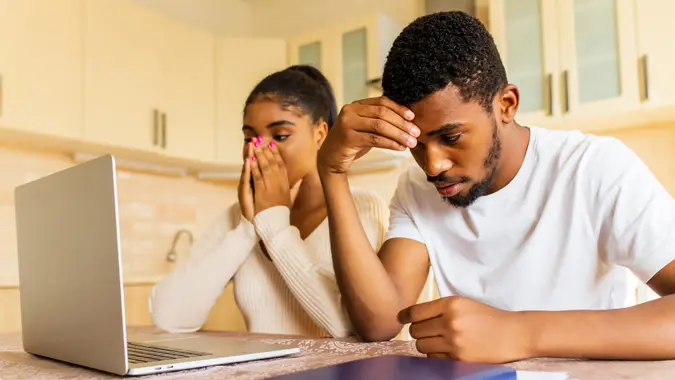 IURII KRASILNIKOV / Getty Images/iStockphoto
Many student loan borrowers often find themselves in the same familiar, frustrating situation. Despite making payments consistently each month, they can't seem to pay down their student debt. 
Some borrowers will pay for years and struggle to clear their balance in full. Why does this happen? Why doesn't their student loan balance drop as quickly as they would expect?
Here are the hidden reasons why borrowers can't seem to pay down student loans. 
Choosing the Repayment Plan With the Smallest Monthly Payment
Borrowers with federal student loans may opt for an income-driven repayment plan where payments can be as low as $0. However, these plans do not guarantee the accrued interest will be covered or paid each month.
Elaine Rubin, director of corporate communications at Edvisors, said borrowers who experience negative amortization — which increases the borrower's debt — will be shocked to see their outstanding balance either increases or stays the same even after years of making payments.
Take Our Poll: Do You Think Bankruptcy Is an Acceptable Way To Escape Student Loan Debt?
Capitalization of Interest
Zack Geist, founder of Student Loan Tutor, said capitalization of interest occurs in these situations:
Any time the borrowers' loans go into forbearance or deferment status
The borrower changes plans from one income-driven repayment plan to another
Consolidating the loans
Late on Annual Recertification due yearly for income-driven repayment plans
Loan servicer makes a mistake or doesn't process paperwork
"These scenarios can all result in interest accruing on a higher amount and making it impossible to catch up without paying more to cover the additional interest," said Geist.
Waiting To Qualify for Loan Forgiveness
Another hidden reason why borrowers can't seem to pay down student loans is because they are assuming they will qualify for loan forgiveness and choosing repayment plans with long repayment terms.
Rubin said no assumptions should ever be made about student loan forgiveness, especially forgiveness with income-driven plans. Today, income-driven repayment plans have repayment periods of up to 25 years. The longer the repayment term is, the lower the monthly payment made to the loan.
While many borrowers may have extremely low payments for a certain number of years, Rubin said changes to income and/or marital status could significantly increase monthly payments. This will result in little or no forgiveness from an income-driven repayment plan.
Being Unaware of Public Service Loan Forgiveness
Many eligible borrowers may not be aware of Public Service Loan Forgiveness (PSLF). 
Those who are employed by a U.S. federal, state, local or tribal government or not-for-profit organization or are interested in taking a public service job may qualify for the PSLF Program. If you have made 120 qualifying monthly payments under a qualifying repayment plan while working full-time for a qualifying employer, your remaining Direct Loans balance may be forgiven through PSLF. Learn more through FAFSA about qualifying types of employment and how to apply for PSLF.
More From GOBankingRates