Student Loans: What Happens If You Stop Paying?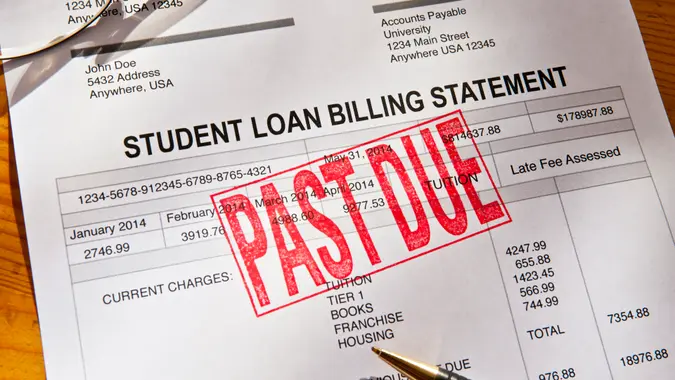 KLH49 / Getty Images/iStockphoto
In November 2022, President Biden announced that certain federal student loan borrowers should expect to resume repayment in spring or summer 2023, depending on a variety of factors, as CNBC reported. However, a recent Morning Consult survey showed that 58% of those with student debt said they couldn't afford the payments.
Student Loan Forgiveness: Biden Administration Makes It Easier for Those Misled by Schools to Have Debt Erased
Find: If Your Credit Score is Under 600, Make These 3 Moves ASAP
According to data provided the New York Fed Consumer Credit Panel (CCP), by the end of 2021, approximately 3 million people were in student loan default. Another 270,000 were 90-270 days past due on their student loans, which means they missed a payment but hadn't yet defaulted.
When you first miss a payment, your loan may be subject to late fees and penalties. Per the Department of Education (ED), "The first day after you miss a student loan payment, your loan becomes past due, or delinquent. Your loan account remains delinquent until you repay the past due amount or make other arrangements, such as deferment or forbearance, or changing repayment plans."
Missed payments are reported to credit bureaus after 90 days of delinquency and continue to be reported periodically. After 270 days of nonpayment (or 9 months), the loan falls into default. Your loan will continue to accrue interest charges during delinquency and even after default. So, if you're not making payments, expect your balance to rise before you being repayment.
According to the Department of Education, once a loan is in default, it is subject to a process known as acceleration: "If you default on your federal student loan, the entire balance of the loan (principal and interest) becomes immediately due. This is called acceleration. Once your loan is accelerated, your loan holder can begin collecting on your loan by taking money from your wages or your federal payments (such as tax refunds)." The department further noted that, as of Nov. 2021, private collections agencies "will no longer service ED-held defaulted loans. If a private collection agency worked on your ED-held loans, it will no longer manage your loans moving forward."
Take Our Poll: What Are Your Financial Priorities in 2023?
More: Will Student Loans Become More Expensive After the Fed Interest Rate Increase?
If you fall behind, you can catch up by making a number of consecutive on-time payments.
More From GOBankingRates