Supreme Court Gives Clues as to How Student Loan Forgiveness Will Shake Out — 2 Legal Questions Are Key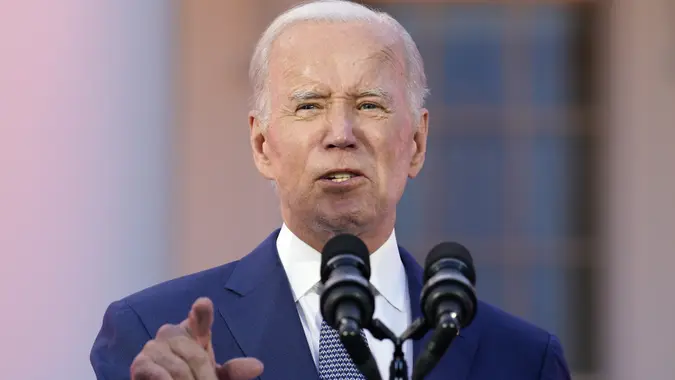 ©Shutterstock.com
President Joe Biden's plan to relieve student loan debt for tens of millions of Americans rests on shaky ground as the Supreme Court continues to deliberate on legitimacy issues. The court "could potentially release the decision on Thursday, June 22 or another date between then and early July," according to a student loan expert.
Writing for Forbes, student loan attorney Adam S. Minsky claimed that regardless of when the Supreme Court comes to its decision, the justices will need to carefully address two key legal questions — both resting on issues of legitimacy and constitutional claims. He also suggested that a justice considered conservative, Justice Amy Coney Barrett, may side with the Biden administration on the issue.
Do the Challengers Have a Legal Standing to Sue?
The federal student loan forgiveness plan has been delayed since October due to two lawsuits filed by GOP-endorsed groups, one by six states arguing the legality of Biden's relief would hurt their states' tax revenues and diminish the value of investments tied to student loans, and another by two student-loan borrowers who did not qualify for the full $20,000 amount of relief.
The states case — pursued by Arkansas, Iowa, Kansas, Missouri, Nebraska and South Carolina and thought of as the stronger of the two challenges — has been refuted by the Biden administration as baseless, politically-motivated and without "standing." This is largely due to the involvement of third-party student loan company MOHELA, one of the nation's largest student loan servicers who currently has a contract with the federal government.
The suit contends that MOHELA, drawn into the argument by the state of Missouri, will lose money under Biden's relief program because it will have fewer student loan accounts to manage, will make less money and "will make it more difficult for MOHELA to make required payments to a state fund that helps its public colleges and universities," according to Politico.
As Minsky pointed out, the Supreme Court will need to base its verdict according to "standing," as envisioned by the constitution, and whether damages incurred by MOHELA — a financially independent third-party who could've sued the federal government on its own (but declined) — had legal standing as brought into court by the state plaintiffs.  
"In general, a party cannot file a lawsuit based on an injury incurred by someone else; they would not have standing," said Minsky.
Is President Biden's Student Loan Forgiveness Plan Legal?
Despite claims that broad student loan forgiveness would be financially detrimental to their states, Republicans have questioned the legality of the Biden's proposal and whether the federal statues the president's administration used to craft the plan was lawful.
"The Biden administration cited the HEROES Act of 2003 to establish the program, arguing that this statute gives the Education Department fairly sweeping authority to 'modify' or 'waive' nearly 'any' statutory or regulatory federal student aid provision to address financial harms caused by a national emergency," Minsky stated.
Enacted after the Sept. 11 terror attacks, the HEROES Act was originally intended to keep service members financially secure while they fought in wars in Afghanistan and Iraq, per the Associated Press. When extended, the law allows the secretary of education to modify the terms of federal student loans as needed (relating to a national emergency).
Although used in connection with the COVID-19 pandemic, which ceased to be considered a national emergency on May 11, the president defends using HEROES Act provisions to cancel student loan debt, while opponents argue that Biden is overstepping his and the Department of Education's authority.  
When Will Students Have to Pay Back Their Student Loans?
Most federal student loans have been frozen since March 2020 when a moratorium was enacted to protect struggling borrowers due to the pandemic. Biden's forgiveness plan promised to cancel up to $20,000 in student debt for Pell Grant recipients and up to $10,000 for individual borrowers who make under $125,000 per year. The forgiveness plan does not apply to borrowers with privately held loans.
Although the current student loan pause extension originally ran through 60 days after June 30, 2023 — or whenever the lawsuits were resolved — interest on student loans will resume on Sept. 1, 2023, and payments will be due starting in October, according to a statement provided to Politico by an Education Department spokesperson.If the Supreme Court declares Biden's loan forgiveness plan to be legal, the Department of Education can continue to process the 26 million applications it has already received. The department would likely re-open the application process.
However, if the Supreme Court rules in favor of the GOP-led lawsuits, Biden's sweeping student loan forgiveness program will be rendered void. The current debt ceiling bill will lift the payment pause at the end of August, eliminating the possibility of extending the student loan moratorium for an eighth time.
More From GOBankingRates