Supreme Court Rules No on Biden Student Loan Forgiveness: What It Means for Borrowers' $20,000+ Debts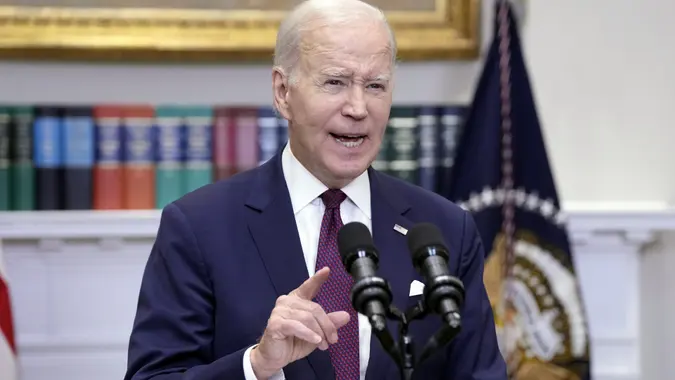 Chris Kleponis / UPI / Shutterstock.com
In a blow to millions of American borrowers, and after almost a year since the program was announced, the Supreme Court — in a 6-3 decision — struck down President Biden's student loan forgiveness program, which would have canceled up to $20,000 in debt per borrower.
The June 30 decision had been anxiously awaited by more than 40 million student loan borrowers whose financial burdens were hanging in the balance months since the relief program was announced in August 2022.
Now, student loan interest will resume starting on Sept. 1, 2023, and payments — which paused during the pandemic — will be due starting in October, according to the Department of Education. The department added that it will notify borrowers "well before payments restart."
The resumption will have direct and immediate consequences for borrowers. The average monthly student loan payment is $503, according to the Education Data Initiative. The resumption of payments may put a dent in borrowers' budgets and increase risk of delinquency.
Biden To Denounce Supreme Court Ruling
The New York Times reported that President Biden will denounce the court ruling in remarks later today and will "announce new actions to protect student loan borrowers."
"Today's decision on student loans by #SCOTUS is disappointing to the millions of folks who were hoping for relief. Too many Americans are burdened by student loan debt, and no one should be buried in loans just for getting an education," tweeted Rep. Colin Allred (D-Texas).
The Supreme Court ruled that the HEROES Act — enacted in the wake of the Sept. 11 attacks — does not provide authority to grant relief from student loans. The decision is a win for Republicans, who had argued that the program was "unfair" and would burden taxpayers.
Student Loan Forgiveness Failure Could Have Economic Impact
Yet, several experts believe that the Supreme Court's decision to block the Biden administration's student loan forgiveness plan is not only a major setback for borrowers, but could also have a significant impact on the economy.
"For borrowers, this could have a number of negative consequences, including increased financial stress, difficulty buying a home or starting a business, and reduced economic mobility. This could make it more difficult for them to move up the economic ladder and may have a negative impact on the economy as a whole," said Andrew Latham, certified financial planner and director of content for SuperMoney.com.
Latham added, however, that although supporters of the plan touted the economic benefits of student loan forgiveness, it is not clear whether it would ultimately be a net positive for taxpayers. The cost of forgiving student loan debt would be significant.
"Some may argue the money could be better invested in other programs, such as healthcare and homelessness assistance programs. It is also unclear how the government would pay for it without having to increase taxes or make cuts to other programs," he added. Another potential economic benefit to the SCOTUS decision is that it could help to reduce inflation, he said, noting that some economists argue that forgiving student loans would lead to increased spending and inflation.
"Ultimately, this is a hard blow to student loan borrowers who were struggling to make ends meet, but it is hard to predict whether the decision will be a net positive or negative for the economy as a whole," Latham concluded.
Following the decision, educational advocacy organization The Education Trust issued a statement suggesting that with rising inflation and a looming recession, the Education Department had already warned of the likelihood of catastrophic default rates when payments resume in a few months.
"And it is predicted that restarting loan payments will suck some $5 billion out of consumer spending, reducing our nation's economic growth and accelerating the likelihood of a recession," the group's statement read.
More From GOBankingRates