What Are All Your Options in the Fight Against Student Loan Debt Repayment?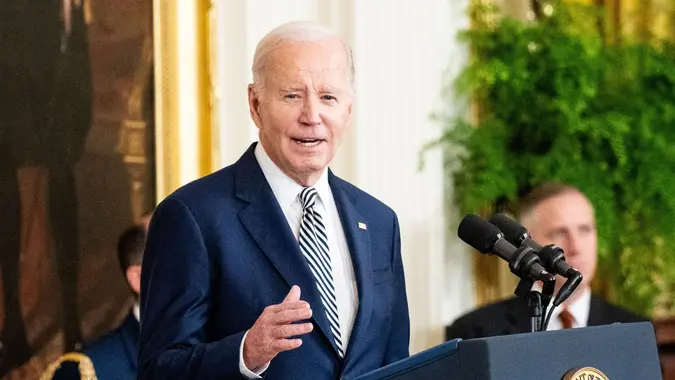 Michael Brochstein/SOPA Images/Shutterstock / Michael Brochstein/SOPA Images/Shutterstock
Student loan forgiveness has become a hot-button issue ever since President Joe Biden promised it on the campaign trail in 2020. While broad student loan forgiveness was struck down by the Supreme Court earlier this year, the Biden administration is leaning into more targeted student loan forgiveness initiatives.
Some Student Loans Were Already Forgiven
While the Supreme Court rejected Biden's original student loan forgiveness plan which would have forgiven up to $20,000 per borrower, he still managed to erase more than $127 billion in student loan debt so far for more than 3.5 million borrowers, according to CNBC.
The Biden administration leveraged existing student loan forgiveness programs that were previously difficult to access, such as forgiveness through an Income-Driven Repayment (IDR) plan, the Public Service Loan Forgiveness (PSLF) program, Total and Permanent Disability discharge and the Borrower Defense Loan Discharge program.
Options To Avoid Paying Your Student Loans
Income-Driven Repayment (IDR) Plans: IDR plans allow borrowers to pay only a percentage of their discretionary income toward their loans each month. The remaining debt after a certain period will get automatically forgiven. There are currently four different IDR plans available.
It turns out that many borrowers who've already made the minimum number of payments to qualify for forgiveness on the existing balance have yet to see that forgiveness. The Biden administration took a closer look at millions of student loan accounts and has cleared nearly $42 billion in debt for more than 850,000 people enrolled in these plans, per CNBC.
Public Service Loan Forgiveness (PSLF) program: This program was originally signed into law by President George W. Bush in 2007 and allows for certain non-profit and government workers to have their student loans forgiven after 10 years of on-time payments. It was estimated by the Consumer Financial Protection Bureau in 2013 that about one-quarter of American workers would benefit.
Many student loan borrowers turned out not to be eligible since they were enrolled in a plan that did not qualify for PSLF — or their payments were not counting toward the forgiveness. The Biden administration worked to repair these errors, resulting in 715,000 public servants getting their debt erased, amounting to a grand total of $51 billion in relief.
Total and Permanent Disability Discharge: This form of student loan forgiveness encompasses borrowers who may qualify if they suffer from a mental or physical disability that is permanent or severe and prevents them from working entirely. Proof of the disability can come from the Social Security Administration, the Department of Veterans Affairs, or a doctor.
Previously, the Education Department had a hard time identifying those who needed and were eligible for the relief. The Biden administration has corrected this issue and has forgiven $11.7 billion in student debt for more than 500,000 disabled borrowers, CNBC detailed.
Borrower Defense: Borrowers can be eligible for this type of loan forgiveness "if their schools suddenly closed or they were cheated by their colleges," according to CNBC.
The Biden administration has more quickly processed these applications recently by considering cases in groups, rather than requiring each attendee to prove that they were misguided. As a result, 1.3 million borrowers have seen $22.5 billion in loan forgiveness.
More From GOBankingRates