Why Gen Z Graduates Are Not Using the Majors They Got Loans For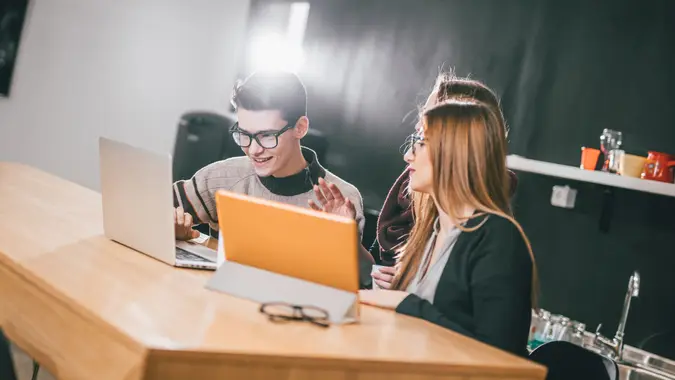 freemixer / iStock.com
Many members of Gen Z are graduating soon or have graduated recently — but a large portion of Gen Z is frustrated by their job prospects. Adding to their frustration with the current job market is the fact that student loan repayments are resuming in October, which creates more urgency to find good-paying jobs.
When Gen Z graduates, they may find themselves having to work outside their majors to chase lucrative jobs that can keep them from drowning in debt.
Key Statistics
According to a survey conducted by ScholarshipOwl, 41% "indicated that they will consider accepting a job outside of their field to be sure they can make their loan payments."
In addition, 83% believe it will be difficult for them to secure jobs related to their majors, with only 17% reporting that they will not have a difficult time finding jobs in their proposed fields.
Check Out: All of the States That Will Pay Off Your Student Loans
Why Is Gen Z Taking Jobs Outside Their Majors?
Gen Z's biggest roadblock when it comes to student loan repayment is the current job market.
This is especially a concern to those who majored in the humanities or arts. It is even a concern for those who majored in a STEM field — hiring freezes and layoffs in the technology sector have been greatly affecting early career applicants.
Due to the current state of the hiring market, Gen Z has to search for the right opportunities that will lead to higher salaries.
The work Gen Z must do may include working outside their field in favor of a more lucrative, opportune market. This also could include taking internships that will help them build a foundation in other fields.
What Will Gen Z Do?
According to the ScholarshipOwl survey, 59% of respondents "planned to work more than one job and/or take on a side hustle to ensure they could make their student loan payments."
By working another job, a grad has another stream of income that will help pay off loans faster. A second job could be a position in the gig economy, like delivery driving, a small creative business or working part time in a customer service role.
Regardless, Gen Z will have to look for alternative ways to generate income in order to keep their heads above water once loan repayments resume.
More From GOBankingRates