Only 3% of Americans Have Added Student Loan Payments to Their Budgets: Why You Need To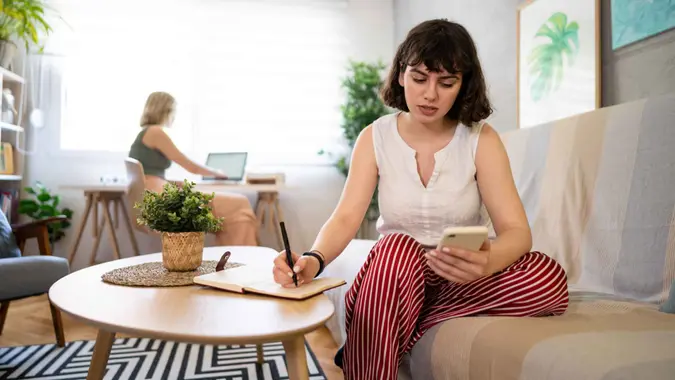 SrdjanPav / iStock.com
After a three-and-a-half-year pause on student loan payments, many Americans now face the challenge of reintegrating these expenses into their budgets. This transition can be especially daunting for those who've grown used to having extra funds or other expenses. Budgeting for student loan payments is not only vital for timely repayments but also for protecting your financial well-being.
Surprisingly, a recent survey conducted by GOBankingRates found that just 3% of Americans have already planned student loan repayments into their budgets. Additionally, 14% anticipate a slight impact on their budgets, while 10% foresee a drastic effect, but they have not planned for it.
Keep reading for a closer look at the survey insights and some practical tips for Americans looking to start budgeting for the return of student loan payments.
Young Americans Bear the Brunt of Repayments
As young Americans embark on their careers, they also carry the burden of substantial student loans. According to the survey, 29% of 18- to 24-year-olds anticipate being drastically affected by student loan repayments. Among the same age group, 34% expect a slight impact on their budgets.
Unsurprisingly, older Americans are the least affected, with 89% of those over 65 anticipating no impact on their budgets.
Gender Differences
Gender differences play a role in how individuals approach student loan repayments. For one, men are better prepared than women, with 4% of men having already included loan repayments in their budgets, compared to only 2% of women.
However, when it comes to those expecting only a slight impact on their budgets, 12% of women are affected, compared to a more significant 15% of men. Nevertheless, women comprise the majority of those anticipating a substantial budgetary impact, with 11% of women and 9% of men reporting this type of budgetary effect.
A Quick Look at Americans' Debt Levels
While everyone with student loans is undoubtedly going to be affected by the payment resumption, the extent of their indebtedness plays a crucial role in their budgetary readiness.
The survey shows that the majority of respondents who have student loans at all have loan debts of under $10,000, accounting for 22% of Americans. The next most common range is $10,001 to $15,000 in loans, affecting 15% of Americans, with 12% carrying $15,001 to $20,000 in loans.
The Consequences of Unpreparedness
With student loan payments on pause for years, many individuals have redirected these funds to other expenses. However, the lack of financial preparedness has significant negative implications.
Higher Fees and Credit Setbacks
Neglecting to prepare for student loan repayments and not being able to afford payment minimums can lead to a cascade of financial setbacks including late fees, elevated interest rates and a dip in your credit score.
"Here's a wake-up call: the Federal Reserve has noted that the outstanding student loan debt reached nearly $1.6 trillion in 2020," said Jeff Rose, CFP and founder at Alliance Wealth Management, LLC. "That's a lot of debt, and it becomes even costlier with missed payments. Plus, let's not forget the stress and anxiety that come with being unprepared financially."
A diminished credit score can severely impede your ability to secure various forms of credit, including mortgages and loans.
Defaulting on Loans
The resumption of student loan repayments also increases the risk of loan defaults.
"If you fall behind on your student loan payments for long enough, your lender may default on your loans," said Stephen Clark, CFP and founder of Finbri, a website that bridges loans and development finance. "This can have serious consequences, such as wage garnishment and seizure of your assets."
Moreover, defaulting can lead to a decrease in your credit score, affecting your eligibility for loans and competitive interest rates for an extended period.
How To Budget for Student Loans
Budgeting may not be the most exciting endeavor, but it is indispensable when finances are tight, and paying off student loans is non-negotiable.
Consider the 50/30/20 Rule
For those seeking a structured approach to budgeting, the 50/30/20 rule offers an efficient method for organizing your expenses.
"With this rule, you should be spending 50% on essential expenses (rent/mortgage, insurance, minimum debt payments, etc.), 30% on discretionary expenses (dining out, entertainment, etc.) and 20% towards your goals (retirement, emergency funds, investing, etc.)," said Kendall Meade, CFP and financial planner at SoFi. "It is important to note, though, that minimum student loan payments would fall into the essential 50% category."
If you find that your bills, including mortgage, rent, car payments and groceries, are already consuming the 50% threshold, your student loan payments may necessitate some spending adjustments.
Review Subscriptions
It's easy to lose track of where your money goes when you have multiple subscriptions set to autopay. Taking inventory of your subscriptions is often overlooked but can help eliminate unnecessary expenses.
"According to a survey, people estimated that they spend $86 a month on subscriptions, but when they reviewed their spending, it was closer to $219 a month," Meade said. "It is easy for a bunch of small $10 subscriptions to add up. So it is important to review any free trials that may have expired you need to cancel and also any subscriptions that you no longer use."
Simply narrowing from six subscriptions to two can help free up some space in your budget.
GOBankingRates surveyed 1,021 Americans aged 18 and older from across the country between Oct. 12 and Oct. 16, 2023, asking twenty-three different questions: (1) How much did you spend on your pet in the last year?; (2) How much have you spent/are you planning to spend on Halloween this year?; (3) How much money do you spend on kid-related activities in a year?; (4) How much do you spend on average on your monthly utility bills (electric, heat/gas, water)?; (5) What spending/saving habits have you had to change in the last year due to inflation/rising prices? (select all that apply); (6) What was the biggest unexpected expense you had this year?; (7) How much do you currently spend on monthly car payments?; (8) Do you live in a single-income or dual-income household?; (9) In the past year, did you have to take on a side gig because of rising prices/inflation?; (10) How much do you bring home from your side job(s) each month?; (11) How much have your overall expenses gone up in the past year?; (12) What is your top financial priorities to end 2023?; (13) What is the top way you've earned your money/gained wealth?; (14) Have you started financially preparing for 2024?; (15) How much have you spent on home upgrades in 2023?; (16) How will the resumption of student loan repayments affect your budget?; (17) How much do you currently owe in student loans?; (18) How much do you spend on yourself (not including housing, food, etc.) out of each paycheck?; (19) How much do you spend on online purchases per month?; (20) Where do you shop for groceries most often?; (21) Do you shop around for groceries to get better deals?; (22) What are you currently invested in? (Select all that apply); and (23) What is the current value of your stock investments?. GOBankingRates used PureSpectrum's survey platform to conduct the poll.
More From GOBankingRates