These 9 States Pay Women Much Less Than Men
Find out which states have a bigger pay gap problem.
The gender wage gap is still very much a reality in the United States, but it isn't just because there are fewer women than men in high-paying jobs. Women tend to earn less in most occupations.
However, a new GOBankingRates study found that the gender wage gap varies greatly across the country. Using median income data from the U.S. Census Bureau for all 50 states and the District of Columbia, the study found the gender pay gap ranges from $6,725 to $19,414.
The nine states where women earn much less than men have pay gaps greater than $15,000. But those states aren't in one region — there are four in the West, three in the East and one each in the South and Midwest.
Here is a look at the nine states with the biggest pay gaps:
1. Wyoming
2. Utah
3. North Dakota
4. Louisiana
5. Washington
6. Connecticut
7. New Jersey
8. Alaska
9. Massachusetts
There are only two states where women make less than 60 percent of what men earn: Wyoming and Utah, where the median figure for both states is about 57 percent. In fact, there are three career categories in Utah where women earn less than half of what men are paid: legal; sales; and arts, design, entertainment, sports and media occupations.
Massachusetts is the only state among those with the biggest pay gaps where the women's median income is at least 70 percent that of the men's. That's because working women in Massachusetts have the fourth-highest median income in the United States, but so do the state's male employees.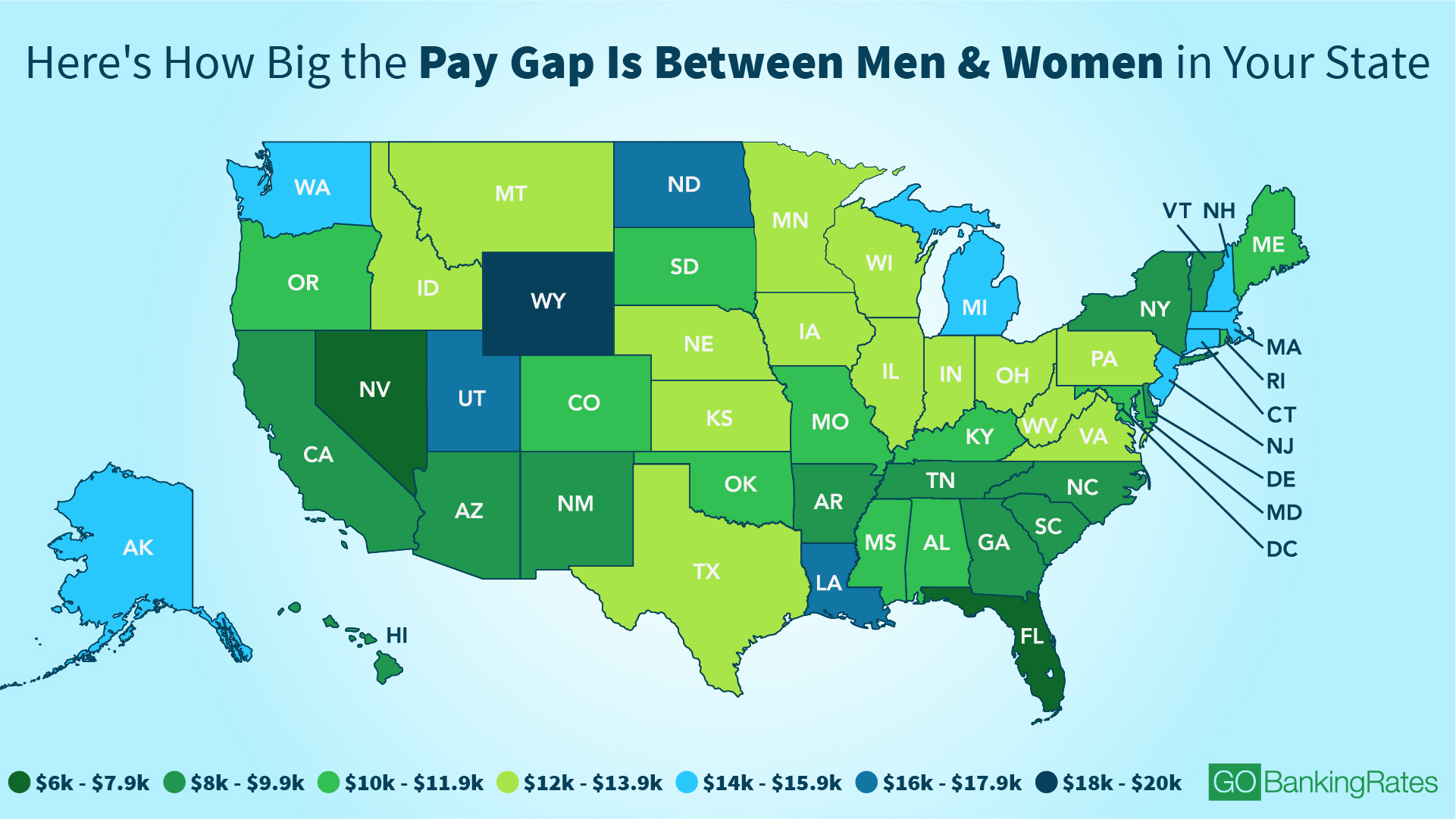 Here is how big the pay gap is in each state, from the smallest to the largest. The figure for the District of Columbia also is listed.
Pay Gap in Each U.S. State
State
Pay Gap
Florida
$6,725
Nevada
$6,990
Arizona
$8,386
Vermont
$8,812
North Carolina
$8,915
Hawaii
$8,918
Arkansas
$9,338
New Mexico
$9,447
Tennessee
$9,582
Delaware
$9,661
New York
$9,727
Georgia
$9,785
South Carolina
$9,906
California
$9,961
District of Columbia
$10,197
Mississippi
$10,342
Maine
$10,571
Rhode Island
$10,636
Missouri
$10,780
Kentucky
$10,967
South Dakota
$11,248
Colorado
$11,312
Oregon
$11,433
Oklahoma
$11,655
Maryland
$11,740
Alabama
$11,983
Montana
$12,186
Texas
$12,237
Minnesota
$12,638
Illinois
$12,766
Wisconsin
$12,820
Pennsylvania
$12,836
Nebraska
$12,922
Idaho
$13,037
West Virginia
$13,177
Kansas
$13,387
Ohio
$13,392
Iowa
$13,729
Indiana
$13,889
Virginia
$13,905
Michigan
$14,286
New Hampshire
$14,612
Massachusetts
$15,025
Alaska
$15,322
New Jersey
$15,676
Connecticut
$15,686
Washington
$15,924
Louisiana
$16,031
North Dakota
$16,203
Utah
$17,648
Wyoming
$19,414
Click through to read more about jobs where women make more than men.
Methodology: GOBankingRates determined pay gaps between men and women in each state and the District of Columbia by analyzing data on income characteristics, sourced from the U.S. Census Bureau's 2016 American Community Survey (Five-Year Estimates). Factors in the study included: 1) median earnings of women; 2) median earnings of men; 3) women's earnings as a percentage of male earnings; 4) the difference between incomes in dollar amounts.