Study Finds Most Affordable Places to Live in 22 Expensive Cities
See where it's still affordable to live in expensive cities.
Home prices have become quite daunting in many of America's major cities, especially modern hot spots like Seattle, Portland and, of course, San Francisco. But, as with most things in housing, finding the right places to buy your home isn't impossible. It's a matter of knowing where to look.
A recent GOBankingRates housing study helps pinpoint the most affordable neighborhoods within America's most expensive cities. The report analyzed the 100 largest U.S. cities in terms of median listing price and the cheapest median rental list price for a home in a neighborhood located within the city, based on data sourced from Zillow.
From San Francisco to Fort Lauderdale, check out the most affordable places to live in the most expensive cities.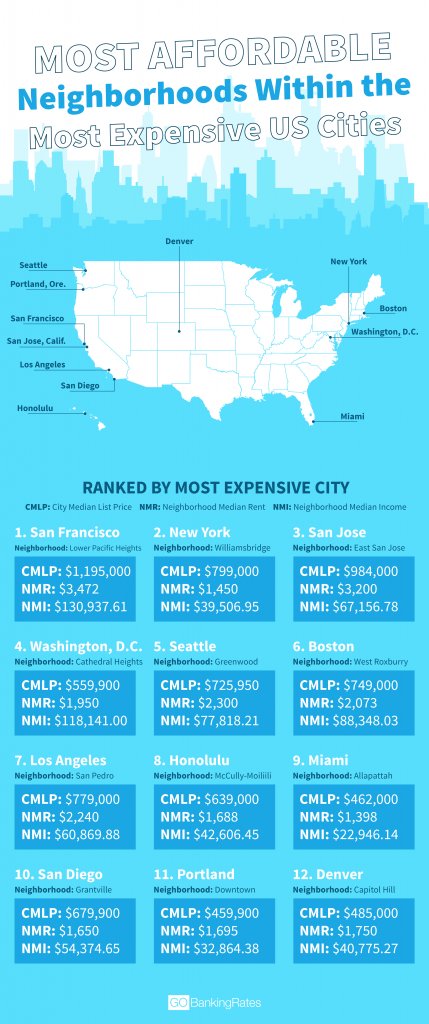 Check Out: How Much You Need to Live Comfortably in 50 Major US Cities
The Cheapest Neighborhoods in the Priciest Cities
GOBankingRates generated a list of the 22 most expensive cities based on their median listing price and size parameters. The most affordable neighborhoods were then determined by identifying which had the cheapest median monthly rent.
Here's a breakdown of the top 12 most expensive cities, plus their most affordable neighborhood and its median rent list price.
Most Affordable Places to Live in the Most Expensive Cities
Rank
City
Neighborhood
State
City List Price
Neighborhood Rent 
1
San Francisco
Lower Pacific Heights
Calif.
$1,195,000
$3,472
2
Irvine
Business District
Calif.
$1,026,000
$2,500
3
San Jose
East San Jose
Calif.
$984,000
$3,200
4
New York
Williamsbridge
N.Y.
$799,000
$1,450
5
Los Angeles
San Pedro
Calif.
$779,000
$2,240
6
Boston
West Roxbury
Mass.
$749,000
$2,073
7
Seattle
Greenwood
Wash.
$725,950
$2,300
8
San Diego
Grantville
Calif.
$679,900
$1,650
9
Arlington
North
Va.
$645,000
$1,195
10
Honolulu
McCully-Moiliili
Hawaii
$639,000
$1,688
11
Scottsdale
South Scottsdale
Ariz.
$622,000
$1,799
12
Washington, D.C.
Cathedral Heights
D.C.
$559,900
$1,950
Some notable similarities exist among the main industries in these neighborhoods. Construction is the leading industry in Allapattah and in Georgian Acres (among the 22 cities in the study, but not in the top 12). Meanwhile, the healthcare industry employs over a fifth of working people in West Roxbury and Williamsbridge, and over 15 percent in Grantville.
Trending Now: Cost of Living in the City vs. Suburbs Across America
Median incomes vary widely from neighborhood to neighborhood. In D.C.'s most affordable neighborhood, Cathedral Heights, the average household earns well over $100,000. Very much on the flip side, Allapattah households earn a median income of just $23,000, or a little over $1,900 a month. That means Allapattah's median rent price — $1,398 at the time data was compiled — consumes nearly three-quarters of the average household's monthly income. So, although these neighborhoods are affordable to the outside observer, for people living in them, they might not be that cheap at all.
Click to keep reading about the most expensive ZIP code in every state.
More on Making Money and Economy
Methodology: To determine the most affordable neighborhoods, GOBankingRates analyzed the 100 largest U.S. cities in terms of median listing price and the cheapest median rental price for a home in a neighborhood located within the city. Housing price data for cities and neighborhoods was sourced from Zillow. Household incomes for neighborhoods was included as supplemental information.
All information in this article is accurate at the time the study was conducted in July 2018.