5 Biggest Financial Fallouts and Controversies of the Year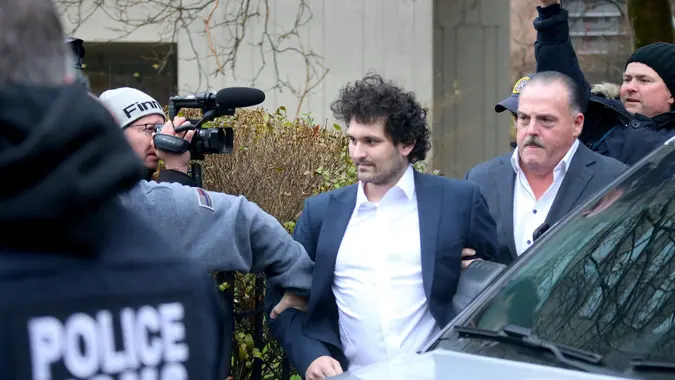 Guerin Charles/ABACA/Shutterstock / Guerin Charles/ABACA/Shutterstock
Money matters took center stage in 2022 — and not always in a good way. These financial shockers had everyone talking this year, proving that all publicity is not good publicity.
In some cases, many people were stunned by certain dramatic financial events, but only a few were actually impacted. Other incidents, however, have the potential to affect millions.
While they happened in 2022, these headlines are so massive, they certainly won't be forgotten in the new year. In fact, many will likely have even more layers revealed in 2023.
Ready to catch up on the year's biggest and most controversial financial stories? Here's our top five.
FTX Collapsed
Referred to by some as crypto's "Lehman moment," FTX collapsed in November. Largely considered to be the next big thing in tech, the digital currency exchange fell within a matter of days.
Founded in 2019 by Sam Bankman-Fried, the company had a series of major acquisitions that quickly raised its profile. This, along with low trading fees and aggressive marketing strategies, allowed it to become a prominent industry player. In fact, FTX had such potential that it was able to secure nearly $2 billion in funding from major venture capital groups.
However, things took a turn for the worst in early November, when CoinDesk published the balance sheet of Alameda Research — a crypto investing firm also owned by Bankman-Fried. This revealed the high volume of FTT — a digital currency created by FTX — owned by Alameda that would put the company at risk of bankruptcy if the price dropped.
Make Your Money Work Better for You
Next, FTX rival Binance sold all of its FTT tokens, causing the price to quickly decline. Consequently, the price continued to drop, causing FTX customers to withdraw billions of assets.
FTX stopped allowing users to withdraw assets on Nov. 8. A few days later, on Nov. 11, Bankman-Fried stepped down as FTX CEO and his companies filed for Chapter 11 bankruptcy. On Dec. 13, Bankman-Fried was indicted for fraud, money laundering and campaign finance offenses.
Donald Trump's Tax Returns Finally Revealed
It's been a long time coming. On Dec. 20, the House Ways and Means Committee voted to publicly release redacted versions of former President Donald Trump's federal income tax returns from the years he was running for office and serving as the commander in chief.
The full returns have are set to be released Friday, Dec. 30. However, a report by the staff of the Joint Committee on Taxation posted shortly after the decision already revealed Trump declared negative income in 2015, 2016, 2017 and 2020.
In total, Trump paid $1,500 in income taxes for 2016 and 2017. Additionally, the former president and his wife Melania paid no federal income taxes in 2020, but claimed a refund of $5.47 million. Certainly, tax pros and the general public will be looking for a lot more info once they are released.
Social Security Slated To Run Out
Like many people, you're probably either currently relying on Social Security in retirement or planning to do in the future. However, the 2022 Social Security Trustees report revealed that if Congress doesn't fix funding issues, benefits will be reduced starting in 2034.
Make Your Money Work Better for You
To be clear, Social Security won't entirely run out, but retirees will receive just 77% of their full benefit. In the meantime, Social Security benefits and Supplemental Security Income payments will be increased by 8.7% in 2023, as a cost-of-living adjustment.
Elon Musk Bought Twitter
On Oct. 27, Elon Musk tweeted, "The bird is freed," signaling the completion of his $44 billion acquisition of the social media platform. He promptly laid off thousands of employees, reinstated Trump's account and banned several high-profile journalists (though he quickly backtracked on that).
Musk's Twitter purchase didn't impress Tesla shareholders, who felt the automaker CEO abandoned them for the social media company. As of Dec. 29, Tesla stock is down 69% year to date.
Furthermore, in a Dec. 18 Twitter poll, Musk asked Twitter users if he should step down — and 57.5% voted yes. Two days later, he tweeted plans to resign as Twitter CEO, as soon as he can find a replacement.
Kayne West Loses Billionaire Status
Following a series of antisemitic rants, Adidas cut ties with Kanye West — now legally known as Ye. The rapper and fashion designer had worked with Adidas on his Yeezy line since 2013, forming a partnership worth $1.5 billion of his net worth, according to Forbes.
West first made Forbes' Billionaires' list in 2020, when his net worth was an estimated $1 billion. His net worth is now an estimated $400 million, funded by real estate, cash, his music catalog and a 5% stake in Skims, ex-wife Kim Kardashian's shapeware company.
Make Your Money Work Better for You
His hateful antics also caused him to lose a partnership with Gap. Launched in 2020, the Yeezy Gap apparel line deal was supposed to bring in $1 billion in annual sales over a 10-year period, according to the New York Times.
After losing his Gap and Adidas partnerships, a Page Six report revealed West could be just months away from financial ruin. Despite having a large cash reserve, he reportedly has a massive amount of outgoing expenses.
More From GOBankingRates