20 Companies You Didn't Know Warren Buffett's Berkshire Hathaway Owns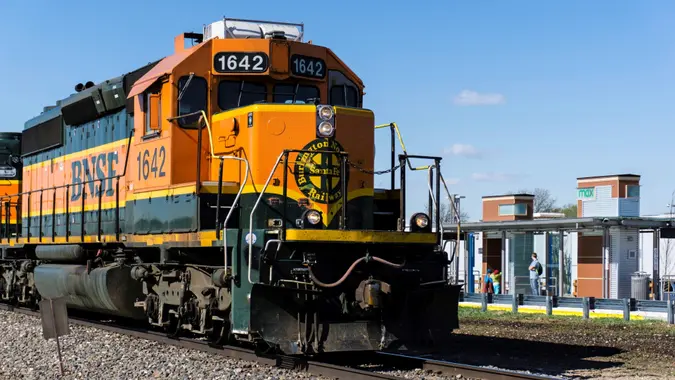 RiverNorthPhotography / iStock.com
Warren Buffett is widely recognized as one of the savviest and most successful investors of all time. While his company, Berkshire Hathaway, was originally a textile manufacturer, Buffett didn't build his fortune out of fabric. Instead, he got rich with long-term investments in publicly traded companies.
Read: 11 Ways Warren Buffett Lives Frugally
See: Every Stock That Warren Buffett Owns, Ranked
In 2021, Buffett's wealth topped $100 billion, officially earning him the title of centibillionaire. Bloomberg puts him at No. 9 on its list of the world's richest people.
Berkshire Hathaway had revenue of $245.5 billion and net assets of $873.7 billion in 2020. Plus, the company has grown 19% annually on average. With all of that growth and revenue flowing in, Berkshire has been able to acquire entire companies rather than just invest in them.
Some of the companies it has acquired are much bigger names than you might realize. This story will walk through some of the lesser-known names you may not have known are part of the Berkshire Hathaway family.
Make Your Money Work Better for You
Successor: Buffett Announces Who'll Take Over Berkshire Hathaway After He's Gone
1. Central States Indemnity Company
Central States Indemnity Company is based in Omaha, Nebraska, and offers affordable Medicare Supplement Insurance plans. It also offers specialty life, disability and unemployment products to individuals. Central States Health & Life Co. of Omaha (CSO) was founded in 1932, which in turn founded CSI in 1977. Then, in 1992, CSI was acquired by Berkshire Hathaway. The company's mission is "to simplify and insure the financial obligations of our clients." It is licensed in all 50 states plus the District of Columbia, Guam and Puerto Rico.
2. Charter Brokerage
A drawback service provider, Charter Brokerage describes itself as "the leaders in drawback recovery." The company is a customs broker as well. If you aren't familiar with drawback, it is the refund of duties, taxes and fees when goods are imported. In other words, it helps companies recover some of the fees they have to pay when importing goods. It is the leading drawback provider and, according to its website, has filed more than 90% of the eight-digit drawback claims since 1994. Founded in 1994, Charter Brokerage was acquired by Berkshire Hathaway in 2014.
Make Your Money Work Better for You
Lessons: 15 Genius Things I Learned at Lunch With Warren Buffett
3. Clayton Homes
Clayton Homes is based in Maryville, Tennessee, and is the country's largest builder of manufactured and modular homes. The company was founded in 1966 with a vision of making housing accessible to everyone. Clayton builds a variety of home types at 350 home centers across the country. The company reached the $1 billion revenue mark in 2002; it was then promptly acquired by Berkshire Hathaway in 2003. Clayton Homes also has its own mortgage company and recently entered the $250,000-and-under housing market.
4. CTB Inc.
Founded in 1952, CTB Inc. is an agriculture company based in Milford, Indiana. CTB's mission is to feed a growing population with agricultural innovation; or, as the company puts it, "leadership through innovation." It provides systems that help preserve grain. Another part of its business is producing poultry, pigs and eggs. Its solutions are also used for processing poultry. In addition to all that, it manufactures equine stables and industrial equipment. CTB Inc. was acquired by Berkshire Hathaway in 2002.
Make Your Money Work Better for You
Find Out: Warren Buffett's 15 Biggest Money Mistakes
5. Fechheimer Brothers Company
Founded in 1842, the Fechheimer Brothers Company has been around for more than 175 years. It began as a dry goods store in Cincinnati and is now a uniform manufacturer for public safety workers. In addition, its Flying Cross brand is used by the military, law enforcement, fire departments and more. Fechheimer still calls Cincinnati home. It has manufacturing partners in Central and South America, Europe, Africa and Asia. Fechheimer was acquired by Berkshire Hathaway in 1986.
6. FlightSafety International
FlightSafety International provides training for those who operate business, regional and commercial aircraft. It also works with the military. The company was founded in 1951 and is based in Melville, New York. To help train aircraft operators, it designs flight simulators, visual systems and displays. Each year, FlightSafety provides more than 1.4 million hours of training to pilots, technicians and other professionals in the aviation industry. In 1996, it was announced that Berkshire Hathaway would acquire FlightSafety for $1.5 billion.
Advice: 21 Life Hacks From Warren Buffett That Anyone Can Use
7. Garan Incorporated
Garan Incorporated is the company behind the Garanimals brand. So, what is Garanimals? It's a brand of baby and kids clothing and is sold exclusively through Walmart. You can find it both online and in stores. The brand has been around since 1972 and Garan Inc. is based in New York City. It was acquired by Berkshire Hathaway in 2002 and has been sold exclusively through Walmart since 2008.
8. Gateway Underwriters Agency
Founded in 1954, Gateway Underwriters Agency is an underwriter for several types of insurance, including property and casual, personal, transportation and specialty/professional. The company is based in Maryland Heights, Missouri, and works with binding authority and brokerage agreements with affiliated plus nonaffiliated company partners. It operates in more than 100 markets and offers online quoting for more than 30 different industries. Gateway was acquired by Berkshire Hathaway in 1967 when Berkshire acquired National Indemnity Company in 1967.
Check Out: Why It's Never a Bad Idea To Invest In Apple and These Other Companies
9. BNSF Railway
BNSF Railway was founded in 1995, but in that relatively short history, it has managed to grow to the largest freight railroad network in North America. Based in Fort Worth, Texas, it has 41,000 employees, 32,500 miles of track and operates over 8,000 locomotives. Currently, BNSF has 29 certified sites, which are sites it has identified for potential development. It operates its own trains with its own crews and even operates on competing tracks. In 2009, it was announced that Berkshire Hathaway would acquire BNSF for $100 per share.
10. HomeServices of America
HomeServices of America is a real estate company providing a variety of services, including brokerage, title, mortgage, franchising, insurance, escrow and relocation services. Founded in 1998, it is based in Minneapolis. As of 2019, it is also the largest real estate company in the nation when ranked by residential real estate transactions; in 2018, it closed 346,629 deals. Its goal is to streamline the process of homebuying for consumers. The Berkshire Hathaway acquisition of HomeServices was announced in 2017.
Explore: The Top Company Hiring Now in Each State
11. IMC International Metalworking Companies
Founded in 1952 and based in Galilee, Israel, IMC International Metalworking Companies is the second-largest producer of metalworking products. IMC is an umbrella under which 13 companies operate; together, its businesses provide a line of precision carbide metalworking tools. That includes carbide inserts, carbide endmills and cutting tools. In total, IMC Group has more than 130 subsidiaries operating in over 60 countries. It considers itself a world leader in the automotive, aerospace, and die and mold industries. In 2006, Berkshire acquired 80% of IMC Group; in 2013, it acquired the remaining 20%.
12. See's Candies
See's Candies is a manufacturer of candy and specializes in chocolates. It has been around since 1921 and is based in San Francisco. This is also one of Berkshire Hathaway's earlier acquisitions, having been completed in 1972. The company both manufactures and sells candy on its own, although it also sells candy at airports. It operates over 200 stores in 20 states. It has a few international stores, too, in places like Hong Kong and Singapore.
2021 Small Business Spotlight: Check Out Our Small Business Stories, Plus the Nominated Businesses Near You
13. Johns Manville
Johns Manville manufactures roofing products, insulation and engineered products. It also manufactures commercial roofing, fibers and nonwovens. Founded in 1858, the company is based in Denver. It has annual revenue of over $3 billion and is a leader in all of its key markets. It also has over 8,000 employees, operating in 46 markets, including Europe and China. An interesting tidbit: There is a town called Manville, New Jersey, that is named after Johns Manville. The company was acquired by Berkshire Hathaway in 2001.
14. Larson-Juhl
Founded in 1988, Larson-Juhl is based in Norcross, Georgia. The company sells wholesale, custom wooden picture frames. It allows customers to create their own designs online. In addition to frames, it offers backroom services, digital tools, marketing support, training and education. It also offers images for free as well as content strategies. It operates in the United States, Europe, Asia and Oceania. Berkshire Hathaway acquired Larson-Juhl in 2002.
The Economy and Your Money: All You Need To Know
15. Lubrizol
Lubrizol is a company that provides specialty chemicals for the transportation, industrial and consumer markets. It was founded in 1928 and is based in Wickliffe, Ohio. Lubrizol's markets include beauty and personal care, electronics, energy solutions, health and more. It has more than 8,800 employees in over 100 countries. Recently, the company has adopted sustainability initiatives, such as reducing vehicle emissions by greater than 50% by 2040. Lubrizol was acquired by Berkshire Hathaway for $9 billion in 2011.
16. LiquidPower Specialty Products Inc. (LSPI)
LSPI is the leading manufacturer of pipeline drag-reducing agents (DRA). Founded in 1973, it created the first DRA in 1979. The company is based in Houston. Other products LSPI manufactures include flow improvers and drag-reducing additives. It has earned various awards, including the sixth-best place to work in Houston in 2018. In 2014, the company was acquired by Berkshire Hathaway, at which point its name was changed to LSPI.
More: 25 Biggest Companies You've Never Heard Of
17. Forest River
Founded in 1996, Forest River is a company that manufactures recreational vehicles, utility trailers, pontoon boats, buses and cargo trailers. Its headquarters are located in Elkhart, Indiana. It started as an RV company but has since expanded its operations to Class A, B and C motorhomes, travel trailers, fifth wheels, toy haulers, pop-up camper trailers and more. Since its founding, Forest River has grown to have 11,000 employees. In 2005, it was announced that Berkshire Hathaway would acquire Forest River.
18. Marmon Holdings, Inc.
Marmon Holdings, or Marmon Group, is a holding company made up of more than 100 industrial companies. It was founded in 1953 by Jay Pritzker and Robert Pritzker in Chicago, where its headquarters can still be found. Its companies produce transportation equipment, electrical components and other industrial components. It also produces tank cars, which are primarily used for transporting liquids via rail. In 2020, its revenues were in excess of $7.6 billion. Berkshire Hathaway acquired 60% of Marmon in 2007 and the remaining 40% in 2013.
See: Costco and 7 Other Popular Companies That Don't Waste Money on Advertising
19. MiTek Inc.
Founded in 1955, MiTek Inc. provides construction solutions that help with design and construction on-site and off-site. It develops homebuilding methods that streamline the building process and make it more profitable and of higher quality. MiTek Inc. is based in Chesterfield, Missouri, and was acquired by Berkshire Hathaway in 2001. It operates in 95 countries around the world. It is also working to move the building process from on-site to off-site to help with a severe labor shortage that hasn't spared the construction industry.
20. NetJets
NetJets sells fractional ownership shares in private business jets. Founded in 1964, NetJets is based in Columbus, Ohio. NetJets has a unique business model; it became the first private business jet charter and aircraft management company in the world. Its fractional ownership business was launched in 1986; 12 years later, it was acquired by Berkshire Hathaway. As part of the deal, Berkshire also purchased Executive Jet; it paid $725 million for both companies.
More From GOBankingRates
Last updated: Aug. 18, 2021
Make Your Money Work Better for You