4 States Where Target Is Closing Stores in October 2023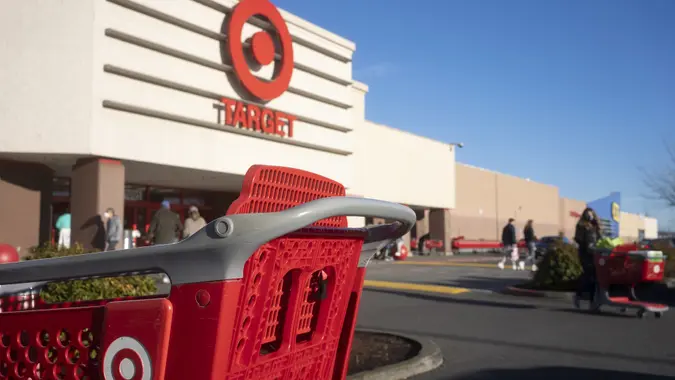 hapabapa / iStock.com
It has not been a happy couple of years for Target. The discount retailer watched its profits slide in 2022 due to a combination of inflation, deep price cuts and excessive inventory, and though its performance is better this year, it still faces numerous headwinds. Now Target is closing stores in a several major U.S. markets due to what it calls "organized retail crime."
In a Sept. 26 press release, Target said it will shutter nine stores across four states, effective Oct. 21. The reason the stores are closing demonstrates yet another challenge in a retail environment already bursting to the seams with challenges.
3 Things You Must Do When Your Savings Reach $50,000
"In this case, we cannot continue operating these stores because theft and organized retail crime are threatening the safety of our team and guests, and contributing to unsustainable business performance," Target said in the press release. "We know that our stores serve an important role in their communities, but we can only be successful if the working and shopping environment is safe for all."
The retailer said it "invested heavily" in strategies to prevent theft and organized retail crime in its stores, such as beefing up security, using third-party guard services and implementing theft-deterrent tools across its business.
"Despite our efforts, unfortunately, we continue to face fundamental challenges to operating these stores safely and successfully," Target said.
Make Your Money Work Better for You
Target has nearly 2,000 stores in the U.S. and has been outspoken about organized retail crime at its stores, CNBC reported. The retailer has suffered significant losses due to theft and damage, known as "shrink" in the industry. This doesn't make Target unique — Walmart, Macy's, Best Buy, Walgreen, Home Depot and Dick's Sporting Goods are among the other national chains warning about the impact of theft.
Organized retail crime has become such a problem in the industry that the National Retail Federation has devoted an entire page to it on its website, saying that retailers are "highly concerned about the heightened levels of violence and threat of violence associated with theft and crime."
The NRF describes organized retail crime as  the "large-scale theft of retail merchandise with the intent to resell the items for financial gain." It typically involves a "criminal enterprise employing a group of individuals who steal large quantities of merchandise from a number of stores and a fencing operation that converts the stolen goods into cash."
Target is the first major retailer to specifically cite crime as a reason for closing multiple stores. That's not just bad news for Target — it's also bad news for the neighborhoods that depended on the stores for goods and services.
Here are the four states where Target is closing stores, including the specific cities, communities and addresses:
California

San Francisco: 1690 Folsom St.
Oakland: 2650 Broadway
Pittsburg: 4301 Century Blvd
New York

Harlem: 517 East 117th St.

Oregon

Portland: 939 SW Morrison St.
Portland : 3031 Southeast Powell Blvd.
Portland: 4030 Northeast Halsey St.

Washington

Seattle: 4535 University Way Northeast
Seattle: 1448 Northwest Market St., Ste. 100  
Make Your Money Work Better for You
The announcement comes during a continued rough patch for Target. In August, the retailer missed fiscal second-quarter sales expectations and slashed its full-year sales and profit forecast, CNBC reported.
On a call with reporters, Target CEO Brian Cornell said consumers are "still challenged by the levels of inflation that they're seeing in food and beverage and household essentials … So that's absorbing a much bigger portion of their budget."
More From GOBankingRates