Things Are Changing at a Target Near You: The Damaging Effects of Shoplifting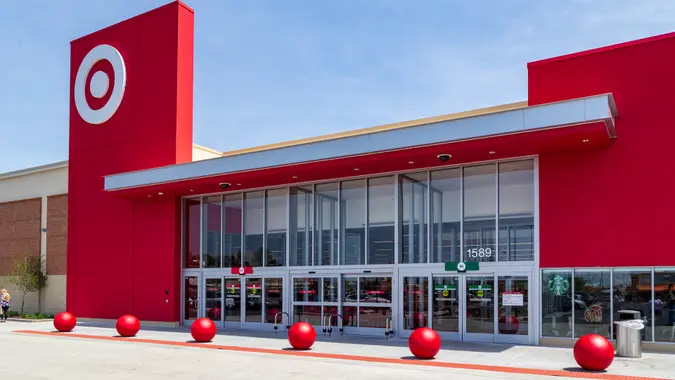 gsheldon / Getty Images
Shoplifting continues to make headlines in the United States, as businesses keep calling it out as a major source of their financial woes — among them Home Depot, Walmart, Walgreens and Best Buy. Now Target is leading the charge.
During the company's first-quarter earnings call in May, Target CEO Brian Cornell said he anticipated that organized retail crime would fuel as much as a $500 million increase in stolen and lost merchandise, bringing the total loss — called "shrink" in the retail industry — to well over $1 billion.
That's no small cost, and it's no joke for Target's financials either. That hit comes directly out of the company's bottom line, so it should come as no surprise that it's prompting action.
Check out the money-saving secrets Target does not want you to know.
How Much Money Has Target Lost to Shoplifting?
It's not easy to accurately quantify the true cost of theft. Retail shrink doesn't just measure shoplifting; it covers any unforeseen loss of inventory — things like internal theft, goods damaged or lost in transit from distribution centers and merchandise that is sold for the wrong price or as something else.
Target's total shrink was around $400 million in fiscal year 2021 and rose to $736 million in 2022. If the anticipated $500 million increase does materialize in 2023, that would bring the three-year total to a whopping $2.4 billion — but it's hard to say how much of that can be attributed to shoplifting.
Make Your Money Work for You
According to the National Retail Federation, which tracks shrink on a large-scale basis, retailers lost $94.5 billion in 2021. That same data shows that only 37% of that shrink came from external retail crime. If that ratio holds true for Target, then less than $900 million of that $2.4 billion would be driven by theft. However, Cornell has remained insistent that it's shoplifting, by organized crime in particular, that is driving the recent growth in shrink.   
Here We Go Again?
If this all sounds familiar, it may be because Walgreens executives made similar claims in fall 2021, when they cited organized shoplifting as the reason they were closing five locations in San Francisco. They walked that back during an earnings call early this year, during which Walgreens Chief Financial Officer James Kehoe conceded that the company had likely overspent on security measures and might have gone so far as to mischaracterize how much theft had actually taken place.
Target, like many retailers, is in a tough position. It's no secret that the company has struggled lately, with falling profit margins and earnings misses driving the stock price down over the last six months. Pushing a narrative like a shoplifting crime wave could be a way to deflect some attention away from leadership for tough business results.
What Changes Target Is Making
Whether the shoplifting narrative is overblown or gospel truth, there's no doubt that Target has been taking steps to mitigate theft in its almost 2,000 locations in the U.S. Cornell said the company already has begun installing protective fixtures in some stores, as well as adjusting assortment (likely removing the most frequently stolen merchandise from stores in higher-crime areas).
Make Your Money Work for You
Cornell also noted that the company is connecting with policy makers, law enforcement organizations and industry trade groups to explore political solutions to the issue. So far, however, there are no plans for store closures. Cornell said Target is "focused on keeping our stores open in the markets where problems are occurring."
More From GOBankingRates