8 Resources for Rural Small Businesses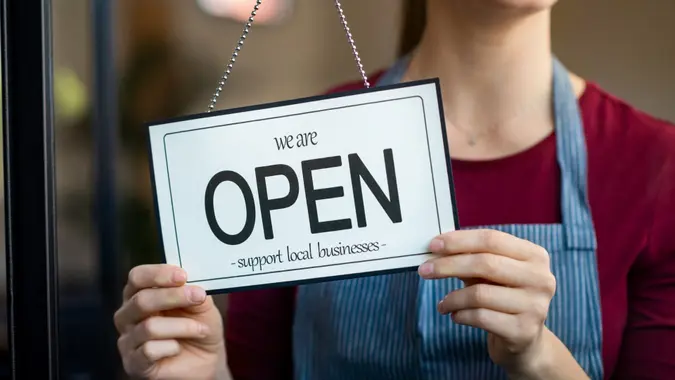 Ridofranz / Getty Images/iStockphoto
Though the economy has largely recovered from the initial devastation of the pandemic, many small businesses have been unable to bounce back, forced to forever shut down after "temporary" closures.
2021 Small Business Spotlight: Check Out Our Small Business Stories, Plus the Nominated Businesses Near You
Follow Along: 31 Days of Living Richer
"Over the course of the last year, we saw over 200,000 small businesses permanently close their doors," said Steffen Schebesta, CEO of Sendinblue, a platform that helps small businesses sell more online. "At the beginning of the crisis, there was an outpouring of support from private and public programs to help aid small businesses. But now, with the reopenings in the US, a vast majority of these programs are ending."
Start Your Own: Small-Business Ideas for a Post-Pandemic World
Meanwhile, there are small businesses still desperately trying to stay afloat, with those in rural locations bearing the brunt of the fallout. The struggle stems in part from challenges that existed before the pandemic such as inadequate access to capital and broadband connectivity, as comprehensive research from Brookings Institution shows. Still, even these more off-the-grid establishments have reason to be optimistic. 
Make Your Money Work Better for You
"According to Sendinblue's recent global study, 41% of US consumers are purchasing more from small businesses compared to pre-pandemic because they value small businesses more than ever before," Schebesta said. "The data also shows that 55% of US consumers are making a conscious effort to support them because they want to contribute to the local community while 59% of US consumers want to feel an actual bond with small businesses. With small business support on the rise, now is an opportune time for small business owners, especially in rural areas, to build stronger bonds with their customers." 
Related: Small-Business Industries Hurt Most by the Pandemic
The American Rescue Plan Act: What It Offers Small Businesses
Though small businesses are winning back consumer dollars, they may need some serious financial help to do so. Fortunately, through the Biden administration's American Rescue Plan Act, a trove of resources for small businesses of all kinds have been added or enhanced. These include: 
Make Your Money Work Better for You
Discover: 25 Small Businesses Every Neighborhood Needs
Each of these programs should be explored for eligibility by small businesses in need across the nation. But keep in mind that the PPP is tricky to tap into at this point, as the funds have mostly dried up. Prospective borrowers should be prepared to look elsewhere, particularly at ERTC — even if they've already qualified for or received a PPP loan. 
"Originally, if an employer received a PPP loan, they could not also participate in ERTC," said Brent Johnson, chief strategy officer, Clarus R+D, a firm specializing in R&D credits for growth businesses. "That changed in December 2020 when that restriction was lifted."
While most employers are now very familiar with assistance available to them from PPP, Johnson notes that the aid associated with ERTC is just as significant. 
"ERTC has the added benefit of being a statutory incentive, which means if your organization meets the eligibility requirements, you can claim the credit and be entitled to the benefit regardless of funding levels (i.e., the money does not run out) and can be claimed as long as the statute of limitations on your employment tax return remains open (generally 3 years from the date of filing)," Johnson said. 
Make Your Money Work Better for You
Tips: Shark Tank' Stars Share 50 Business Tips
An EIDL Could Be a Lifesaver
Another resource provided by the American Rescue Plan Act that small businesses should look into is the Economic Injury Disaster Loans (EIDL) program. 
"EIDL provides financial help to small businesses that have been severely impacted by COVID-19, and are unable to draw in any revenue," said Adam Garcia, CEO at The Stock Dork. "It helps SMBs meet financial obligations and expenses that they could've met had the disaster not occurred. Loan amounts can go up to $500,000 with very small terms. The program issues loans for 30 years and gives a lot of flexibility in payments. There is even an advanced program for extreme cases, where the loan does not need to be repaid."
Read: Mark Cuban, Barbara Corcoran and Other Successful Entrepreneurs' Best Small-Business Advice
Check Out Lowes' Local Initiatives Support Corporation (LISC)
Rural small businesses should also turn to the Local Initiatives Support Corporation (LISC) sponsored by Lowes.
"LISC gives out small business relief grants of $5,000 to $20,000 to rural-based small businesses that have been affected by COVID-19," said Grant Aldrich, the CEO of Online Degree. "The grants are given in rounds, however, and the last round recently closed. To find out when the next round of funding opens for applications, applicants should sign up for email updates on the LISC-Lowe's Rural Relief Small Business Grant program."
Learn More: How Small-Business Struggles Hurt All Americans
Get Free Mentoring From the US Small Business Administration
Financial assistance programs are still available and quite necessary for some, but small businesses might also want to consider another kind of resource: Expert advice from the U.S. Small Business Administration (SBA). Bonus: It's free. 
"There is a little known organization called SCORE that is part of the U.S. SBA and through them, you can obtain free business mentoring," said Patrick Connelly, co-founder and owner of Stellar Villa, an e-commerce company. "They pair you up with successful business owners who mentor you and provide guidance on any issues or uncertainty you are dealing with. Since COVID they have started offering virtual mentoring so people in rural areas can easily take advantage of this. Sometimes all you need is a second opinion or someone to bounce ideas off of and during these tough times, the price is certainly right."
More From GOBankingRates
Last updated: July 6, 2021
Make Your Money Work Better for You