5 of the Biggest Product Recalls of All Time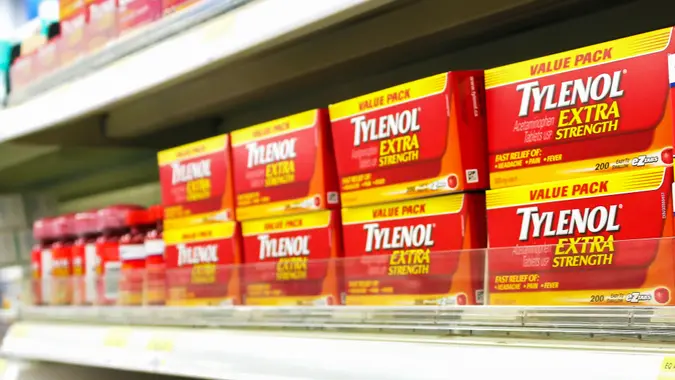 Niloo / Shutterstock.com
Product recalls are often a terrible situation for both consumers and companies to be in. While consumers are left with faulty — or possibly fatal — products, companies incur millions in costs trying to correct the issue and often have a huge fallout with the public's trust as a result. Some companies manage to recover, but many do not.
See: 25 Most Epic Corporate Downfalls of All Time
Find: 18 Deadly Corporate Mistakes and the Companies That Paid the Price
The issue isn't limited to any one particular industry. Over the years, everything from medication and infant formula to cell phones and airbags have all led to massive public incidents, investigations and fallout. Here's a look at five of the most expensive product recalls of all time, as well as their varying long-term effects on who made them and who bought them.
Tylenol, 1982
Arguably the most definitive product recall of all time, the Tylenol incident of 1982 started when seven people in the Chicago area died between September and October of that year. A nationwide recall was ordered in the name of public safety, which cost Johnson & Johnson $100 million, or close to $300 million adjusted for inflation.
In addition to pulling all Tylenol products off the shelves, there was a public campaign urging people not to take the painkiller, as well as a hotline set up to help give advice to consumers. While this entire situation was unprecedented at the time, it became the gold standard of how a company can successfully handle a major crisis, which helped the brand repair its brand and even gain more of a market share in the years that followed. 
Make Your Money Work Better for You
Toyota Accelerators, 2009-2011
Between 2009 and 2011, about 14 million Toyota-made vehicles were revealed to have an issue with the accelerator pedal that caused the car to accelerate without the ability to decelerate, which resulted in roughly 40 people dying. This particular issue cost the carmaker $1 billion.
In addition, more than 81 million vehicles were recalled by Toyota in 2010 after it was confirmed that the gas pedal in certain models would get stuck in the floor mats, causing unwanted acceleration that was believed to be responsible for 89 deaths across the decade prior. The cost of the recall was roughly $2 billion at the time. In 2014, the company would pay a $1.2 billion fine to the Justice Department to avoid prosecution over their knowledge of these safety issues.
Check Out: 9 Best Small Business Ideas To Make Money From Home
Samsung Galaxy Note 7, 2016
One of the biggest headline-making recalls in recent years, the Galaxy Note 7 was positioned to be the flagship smartphone in Samsung's line — until a few started catching fire at random. The issue was first thought to be an issue with the battery, but after switching suppliers and issuing replacements, the issue persisted.
After the problem persisted, and videos continued to go viral showing the phones spontaneously combust, a recall was issued. There was also a software update in an attempt to curb the problem, and certain refurbished models were reissued as the Galaxy Note Fan Edition. All in all, the debacle is estimated to have cost the manufacturer upwards of $17 billion. The Galaxy Note 8 was released in September of the following year. 
Make Your Money Work Better for You
Sanlu Milk Products, 2008
A major scandal across China in 2008, several products including milk and infant formula produced by the Sanlu Group were tainted with melamine. The chemical was added to up the nitrogen count of the product, which would let them pass quality control. As a result, well over a quarter-million people were affected, mostly children, given that Sanlu was then one of the leading producers of baby formula. Six young children died of kidney stones, while roughly 54,000 were hospitalized.
Several trials were held in China over the issue, which resulted in two executions and three life sentences. They also resulted in the forced resignations or firings of seven government officials, including the Director of the Administration of Quality Supervision, Inspection and Quarantine.
Read: Ford Splits EVs From Legacy Cars to 'Generate Industry-Leading Growth'
Takata Airbags, 2008
An airbag manufacturer since 1988 with a command of roughly 20 percent of the market, the Takata Corporation lost it all after the most expensive product recall in history. The problem was egregious: airbags were deploying containing deadly shrapnel — even during minor collisions. Honda attributed eight deaths and a hundred head injuries to the matter. 
Make Your Money Work Better for You
An investigation resulted in finding one factory was poorly assembling a less-stable aspect of the design, and tens of millions of cars were recalled as a result. In addition, the company was fined $1 billion by the Justice Department, $975 million of which was for restitution to automakers and consumers. A separate investigation found that the company willingly ignored these issues, and after settling the case, the company filed for Chapter 11 bankruptcy and sold the remnants of the company to one of its chief competitors, Key Safety Systems.
More From GOBankingRates
Make Your Money Work Better for You