Charlie Munger's Costco Obsession — Why Warren Buffett's Business Partner Is a 'Total Addict'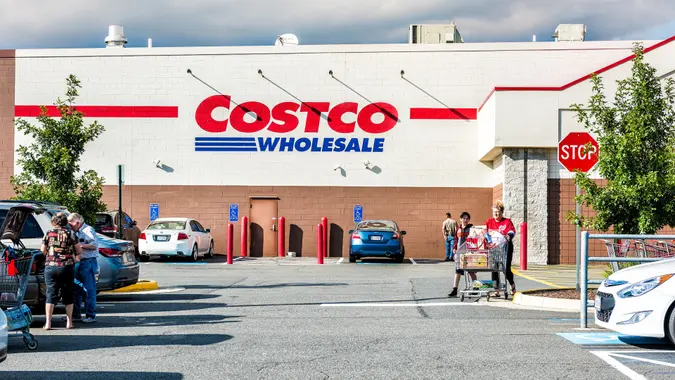 855684128 / iStock.com
From tasty and versatile rotisserie chicken to the famous $1.50 hot dog and soft drink combo, Costco has plenty to love.
But the warehouse club is also a sweetheart of high-profile investors. In a recent YouTube video posted by The Long-Term Investor, Warren Buffett joked about business partner Charlie Munger's love for Costco, paving the way for 99-year-old Munger to launch into his oft-repeated "Ode to Costco."
"Costco, of course, is a business that became the best in the world in its category," Munger shared in the video. "And it did it with an extreme meritocracy and an extreme ethical duty — self-imposed — to take all its cost advantages as fast as it could accumulate them and pass them on to the customers. And, of course, that created ferocious customer loyalty."
He pointed out that Costco has the right blend of management, ethics and personnel.
In 2020, Buffett and Munger's investment firm, Berkshire Hathaway, sold 4.3 million shares of Costco — the organization's entire stake. But, Munger still owns roughly $100 million in Costco stock on his own, according to The Motley Fool. Yahoo Finance shared that the investor held 187,180 shares of the company as of November 2022. Munger's stake is second only to Costco CEO Craig Jelinek, who held 196,095 shares in November 2022, according to Yahoo Finance.
Buffett may not share Munger's passion for the retailer to the same degree — at least based on his kind-hearted teasing of Munger's Costco stories in the YouTube video mentioned above.
Make Your Money Work Better for You
While Costco does share many of the same characteristics as other stocks in Berkshire Hathaway's portfolio, Buffett leans toward value stocks. Right now, Costco has a price-to-earnings (P/E) ratio of nearly 45, according to CompaniesMarketCap.com. That's much higher than Walmart's 31.4 or BJ's Wholesale Club's P/E ratio of just 17.7.
Costco stock may not be at a price point that makes it an attractive buy for Buffett right now. But the billionaire's decision to sell in 2020 makes for some entertaining banter between Buffett and Munger. In a shareholder and board member meeting for The Daily Journal earlier this year, Munger said, "I love everything about Costco. I'm a total addict, and I'm never going to sell a share."
More From GOBankingRates