Walmart, Coca-Cola Plan Price Hikes Due to Tariffs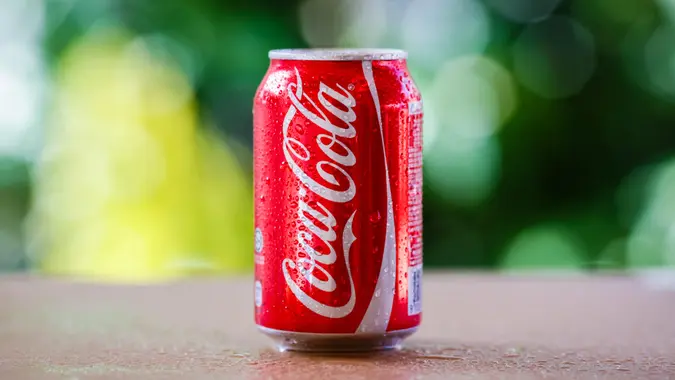 Mejini Neskah / Shutterstock.com
Americans have endured price hikes at the pump in recent months. And now, higher shopping bills for Americans are the next thing on the list of unwelcome effects of Trump's tariffs. The trade war launched by the Trump administration's tariffs has resulted in retaliatory tariffs on billions of dollars' worth of goods from around the world. Americans are feeling the pain — and it's about to get worse. 
Click to read more about Trump's tariffs and what they mean for you.
The price of wood pulp — which is found in common household products like diapers — has risen over the last year and is expected to stay high through next year, according to Bloomberg Intelligence. That's because the wood pulp industry suffers global logistical problems surrounding shipping and manufacturing; it's affected by U.S. tariffs and retaliatory trade restrictions imposed by China. Household consumer product industry giants have been faced with the choice to absorb the increased cost or pass the increase on to consumers. 
Procter & Gamble Co., Kimberly-Clark Corp.,  Nestle SA, and Coca-Cola Co. have announced imminent price increases on household consumer staples. That's going to make it harder for retailers like Walmart to keep prices low. As the global wood pulp market continues its instability and the effects trickle down to consumers, expect the following products to make shopping bills jump:
Diapers and training pants, specifically Pampers, Huggies, Pull-Ups and GoodNites brands

Paper towels, specifically Bounty and Viva brands

Tissues, specifically Puffs and Kleenex brands

Toilet paper, specifically Charmin and Scott brands
Make Your Money Work Better for You
More in Recent News: Trump Paves Way for Russia to Be Sole Asbestos Supplier to U.S.
Walmart's second-quarter results will be released later this week; the numbers will likely dictate whether the retailer passes along the forthcoming price hikes to its customers. Consumers will have the choice to avoid the rising costs by opting to stock their homes with generic brands, clip coupons or bargain hunt online instead. 
Click through to read more about Walmart shopping tricks to get the most bang for your buck.
More on Business and Making Money
Susan Kim contributed to the reporting for this article.