Coca-Cola vs. PepsiCo Stock: Here's the Winner in the Cola War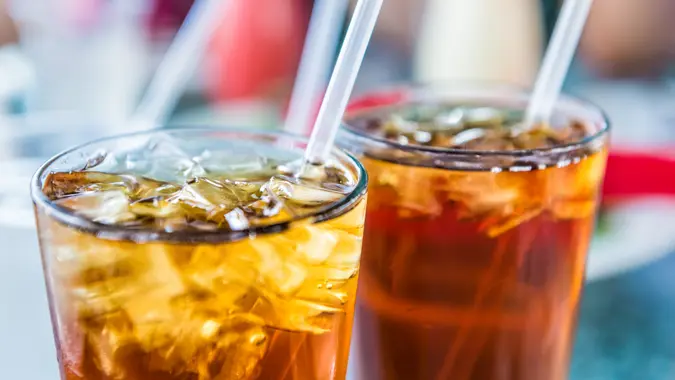 ablokhin / Getty Images/iStockphoto
Pepsi and Coke have provided sugary sweet beverages to consumers for over a century while drawing battle lines at the soda fountain. But the Coca-Cola vs. PepsiCo debate doesn't just apply to the supermarket. These brands are also rivals in the stock market. Once you compare Coca-Cola stocks and PepsiCo stocks, your soft drink preference may not carry over to how you invest long-term. 
Key Takeaways

While both Coca-Cola (CO) and PepsiCo (PEP) are heavy-hitters in the consumer staples market, PEP's five-year annualized dividend growth rate is about twice KO's.
PEP was projected to have higher revenue in 2022, but KO projected higher profit.
PEP is more diverse than KO, with products in the snack and beverage markets.
KO dominates the carbonated beverage market.
KO offers a higher dividend yield than PEP but is down in value year over year, while PEP has increased its value YOY.
PepsiCo (PEP) vs. Coca-Cola (KO)
KO and PEP are both more than just soda stocks — they're heavy-weight global conglomerates. Though in the last few years, both the Coca-Cola Company (KO) and PepsiCo (PEP) have seen more competition from juice, dairy and plant-based beverages, they remain consumer staples.
Coke vs. Pepsi Stock: Market Performance Year to Date
| | PEP | KO |
| --- | --- | --- |
| Current Price | $176.28 | $60.12 |
| Market Cap | $243.17 billion | $259.46 billion |
| Year Range | $153.37 to $186.84  | $54.02 to $67.20 |
| Dividend Yield | 2.61% | 3.07% |
Coke vs. Pepsi: Market Cap
One of the most reliable gauges for what a company is really worth is market capitalization, or market cap. The market cap is the value of all of the company's stock combined, giving you a sense of what value investors are placing on the company based on the price it is trading at.
As of February of 2023, Coca-Cola had a market cap of $259.46 billion whereas Pepsi had a market cap of $243.17 billion. These projections fluctuate.
Coke vs Pepsi: Revenue and Income
Although market cap gives you a clear sense of what the market values a company at, it's based entirely on market sentiment — essentially reflecting the ever-changing opinions of investors — and it changes from hour to hour. It's also important to consider measurable figures, like assets, revenue and debts.
Coke vs. Pepsi Recap: Revenue, Assets and Profit 
| | PEP | KO |
| --- | --- | --- |
| Revenue | $79.5 billion | $38.7 billion |
| Assets  | $92.4 billion | $94.4 billion |
| Profit | $7.6 billion | $9.8 billion |
All estimations were based on what each company was projected to do for the fiscal year of 2022.
Coke vs. Pepsi: Growth Outlook
There is a substantial difference regarding each company's dividend growth. PEP's 6.5% five-year annualized dividend growth rate is about twice that of KO's 3.1%. The growth trajectory of each company plays a huge factor in determining which is the more desirable investment.
Pepsi has projected earnings growth in both its current and next fiscal year, whereas Coke's earnings are forecasted to go up 6.5% in its current fiscal year but decline marginally over its next fiscal year.
Buy, Sell or Hold?
Both Coca-Cola and PepsiCo project growth over the next five years. While KO dominates the carbonated beverage market, PEP has the snack market covered under Frito-Lay. Both rival companies are considered titans in the Zach Consumer Staples sector.
Coca-Cola enjoys the backing of Warren Buffett, but it has seen revenues slipping — posting year-over-year losses in each year since 2016. Pepsi, on the other hand, seems to have a better earnings outlook and dividend growth.
Yahoo Finance reports a consensus "buy" rating for both KO and PEP, although the analysts it reports lean slightly more positive on Coke over Pepsi — KO's consensus rating from 25 analysts offers four strong buy ratings, seven buy ratings, 13 hold ratings and a single underperform rating; PEP is covered by 22 analysts in February, with two offering a strong buy rating, 10 with a buy rating and 10 with a hold rating.
Ultimately, both Coca-Cola and PepsiCo could be solid additions to your portfolio if their future outlooks hold true — but nothing is guaranteed in the stock market, so don't put all your money on either.
FAQ
Which stock is better to invest in, Coke or Pepsi?

PepsiCo's dividend yield is 2.61%, whereas KO's dividend yield is 3.07%. This is only a small difference, but there is a more substantial difference regarding each company's dividend growth: PEP's 6.5% five-year annualized dividend growth rate is nearly twice that of KO's 3.1%. The growth trajectory of each company should be factored in when considering investing in either company.

Which is better, Coke or Pepsi?

Coke and Pepsi have been rivals in everything from taste tests to stock market performance. If you are asking which is better to drink, unfortunately, that is subjective and you may have to do a taste test for preference.
However, if you are wondering whether to invest in Coke (KO) or Pepsi (PEP) there are a few things to consider. For example, KO's dividend growth rate is 3.1%, but PEP's growth rate is much greater at 6.5%. A consistent growth trajectory can be indicative of market performance.

Is Coke or Pepsi more profitable?

The last fiscal year for both companies turned a profit. However, Coke reported a profit of $9.8 billion whereas Pepsi only reported a profit of $7.6 billion overall. So for 2022, Coke was the more profitable company.

Which is more popular, Coke or Pepsi?

Though Coca-Cola consistently outsells Pepsi, each company markets numerous other brands and products. Where just beverages are concerned, Coca-Cola classic is hard to beat, as it is the world's most popular caffeinated soft drink.

Is Coke a good stock to invest in?

Valuation metrics show that KO is fairly valued and would be a neutral pick for value investors. The financial health and growth prospects of KO demonstrate its potential to perform predictably within the market.
Sean Dennison contributed to the reporting for this article.
Data is accurate as of market closing on Feb. 20, 2023.
Our in-house research team and on-site financial experts work together to create content that's accurate, impartial, and up to date. We fact-check every single statistic, quote and fact using trusted primary resources to make sure the information we provide is correct. You can learn more about GOBankingRates' processes and standards in our editorial policy.