Coke vs. Pepsi Stock: Here's the Winner in the Cola War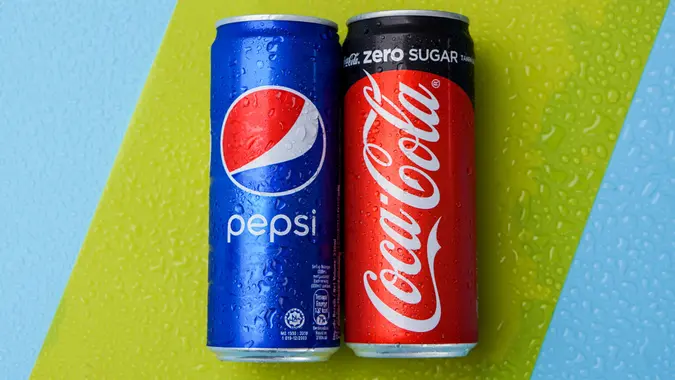 kiraziku2u / Shutterstock.com
Recent Developments
Pepsi and Coke have both been providing sugary sweet beverages to consumers for over a century while drawing battle lines at the soda fountain. But the Coke vs. Pepsi debate doesn't just apply to the supermarket — the brands are also rivals in the stock market. Coke stock — and the beverage itself — might be a favorite of investing wunderkind Warren Buffett — but Pepsi is hauled in double Coke's profits in 2018.
PepsiCo announced on Aug. 6, 2018 that Pepsi CEO Indra Nooyi will step down from her position after 24 years with the company, and after being its first woman to fill the roll of CEO. She was be replaced by Ramon Laguarta, who had previously overseen global operations and public policy for the company. How will this shake-up affect Pepsi stock, and what does that mean for its rival? Read on to get an overview of what investing in either company might mean for your portfolio.
What Pepsi and Coke Are Worth
Pepsi
Coke
Share Price, 52-Week Range
$95.94-$122.51
$44.25-$52.33
Market Cap, 52-Week Range
$46.3B-$189.3B
$188.9B-$223.5B
2018 Revenue
$64.7B
$31.9B
2018 Profits
$12.5B
$6.4B
All information on 52-week range is accurate as of Jul. 12, 2019.
About Pepsi and Coke
Pepsi
Coke
Headquarters
Purchase, N.Y.
Atlanta
Year Founded
1890s
1886
CEO
Indra Nooyi
James Quincey
Coke vs. Pepsi Market Caps:$188.9B-$223.5B and 46.3B-$189.3B, Respectively
One of the most reliable gauges for what a company is really worth is market capitalization, or market cap for short. The market cap is the value of all of the company's stock combined, giving you a sense of what value investors are placing on the company based on the price it is trading at.
Coca-Cola Net Worth and Pepsi Net Worth: $69.6B and $99B, Respectively
Although market cap gives you a clear sense of what the market values a company at, it's based entirely on market sentiment — essentially reflecting the ever-changing opinions of investors — and it changes from hour to hour. The GOBankingRates Evaluation, however, calculates a company's net worth based solely on measurable figures like assets and revenue. It's a more conservative valuation taking into account only full-year profits and revenue from the last three years and the company's assets and debts.
Based solely on both companies' revenue and profits from the last three years, Pepsi is worth around $100 billion, whereas Coke is worth just under $70 billion.
Pepsi has flourished under Nooyi's leadership. Net revenue between 2006 to 2017 has increased from $35 billion to $63.5 billion, a compound growth rate of 5.5 percent per year. For shareholders, this means dividends have almost tripled from $1.16 to $3.17 between 2006 and 2017. Nooyi was also responsible for Pepsi's foray into the world of snacks, which has helped expand the company's portfolio. PepsiCo stock price has been trending upward since 2014, despite a sharp drop in mid-2018 that has since been correcting itself.
Coca-Cola enjoys the backing of Warren Buffett, but it has seen revenues slipping — posting year-over-year losses in each year since 2016. Coke appears to be less of a diverse investment than Pepsi, which also has the snack market covered under Frito-Lay. This might present a problem for the beverage giant, as soda consumption fell between 2003 and 2014, according to a November 2017 press release from the Harvard T.H. Chan School of Public Health.
On the other hand, Coke still has the edge on its dividend — if just by a little. Coke was paying a dividend yield of 3.02% as of mid-July 2019 to Pepsi's 2.9%. With Coke poised to raise its soda prices, however, time will tell if personal health beats out market expectations.
Click to keep reading about the huge corporations that own your favorite brands.
Methodology: The GOBankingRates Evaluation assesses a company's net worth based on the company's total assets, total liabilities, and revenue and net income from the last three years. Base value is established by subtracting total liabilities from total assets from the company's last full fiscal year. Income value is established by taking the average of the revenue from the last three full fiscal years, 10 times the average of the net profits from the last three full fiscal years, and then calculating the average of those two figures. The final GOBankingRates Evaluation number is the sum of the base value and the income value.