Contactless Payments: How Do They Work and Are They Safe?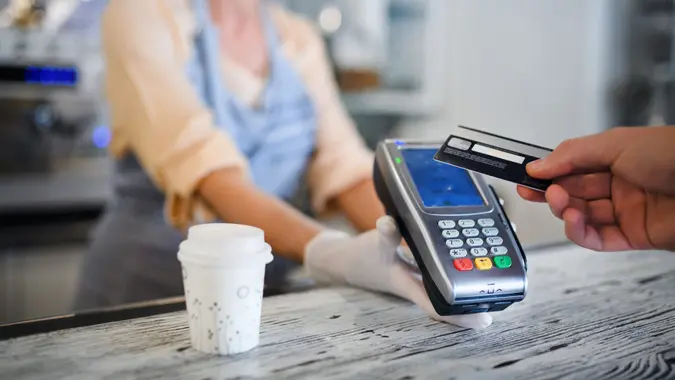 Halfpoint / Getty Images/iStockphoto
Cash payments are slowly getting replaced by other payment methods, such as credit cards, debit cards and now contactless payments. Contactless payments are becoming increasingly popular for a good reason — they're a secure and convenient way to pay.
The global pandemic has been a major catalyst for the rise in contactless payments in the U.S. and other parts of the world. International retail commerce and brick-and-mortar businesses are going cashless to reduce the risk of COVID-19 transmission.
Historically, contactless payments have been less prevalent in the U.S., unlike in Europe and Canada, where the touch-free world has already been adopted. Even so, credit card issuers are continuing to roll out contactless cards. Visa reported in April 2020 that the overall use of touchless payments in the U.S. had risen by 150% since March 2019.
Many merchants are now accepting contactless payments and mobile wallet payments. Here is a deeper look at what contactless payments are, how they work, if the payment method is secure and where you can use it.
What Are Contactless Payments?
Also called tap-and-go payments, contactless payments allow consumers to pay for goods and services without the need for swiping, entering a PIN or handing over a card at checkout. If you've ever seen someone tap their smartphone or hover their card over a checkout counter, that is contactless payment.
Make Your Money Work Better for You
How Contactless Payments Work
The technology behind contactless payments is a combination of radio frequency identification technology and near-field communication. An NFC-enabled credit card emits payment data through RFID frequencies when it's near a point-of-sale terminal with contactless technology.
RFID uses memory chips that store data and readers that decode the message from contactless devices. Using this technology, devices close to each other can communicate on the same radio frequency.
The technology for NFC is similar to RFID. But RFID works at a distance of many feet, whereas NFC only works when there's a small distance between devices — usually 1.5 inches.
Most merchants who accept contactless payments have a POS terminal set up. Whenever you want to make a payment, you only need to tap or hover the card near the terminal. Information is then transmitted from your card to the bank. You'll get a signal when the system accepts your tap — usually a green light or a beep.
Good To Know

Besides using cards equipped with contactless technology, you can also use a mobile wallet on your smartphone or wearable device, such as a smartwatch or fitness tracker. All you need to do is download a payment app or open an existing one on your device, store your credit or debit card information, tap and pay.

For example, if you're an iPhone user, you can add a new card in the Wallet app and start using Apple Pay once your card is verified. Google Pay, Samsung Pay and Fitbit Pay are examples of contactless payment options offered by other companies.
Make Your Money Work Better for You
Some ATMs come with NFC capabilities, allowing users to tap their debit cards on a contactless indicator on the machine, rather than manually entering their PIN via a keypad.
Contactless technology is also making its way in the transport sector. New York City's Metropolitan Transportation Authority is currently rolling out OMNY, a contactless payment system that residents can use to pay for public transport.
Benefits of Contactless Payments
Contactless payments offer many benefits to consumers. Some include:
Speed: Contactless payments are fast. It will only take you seconds to make a payment that would have taken longer if you used a traditional debit or credit card.
Security: Contactless payments use nearly the same technology that powers EMV chip cards. Therefore, there's no risk of fraud or identity theft. Further, it uses tokenization — sending a one-time token to secure each transaction.
Convenience: Contactless payments are a convenient way for banks, merchants and consumers to conduct swift transactions.
Are Contactless Payments Secure?
The short answer is yes. Contactless payments are one of the most secure ways to pay.
Compared to older generations of banking cards with magnetic stripes that fraudsters could use to steal data, contactless payments are safe and secure. The technology that powers contactless payments is similar to what powers Europay, Mastercard and Visa chip cards. EMV cards are less vulnerable to counterfeit fraud than magnetic stripe cards.
Make Your Money Work Better for You
Tokenization also adds to the security. When you try to make a contactless payment, you are sent a one-time token to verify you're the one making the payment. Once the transaction is complete, the token cannot be used again. This means that even if a fraudster accesses your token, they won't be able to clone information.
Also, using a mobile wallet for contactless payments has an added layer of protection to each transaction. These wallets have an extra step to verify your request with a password, fingerprint, PIN or facial recognition before processing payment.
How Do I Know If My Card Is Contactless?
You can quickly tell if either the front or back of your card has contactless technology by looking for four curved waves that look like a Wi-Fi symbol. If the symbol isn't there, you can contact your credit card issuer to ask if it provides contactless-enabled cards.
What Is the Contactless Payment Limit?
The amount you can transact for contactless payment varies depending on your country and bank. Some retailers and merchants set contactless limits per transaction to guard against fraud. However, limits for contactless credit card payments have risen amid the coronavirus pandemic.
Where and When Can You Use Contactless Payments?
Most major credit card issuers in the U.S. are beginning to roll out contactless cards. As long as your card has the contactless symbol, you can use it for transactions with any NFC-enabled terminal. Even better, you still have the option of uploading your card information to a mobile wallet if your card doesn't come with the technology.
Takeaway

Contactless payments are growing increasingly popular, given the health concerns about catching the coronavirus by touching contaminated surfaces. But the growing reliance on cashless options is probably here to stay even after the pandemic. It's a speedy, convenient and secure way to make payments.
Our in-house research team and on-site financial experts work together to create content that's accurate, impartial, and up to date. We fact-check every single statistic, quote and fact using trusted primary resources to make sure the information we provide is correct. You can learn more about GOBankingRates' processes and standards in our editorial policy.
Make Your Money Work Better for You