How Coronavirus Exposed America's Mistreatment of the Elderly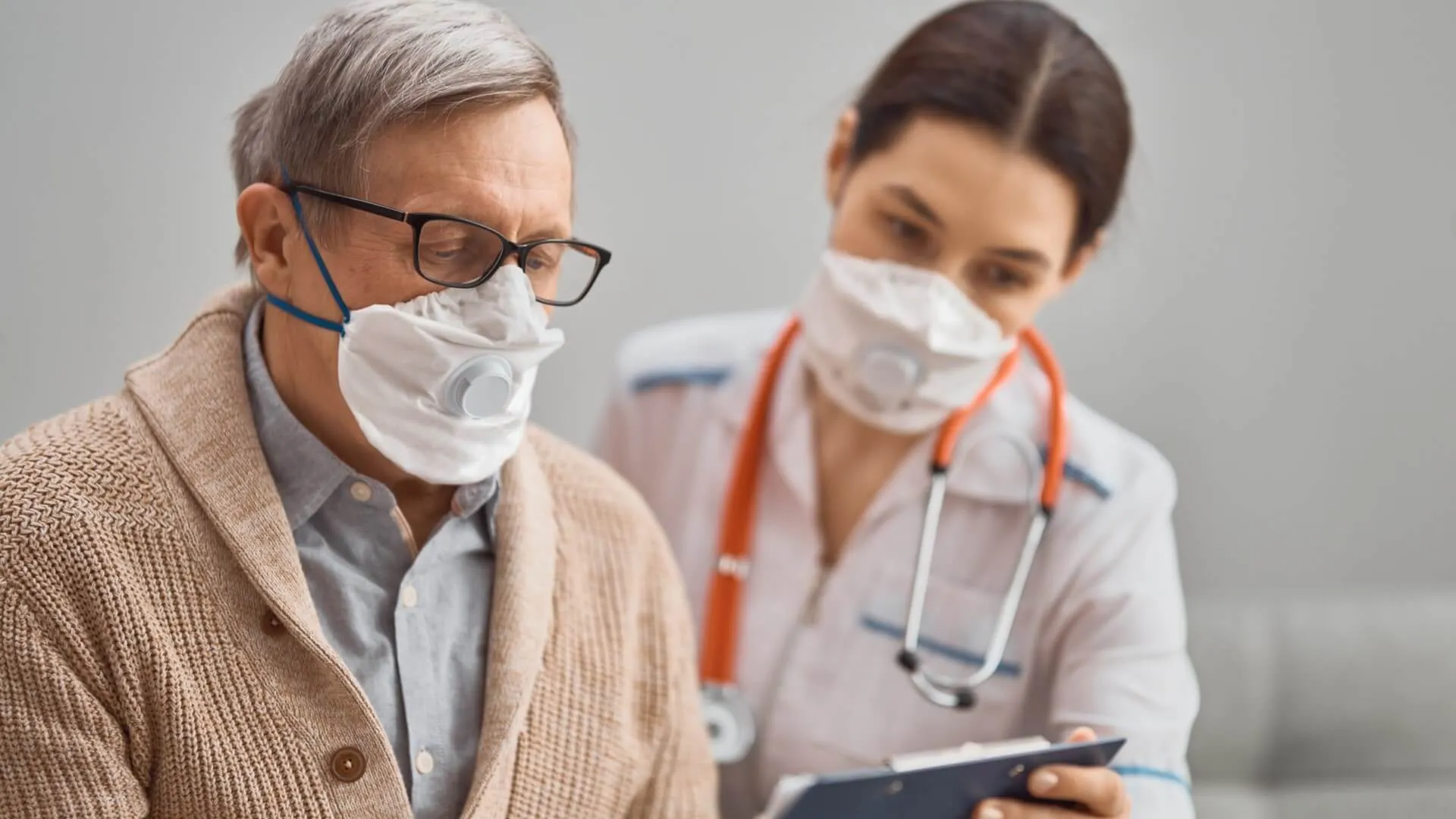 In 2008, I became a certified nursing assistant with the goal of working with the elderly. I was raised by my grandparents, which gave me a deeply rooted appreciation for seniors, and I was looking forward to caring for other people's grandparents in the years to come. I did my clinical work in a veterans home, which included time on an Alzheimer's wing and care for the severely disabled.
Find Out: 15 Best Work-From-Home Jobs for Retirees
Shortly after being certified, I got a job at a senior care facility and spent the next few years working there, supporting myself through college. Residents ran the gamut from the newly retired to well over age 100 and from fairly independent to wheelchair-bound or in hospice care. I learned about their hobbies, their kids' names and their favorite foods. I held their hands when they were worried, bathed their aching bodies, put them back to sleep after nightmares and grieved when they died.
Though my career has taken a turn, it is with that unique perspective that I watched the coronavirus pandemic unfold over the course of 2020. It is safe to say that for all the ways the government has let down the general population this year, it doesn't compare to what it has done to its seniors. The devaluation of their lives during this period is just a microcosm for their treatment as a whole. The truth is, America mistreats its elderly — we're all just used to it.
Learn about the ways we're letting our seniors down and what we can do to ensure seniors get the golden years they deserve.
Last updated: Jan. 26, 2021
Make Your Money Work Better for You
First, Nursing Homes Were Omitted From Emergency Plans
Despite ample warning that nursing homes would be particularly vulnerable to a pandemic, public health officials across the country — and the world — failed to factor them into their preparedness plans. In fact, they outright omitted senior facilities from such financial and procedural plans.
Find Out: What a Comfortable Retirement Will Cost You in Each State
Then, Nursing Homes Became Deathtraps
According to Centers for Medicare & Medicaid Services, the confirmed number of coronavirus cases in nursing homes was 223,626 as of Sept. 6, and there were an additional 132,911 suspected cases. There have been 54,437 deaths in these facilities directly attributable to COVID-19. For context, this would be as if the entire population of Pensacola, Florida, died — and then a few hundred more people died on top of that.
Of course, it didn't help that many nursing homes went into lockdown mode at the first sign of infection — a decidedly smart choice, but one that trapped the healthy in with the ill.
Read: Americans Don't Understand These Facts About Social Security
Senior Facilities Already Were Rife With Mistreatment and Abuse
Though seniors shell out tens of thousands of dollars a year for care, mistreatment from the hands of a visiting family member, fellow resident — or worst of all — a caregiver is not uncommon. According to the National Council on Aging, 1 in 10 Americans ages 60 and older have experienced elder abuse.
Abuse doesn't just include physical acts, either, but emotional abuse, neglect, confinement, deprivation and more. Sometimes it is unintentional — a caregiver is spread too thin, has too many residents to attend to and forgets to come back right away to help a senior get out of the shower, leaving the senior cold, wet and unable to reach a walker or other mobility aid.
Other times, it is fully intentional, such as the time I witnessed a resident pour scalding coffee on another resident for eating the last cookie. Yes, really.
Make Your Money Work Better for You
Medication Errors and Malpractice Also Abound
In October 2019, a study from the Journal of the American Geriatrics Society found that of all medication errors examined, 16% to 27% occurred in nursing homes. Further, in cases of patients transferred between acute and long-term care facilities, prescription errors happened 13% to 31% of the time.
Of course, these are only in disclosed cases under the watchful eyes of researchers. As a CNA, I witnessed medication errors happen fairly frequently. What's more, due to the mental state of many of the residents, they rarely were informed of the mistakes.
Seniors Are Often Abandoned By Their Loved Ones
Americans view the elderly differently from the way people do in many other cultures around the world. Whereas a grandmother in China, for example, might be moved into the family home so that her children and grandchildren can care for her in her final years, a grandmother in America often is sent to a nursing home and treated as an afterthought by family.
To be fair to families, sometimes the elders are dealing with degenerative brain diseases that take an emotional toll. A person with dementia might lash out and tell the family to leave them alone or even become combative. So, there are reasons for staying away. However, as a whole, Americans keep seniors out of sight and out of mind.
Sacrificing Elderly Workers To Help the Economy
As the virus took hold and the U.S. went into lockdown mode, a Darwinian-inspired battle chant seemed to rise from certain members of the right: Go back to work, let the virus rage on and see who is left standing. Do it for the Dow!
Texas Lt. Gov. Dan Patrick, for instance, suggested seniors like himself would be willing to sacrifice their lives to get the economy rolling again.
"My message: let's get back to work, let's get back to living, let's be smart about it, and those of us who are 70-plus, we'll take care of ourselves," he told Tucker Carlson in an interview with Fox News.
Make Your Money Work Better for You
So, the Public Turned On the Elderly
As conservative personalities such as Sean Hannity and Rush Limbaugh repeatedly downplayed the virus, their rapt audiences listened. The misinformation was particularly dangerous as their audiences are largely made up of people who qualify for Social Security benefits. As a listener, if names you respect and trust tell you that you have nothing to be worried about — especially if those trusted voices are seniors like the 69-year-old Limbaugh — what reason do you have to care?
In April, one Tennessean made headlines for holding up a "Sacrifice the Weak" sign at a "Reopen Rally" in downtown Nashville.
Ageism Is Still Alive and Well in the Workplace
The devaluation of elderly workers — aka, "They're so old. If they die, so what?" — is why we have the Age Discrimination in Employment Act in the first place. It is illegal to use age as a reason to make employment decisions about workers ages 40 and older, such as denying them a job.
That said, any older worker will tell you that age is an implicit bias and, thus, ageism still exists in the workplace whether it is verbalized or not. In fact, in 2018, AARP found that two out of every three workers ages 45 and older experience ageism at work.
Senior Workers Are More Vulnerable Than They Seem
You might be disinclined to empathize with older people in the workplace, depending on your experience. When you think of an older worker, you might think of the stereotypical company CEO or someone else in power. That person might rake in a huge salary and have the ability to fire anyone on a whim. However, their relationship with work is tenuous at best.
"Older workers are expensive — by the time they've worked their way up the corporate ladder, their generous salaries start to weigh on the balance sheet," stated Business Insider. "And management may have trouble envisioning spectacular growth and innovative ideas from them years into the future, even if they are ready and willing to deliver."
According to data from Pro Publica and the Urban Institute, "more than half of older U.S. workers are pushed out of longtime jobs before they choose to retire, suffering financial damage that is often irreversible." Indeed, 9 out of 10 senior workers who were forced out of employment in Pro Publica's study never reached the same salary again at subsequent jobs.
Make Your Money Work Better for You
The Coronavirus Brings New Scams
As millions of Americans began to file for unemployment in the spring, more and more coronavirus-inspired scams popped up. They often targeted the most vulnerable populations — the impoverished and the elderly. The hoaxes ranged from scam emails claiming to be from reputable organizations such as the Centers for Disease Control and Prevention to con artists selling "at-home test kits" door to door.
Seniors Are Constantly in Danger of Being Scammed
Pre-pandemic scams targeting the elderly already were abundant. My grandmother once received a phone call from a young man claiming to be her grandson. He said he was in jail and needed bail money to get out and begged her to wire some cash. The man sounded like her grandson, but something seemed off. Fortunately, she was smart enough to call his bluff.
"This is just like the time I had to send you the money when you broke your wrist, remember?" she said.
The scammer replied back, "Yes, it is just like that!"
My grandma then calmly replied, "My grandson never broke his wrist. You're not my grandson," and hung up.
While I can only wish to be half as cool as her someday, I fear for the many seniors out there who will be duped by fraudsters. These people can convince you that you missed a mortgage payment or your Social Security payments will stop if you don't take action. It's frightening how realistic and authoritative these scammers can sound.
Financial Exploitation
In the same vein as scams, another form of all-too-common abuse, according to the National Council on Aging, is financial exploitation. Sometimes a family member comes by the nursing home periodically, and Grandma is so grateful for the company that she pulls out her checkbook. The only thing is she has dementia and doesn't realize she's been handing out checks to this family member several times a month.
I witnessed sons and daughters who visited out of love and respect — and those who visited because they wanted something. It's very difficult to explain to someone that their child might be using them, especially without hard proof.
Make Your Money Work Better for You
Seniors in Hospitals: Another Dark Prospect
Because of the pandemic, hospitals in the U.S. have seen a massive shortage of personal protective equipment as well as necessary medical tools and life-saving equipment. They have been pushed to capacity, too, and not just in small towns with tiny facilities. In July, Los Angeles television station KTLA said that in California, "hospitals up and down the state report that their beds are filling up fast, staffers are tiring and medications used to treat coronavirus patients are running low."
Just as in the workplace, the elderly in the healthcare system have been marginalized in the frenzy. California Gov. Gavin Newsom, for example, received backlash when he initially ordered hospitals to prioritize care for younger people with longer life expectancy.
Healthcare: Medicare and Medicaid: What They Are and How They Differ
Hospitals Already Are the Last Stop for Seniors
Prioritizing younger patients over seniors, while logical, exacerbates an already frightening experience for elderly patients who have compromised immune systems and might have memory difficulties. When I worked in a retirement home, going to the hospital was a shared fear among many residents. After all, some of their friends had gone and never come back.
Kaiser Health News published a story in 2016 entitled "Elderly Hospital Patients Arrive Sick, Often Leave Disabled" about the effects hospitalization can have on seniors. When you already are ill, your body might not be strong enough to survive surgery or extensive treatment. You have a higher chance of contracting an illness that you might not recover from, too. Lack of quality food, sleep and movement can lead to health regressions — all while you rack up a massive hospital bill.
The Elderly Are Stuck In Coronavirus Limbo…
As if choosing between a nursing home and a hospital weren't bad enough, many seniors were told they couldn't stay in either during the pandemic. Elderly patients were discharged from hospitals and sent back to nursing homes, but nursing homes that were on lockdown refused to take in patients who could compromise the health of other residents and staff. Seniors who didn't have someone to take them in were stuck in limbo.
Make Your Money Work Better for You
… And It's Not Just a Pandemic Issue
Unfortunately, this kind of push and pull happened before the pandemic, too. I saw several cases where a resident became too sick or injured to stay in their facility but not sick or injured enough to stay long-term in a hospital or nursing home. It's a difficult system for residents and their family members to navigate. It can be tricky for the senior facilities, too, as they have to evict a resident for liability reasons.
Seniors Already Were More Likely To Be Sick in the US
Prior to the coronavirus, seniors in the U.S. already were sicker than those in other developed countries around the world. A 2017 report by the Commonwealth Fund found that 36% of older adults in America — the highest of the 11 countries analyzed — suffered from at least three chronic health conditions. New Zealand, on the other hand, reported just 13%.
Seniors Can't Afford Healthcare in the US
Americans aren't inherently sicker than other people around the world. Their unchecked illnesses are tied to a lack of affordable healthcare. The elderly often must choose between their health and getting groceries or paying rent — not an easy decision to make.
The same report from the Commonwealth Fund found that nearly one-quarter of older adults have trouble affording their healthcare. This has led to seniors not seeing the doctor when they are sick, skipping medical tests or treatments recommended by a doctor and/or not filling prescriptions or skipping doses because of cost.
People Are Living Longer — and We Don't Care
According to Our World in Data, the average life expectancy in the Americas has more than doubled in the past 250 years. In 2019, the average person is expected to live to be about 77, and it has become commonplace for people to live well past 80. In fact, the oldest living person in America, Hester Ford, celebrated her 116th birthday in August.
While medical science has given us longer life expectancy, society hasn't come up with a plan for people to endure a 40-year retirement. Social Security was meant to be a safety net for seniors, but it is set to run out in 2037. We've collectively told seniors that it's great they're living so long and all, but we certainly won't be helping them do it.
The Cost of Senior Care Varies Wildly — but It's All Outrageous
A 2019 study from GOBankingRates found that the cost of senior care varies greatly from state to state, meaning if you live in Alaska, for example, you'll be paying much more than someone who lives in South Carolina. Many people don't have the luxury of moving across the country to get the best deal in their golden years, especially as they age and become more ill or impaired.
The price range of senior care throughout the U.S. (monthly costs):
Medicare premium: $13.80 to $101.46
Homemaker services: $3,051 to $5,339
Home health aide: $3,051 to $5,720
Adult day healthcare: $758 to $2,947
Assisted living facility: $2,844 to $6,300
Nursing home semiprivate room: $4,639 to $29,291
Nursing home private room: $5,293 to $27,573
Could You Endure a Long Retirement? Scenario A
To put things into perspective, we'll use a real-life scenario. Let's say you wait to retire until age 75, trying to save up every last penny you can while you're still in good health. You enroll in Medicare and move into an assisted living facility. You are in mostly good health and fairly self-sufficient – you really only need help with minor things such as putting on your compression socks because of your worsening arthritis. You live at the assisted living facility, semi-independently, for the next 10 years.
During that time, your health slowly gets worse, to the point where one day, you are told by the director of the facility that you can no longer live there and must move to a nursing home. You don't want to share your space since you're used to living independently, so you opt for a private room. You move there at age 85 and have the fortune – and misfortune – of living to 100. That's 15 years spent in a nursing home.
Your total cost? On the lowest end of the spectrum – best-case scenario – you'll be paying $1.3 million. At worst? About $5.7 million.
The realization that you might be spending $5 million on retirement only gets that much more panic-inducing when you learn it doesn't include other inevitable costs such as prescription medication.
Could You Endure a Long Retirement? Scenario B
If you're thinking to yourself, "I'm healthy as a horse. I'm going to be just fine," that might be true. Let's look at an alternative scenario using data from another GOBankingRates study about the cost of living to 100.
Let's say everything goes really well for you from here on out. In fact, you manage to stay completely healthy from your retirement at age 65 to the ripe old age of 100. You live out your life in your own home with zero assistance, spending modestly. On average, to get through those 35 years, you'll spend the following amounts on some key categories:
Food: $112,700
Healthcare: $209,790
Housing: $556,010
Incidentals: $526,155
Total cost: $1,404,655
Though it is highly unlikely, if everything goes off without a hitch, you'll spend at a minimum $1.4 million in retirement. That means even without the cost of senior care, you need well over $1 million saved to survive those 35 or so years. For context, 42% of Americans have less than $10,000 saved for retirement, and 13.7% of those have nothing saved at all.
So, What To Do About All This?
After taking all of this in, you might think things seem pretty grim — especially if you have an older adult in your life whom you care about. But there are things that can be done to improve the lives of this vulnerable population. Read on for five tips.
1. Do the Math and Have the Talk
If you have an elderly person in your life who is struggling to pay bills, it's time to have a frank conversation. It's a tough talk to have, but it can make a difference as you and your loved ones move forward.
Some questions to consider asking your parent or other elder:

What is expected of me and/or how can I help?
How much do you have saved?
Are you receiving a pension, Social Security or any other form of income?
How much are your healthcare costs?
Do you plan on downsizing?
Do you want to stay at home and have a health aide or do you want to move into a facility?
2. Report Abuse
If you suspect that an older person is being abused, you simply must report it. Remember, it's better to report something and turn out to be wrong about your suspicion than not to report it — and have been right.
3. Donate
If you have the means, consider donating your time or money to organizations that provide necessary resources such as food and shelter to the elderly. This has become more important during the pandemic than ever before.
Some organizations to consider:
4. Be an Advocate
Whether it is in the workplace or in your personal life, stand up for seniors who need it. This can come in many forms. If your boss tells you older employees could be let go because they're too old to learn a new software the company is implementing, it's time to visit the human resources director. If seniors are getting pushed out of their homes so that a new condo development can be put in the neighborhood, start a committee, sign a petition, take it to city hall. If you believe your grandfather isn't getting looked in on often enough at the assisted living facility, request a meeting with the director.
5. Be Patient and Kind
This one is perhaps the most important of all.
Getting older isn't fun. People can experience the loss of friends and family members, illnesses, memory loss, hearing and sight impairment, just to start. They might be in pain a lot of the time. So, whether you are taking care of an elderly person professionally or just stopping by for a visit with your grandma, try to put yourself in that person's shoes. A little patience and kindness — even when Gram is in a mood — go a long way.
Remember, though you might feel invincible now, we all will grow old and need care in some form or another. If we can just commit to valuing seniors and treating them with respect — and teaching younger generations to do so — we'll be setting ourselves up for a better future.
More From GOBankingRates
About the Author