Grant Cardone and Mark Cuban: Avoid These 4 Costly Business Blunders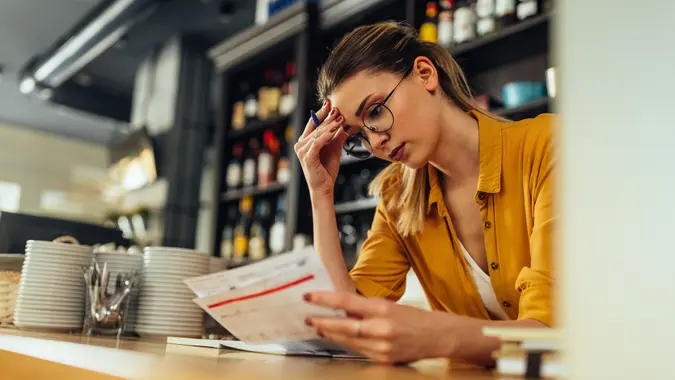 Dimensions / iStock.com
In the dynamic realm of entrepreneurship, small businesses grapple with challenges that have the power to mold their destiny. Amidst these challenges, one notable blunder can lead to downfall.
In fact, 20% of small businesses fail within the first year, and about half don't make it past five years, according to the Bureau of Labor Statistics. But what are those mistakes that can sink a business?
GOBankingRates asked industry experts and accomplished entrepreneurs Mark Cuban and Grant Cardone to name the critical missteps they often see that cause businesses to fail.
1. Neglecting Customer Satisfaction
According to Cuban, "businesses that are not focused on keeping customers happy" are more likely to fail. Ignoring customer contentment can result in customer attrition, eroding the business' reputation and diminishing its customer base. Prioritizing exceptional value and outstanding service is essential for fostering robust customer relationships and nurturing brand loyalty.
2. Not Effectively Marketing the Business
Cardone told GOBankingRates that unsuccessful businesses often aren't able to efficiently market themselves in a way that capitalizes on their customer base. "[The] No. 1 reason a business fails is because it does not effectively market itself to monetize its customers," Cardone said.
Cardone underscores the pivotal role of strategic marketing in transforming potential customers into tangible revenue streams. In an evolving marketplace, strategic marketing not only showcases value but also cements brand recognition and transforms leads into devoted patrons.
Make Your Money Work Better for You
3.  CEOs That Don't Sell
Cuban also stressed the importance of CEOs being actively engaged in the sales process. "CEOs that don't sell is a mistake," he said. This highlights the need for business leaders to be hands-on in sales, cultivating a deep knowledge of customer needs and using that understanding to make decisions that propel revenue growth.
4. Not Conserving Cash
Finally, Cuban emphasized the need for business owners to have cash ready for unexpected challenges or opportunities. "Owners that don't conserve their cash is a major mistake," Cuban said.
Neglecting cash reserves can render a business vulnerable during lean periods or unforeseen challenges. Responsible financial management, including earmarking funds for contingencies, empowers businesses to navigate economic uncertainties, seize growth prospects, and maintain stability.
More From GOBankingRates