How Much Do Racehorses Cost?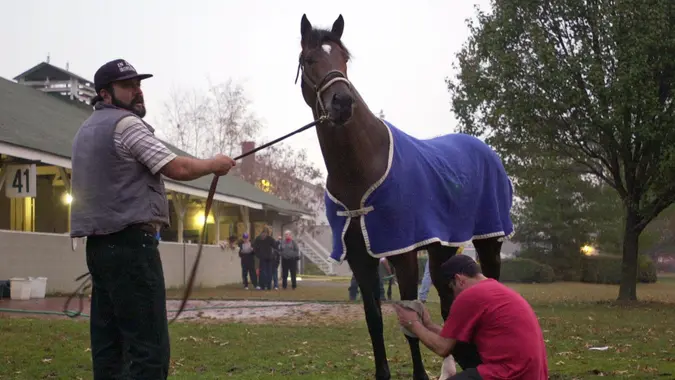 Ed Reinke/AP / Shutterstock.com
Let's get this out of the way now: You can't horse around if you want to be a Thoroughbred owner.
In all seriousness, there's a reason that horse racing is called the sport of kings: It's an expensive endeavor.
See: 22 Side Gigs That Can Make You Richer Than a Full-Time Job
Find Out: In Less Than a Decade, You Won't Be Able To Afford a Home in These Cities
With the Triple Crown season about to end at the Preakness on June 11, we take a look at the cost of owning a Thoroughbred racehorse.
A Six-Figure Investment
Purchasing a decent Thoroughbred can cost from $100,000 to $300,000, Equinedesire.com reports.
It's also not easy to buy one — after all, they aren't available on Aisle 8 at the local supermarket. To purchase a top horse, you can try to arrange a private sale by reaching out to horse owners, or you can attend one of the big auctions. The biggest of these is at Keeneland, where Acting Out sold for $600,000 to lead the auction in April 2022.
Make Your Money Work Better for You
Another way to buy a Thoroughbred is to buy into a group, rather than trying to purchase it outright. Imagine buying 5% of a racehorse, which could cost at least $5,000.
Annual Fees Add Up
The cost to buy the horse is just the beginning of your financial outlay. Owning a Thoroughbred requires spending $40,000 to $60,000 per year for training, food, equipment (such as horseshoes and saddles) and medical expenses. Horseracingsense.com breaks down many of the expenses, including $2,500 for training fees and $500 for medical care per month.
The price of those is determined by many factors, including the horse's pedigree (it's going to cost more if the horse's ancestors were race-winning Thoroughbreds as well), age and racing record. The Triple Crown races are for 3-year-olds, so often the most expensive horses are 2- and 3-year-olds.
Races require entry fees, which can run up to $25,000 for a prestigious Triple Crown race.
ROI Can Be Worth It
Of course, you really could spend for a winning horse. A horse can earn $1.86 million for winning the Kentucky Derby, which then certainly makes it worth more to potential buyers. The most expensive race horse ever sold was Fusaichi Pegasus, which went for a whopping $70 million after the horse won the 2000 Kentucky Derby. The horse was originally purchased for $4 million and went on to win six races.
Make Your Money Work Better for You
One reason to buy a successful Thoroughbred is for the breeding capability. A horse such as Tapit can command as much as $300,000 for stud fees, horseracingsense.com reported. Unfortunately for Fusaichi Pegasus' owners, his stud fees have now dropped to $7,500.
Shareef Dancer, the second-most expensive horse ever sold, went for $40 million in 1983, horsevills.com reported, while The Green Monkey went for $16 million at auction in 2004. That's the highest price ever at a horse auction.
More From GOBankingRates
Make Your Money Work Better for You