See How One Woman Turned Her Stimulus Check Into a $1 Million Business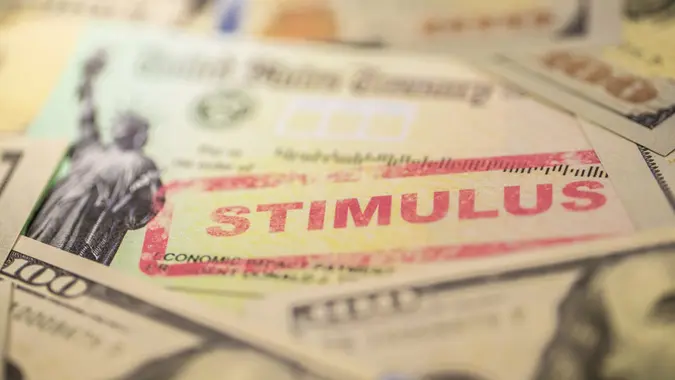 LPETTET / Getty Images/iStockphoto
In January 2021, Jasmine Taylor had accumulated $60,000 in student loan debt and $9,000 in medical and credit card debt, and was finding it hard to get by on the money she made delivering prescriptions for pharmacies and food for DoorDash, CNBC reported. She decided that she needed a new approach to managing her finances, and took up the "cash stuffing" or envelope method of budgeting.
Popularized by Dave Ramsey, this method involves paying for everything with cash that's sorted into envelopes as a way to control spending. Each spending category has an envelope, and once the money is gone, you stop spending.
"I found cash budgeting and I literally stuck to it," Taylor told CNBC. "I would only spend what I had in cash."
To keep herself accountable, Taylor documented her financial journey on TikTok as @baddiesandbudgets, and ended up going viral. She used her newfound fame to launch a business that helps other people practice the cash stuffing method — and funded it with a stimulus check.
Make Your Money Work Better for You
How She Turned $1,200 Into Almost $1 Million
When Taylor started cash stuffing, she noticed that there was a lack of tools available on the market.
"I looked around, and I couldn't find a bunch of shops that were selling the items you needed to cash stuff," she told CNBC.
So Taylor decided to make these products herself. She wanted to create envelopes and wallets that made cash stuffing more appealing than the plain envelopes typically used for this method. In the spring of 2021, Taylor used a $1,200 stimulus check to turn Baddies and Budgets into a business — she bought a Shopify account, shipping supplies, material to make cash-stuffing wallets and a machine to print labels for the envelopes and wallet covers, CNBC reported.
By the end of the year, Taylor's business had made nearly $250,000.
As the company grew in popularity, Taylor created more Baddies and Budgets products and now offers an online course.
Take Our Poll: Do You Think AI Will Replace Your Job?
"A lot of people that buy from us are budgeters and people who save, but there are also people who buy from us because our stuff is really cute," she told CNBC. "They're the ones who wanted cups and keychains."
Make Your Money Work Better for You
In 2022, the company brought in $850,000, and it's on track to make $1 million by the end of this year.
Taylor told CNBC she never thought she would achieve this level of success when she started her business with a stimulus check: "I just went into it hoping I would make my money back," she said.
How To Start Your Own Business With Little Overhead Costs
Taylor's story is proof that you can start a successful business without needing a large amount of funds to get things started. While not everyone is guaranteed to reach the $1 million mark, you can start your own small business with little to no overhead costs.
Here are a few ideas:
Blogging
Private chef
Bookkeeping
Etsy creator
Consultant
Interior design
Tutor
Personal trainer
Notary
Wedding planner
Ideally, your business will align with your skill set. Taylor was able to succeed because she is sharing products and services related to a subject she has become an expert on.
"Perform a self-audit of your experiences, skills and passions," said Brian David Crane, founder of Spread Great Ideas, a digital marketing fund that invests in e-commerce businesses. "Look for opportunities that cross over between them."
Make Your Money Work Better for You
More From GOBankingRates
Make Your Money Work Better for You