See If Your Company Will Give You Time Off to Vote Next Week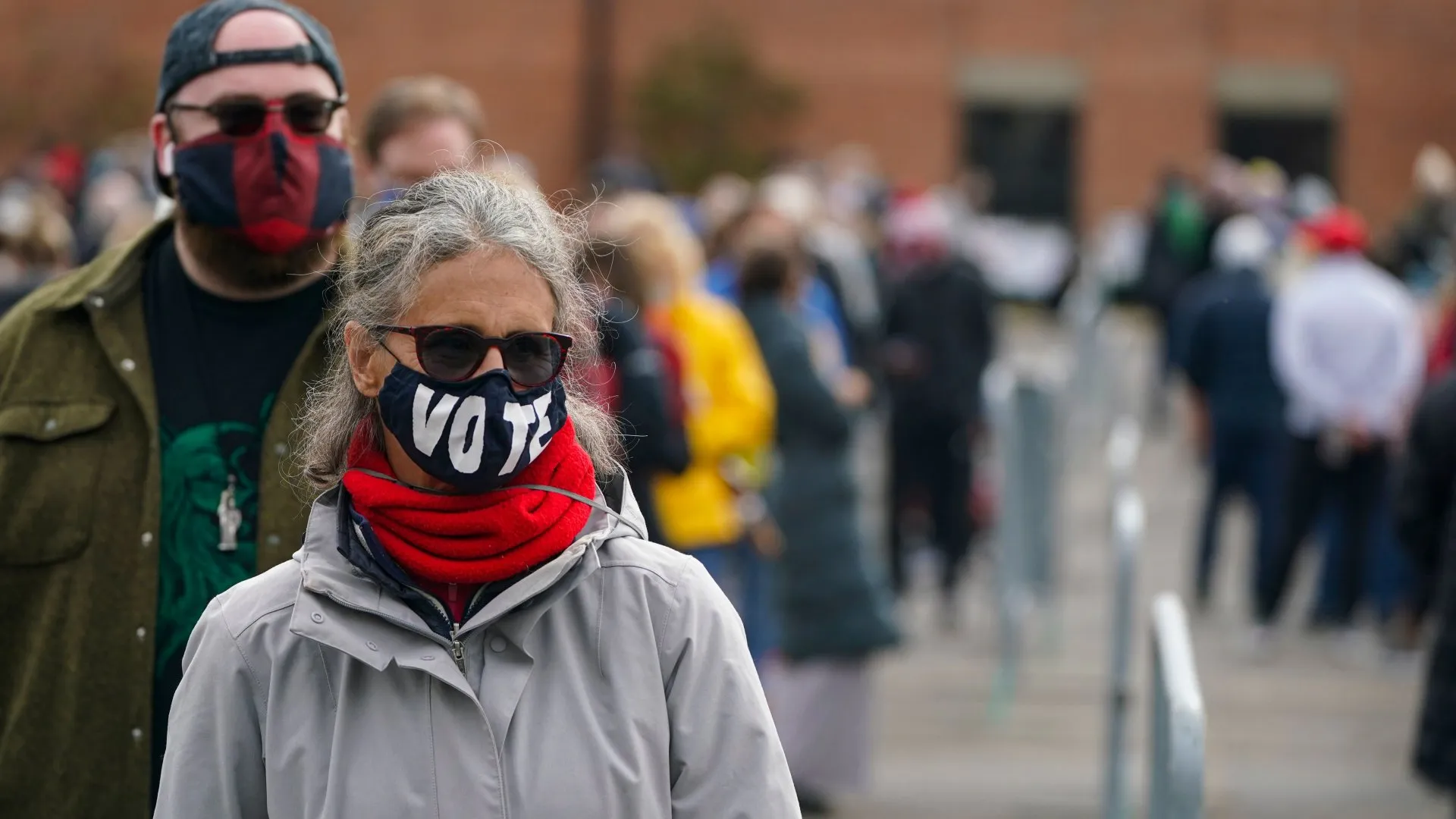 In the throes of a pandemic that has claimed the lives of 225,000 Americans and counting, tanked the economy and contributed to months of civil unrest, the U.S. is facing one of the most critical presidential elections ever. It's also looking at one of the weirdest elections in modern history because of the COVID-19 pandemic, which has shut down traditional polling locations, created a shortage of poll workers and prompted lines that wrap around city blocks as voters queue up, in socially distanced fashion, to vote early. Millions of Americans are also casting their ballot by mail. 
Given all this upheaval, you'd think that voters would at least be guaranteed compensated time off to vote, but alas, much of that depends on your state. According to Ballotpedia, only 28 states during the 2020 election cycle require employers to permit employees time off to vote. As such, many people have to choose between work — at a time when job losses are rampant — and fulfilling their civic duties. 
In an effort to help make voting less stressful than it already is, more than 1,700 companies have partnered with Time To Vote in pledging that their employees will have time off to vote. Some companies, such as Gap and its family of brands, are taking it a step further by paying staff to volunteer at the polls. Other companies, like Uber, are going all-out in offering free food to voters, adding new in-app voting location finder features, and rolling out temporary polling places.
Here's a look at some of the biggest companies offering their employees paid time off or other incentives during the election.
Last updated: Oct. 29, 2020
AMC
Amount of time given: 1 day
The mega cinema chain AMC is giving employees a paid holiday to vote, as reported by the Hollywood Reporter — despite going through historically bad times. In a Securities and Exchange Commission filing earlier in October, AMC said that it could run out of money by the end of the year amid complications and shutdowns brought on by the pandemic.
Apple
Amount of time given: Up to 4 hours
On the heels of its new iPhone 12 release, technology giant Apple is encouraging its staff to drop work and hit the polls by giving them up to four hours of paid time off on Nov. 3.

"For retail team members and hourly workers across the company, if you're scheduled to work this Election Day, we'll be providing up to four hours of paid time off if you need it to get to the polls,"  Deirdre O'Brien, Apple's senior vice president of retail and people, told staff in a memo. "Teams can also use this time to volunteer as an election worker at one of your local polling stations."
Make Your Money Work Better for You
Bank of America
Amount of time given: Up to 3 hours for employees who work 20+ hours
Bank of America is one of several banks — including Synchrony Financial and JPMorgan Chase — that are stepping up to give employees paid time off to vote. BofA is offering certain employees up to three hours of paid time off to vote in any local, state or federal election, according to an article on Financial Advisor.
Best Buy
Amount of time given: Shortened hours
Back in June Best Buy announced that beginning in 2021, Juneteenth would be a paid company holiday. It also announced that it would be shortening its hours of operation on election day. "This one-day adjustment will include all Best Buy operations: stores and services, including in-home work, field offices and our corporate campus," the electronics retailer said in a press release. "In addition, we will make the necessary arrangements at our distribution centers and call centers to give employees the time they need. This ensures each employee will have an opportunity to cast a vote in person, if they choose."
Chobani
Amount of time given: Half-day
Yogurt maker Chobani is granting employees a paid half-day off on election day. Employees also have the option of taking the entire day of paid time off if they choose to volunteer in non-partisan election activities like working the polls. This builds on the company's Chobani Gives initiative, in which all employees get a full day of paid volunteer time each year with an organization of their choice.
The Coca-Cola Company
Amount of time given: 1 day for full-time U.S employees
Coca-Cola announced in June that Nov. 3 would be a paid holiday for all full-time, U.S.-based employees of the company. 
"We believe all Americans should be given the opportunity to have their voices heard on Election Day, and that supporting our employees' right to vote is fundamental to the strength of our democracy and the cause of free and fair elections," Monica Howard Douglas, general counsel, Coca-Cola North America, said in a statement. "This decision was made in response to feedback received from associates about how we can live up to our company's mission to refresh the world and make a difference and help impact important issues in our country."
Make Your Money Work Better for You
Facebook
Amount of time given:

Unspecified
Facebook CEO Mark Zuckerberg announced in September that the social media giant will give all employees in the U.S. paid time off to vote or volunteer at polling stations, adding in a Facebook post that he and wife Priscilla Chan "have also personally donated $300 million to non-partisan organizations supporting states and local counties in strengthening our voting infrastructure."

Zuckerberg didn't specify exactly how much time employees will have off to vote.
Gap
Amount of time given: Up to 3 hours
Gap launched a multi-pronged campaign, dubbed #GapIncVotes, to amplify civic engagement efforts. On election day all Gap Inc. store employees, including seasonal and part-time workers, will have up to three hours of paid time off to vote. This applies to employees working at any of the company's brands, including Old Navy, Gap, Banana Republic, Athleta, Intermix, and Janie and Jack.
GitHub
Amount of time given: Half-day or more if needed
GitHub's employees can take a paid half-day off — or more if needed — to vote or take part in other civic engagement activities, the software company announced in September.
J. Crew Group
Amount of time given: 1 day
Back in August, J.Crew Group announced its support for the Time to Vote movement, opting to give employees a full day off to vote on Nov. 3.  
"Civic engagement is more important than ever and we are committed to ensuring that our employees have the ability to participate in the upcoming election," J.Crew Group CEO Jan Singer said in a press release. "Our decision to join the Time to Vote movement is a wholly non-partisan decision and made as an effort to create actionable change at our organization, in our community and beyond."
All J.Crew stores and Madewell stores will be closed on that day, as will the company's corporate offices, distribution center and customer service center.
Make Your Money Work Better for You
NFL
Amount of time given:

1 day
The NFL built on its "Inspire Change" initiative by enacting NFL Votes in August 2020. The program, which runs through Election Day, encourages voting and civic engagement efforts by current and former NFL players, members and fans. 
"We're launching NFL Votes to inspire everyone in the NFL family — including our fans — to participate in the civic process by getting registered to vote and ultimately exercising their right to vote," league Commissioner Roger Goodell said in a statement. 
NFL employees are also getting Election Day off to vote.
Nike
Amount of time given: Varies depending on state
Nike shared a press release in August stating that it encourages all eligible U.S. employees to register to vote, and said it would ensure that every employee registered to vote has the" access, opportunity and time" to cast their ballots.

"At NIKE, Inc., we believe every voice matters and every vote counts. Regardless of their political affiliation, from education and registration to engagement and participation, Nike will work to support them," Hilary Krane, Nike EVP, chief administrative officer and general counsel said in the statement. 
How much time voters have off depends on state voting laws and requirements.
Patagonia
Amount of time given: 1 day
To underscore the importance of voting — and the role it plays in the future of our planet — outdoor gear retailer Patagonia is closing up shop on Election Day, just as it did in 2016. The move makes sense considering that Corley Kenna, the company's head of communications, co-founded Time to Vote. She uses her own time off to work at election sites.
"I think it is on all of us — the private sector, nonprofit, academia — to help provide safe and secure elections,"  Kenna told the New York Times.
PayPal
 Amount of time given:

half day

 
PayPal, one of the co-founders of the Time to Vote initiative, is offering a paid half-day to workers who volunteer at polling places.
"The need has never been greater for businesses to provide their employees dedicated time off to vote," PayPal President and CEO Dan Schulman said in a press release. "No American should have to choose between earning a paycheck and voting. Business leaders around the country must step up and do what's needed to ensure all of their employees will have the opportunity to have their voices heard this November."
Make Your Money Work Better for You
Pinterest
Amount of time given:

8 hours
Pinterest is giving eight hours of paid time off for "civic engagement."  This time can be used to vote or volunteer. The hours don't have to be taken on Election Day as long as they are used for civic engagement. The company banned political advertising back in 2018.
Salesforce
Amount of time given:

1 day
Salesforce CEO Marc Benioff announced in a September tweet that Election Day is a paid holiday for employees. Benioff wrote in the tweet that "the best policy is not time-bound but will take into account the unique challenges facing voters this election cycle. Tell your CEO to give Election Day off to vote."
Starbucks
Amount of time given: Not specified
Starting in early October, Starbucks offered all U.S. partners a one-way Lyft ride of up to $75 to the polls, post office or other voting destination. Additionally, Starbucks CEO Kevin Johnson emphasized that no employee will have to choose between working or voting.
"The upcoming election is a reminder that we, as citizens, play an active role in our society by simply getting involved and voting," Johnson wrote in a letter to partners. "Who you vote for is a very personal decision that you make as a citizen. It is one way for you to be heard. It is how democracy works."
Johnson didn't specify exactly how much time employees could take off.
Twitter
Amount of time given:

1 day
Twitter is giving U.S. employees Election Day a paid day off.
"Given the importance of voting, going forward all national election voting days that take place on a weekday will be a paid day off. Since the U.S. presidential election falls on a workday (November 3), we will plan to close all U.S. offices on that day," the company said in an email sent to employees, as reported by the Associated Press. 
Uber
Amount of time given:

1 day
Uber is going all out to encourage voting. In partnership with Pizza to the Polls, it is deploying a fleet of 250+ food trucks across 25 cities to deliver free food at polling sites from Oct. 24 through Election Day; rolling out an in-app poll-finding feature; giving 50% off roundtrip rides to and from the polls (up to $7 each trip); introducing Greenlight Hub locations in 17 states to bring more polling places to replace those shuttered due to Covid; and giving staff the day off to vote.
Make Your Money Work Better for You
Visa
Amount of time given:

4 hours
Visa employees will have four hours paid time off to vote on Election Day, Bloomberg reported — double the time the company gave for the last election.
Walmart
Amount of time given:

Up to 3 hours
Walmart, which recently announced it would be raising employee hourly wages, is giving associates up to three hours of paid time off to vote on Election Day. The company also said it will help associates take advantage of early voting and offer flexible scheduling. 
More From GOBankingRates
Photos are for representational purposes only and may not be of the company listed.