Mark Zuckerberg's Biggest Career Money Milestones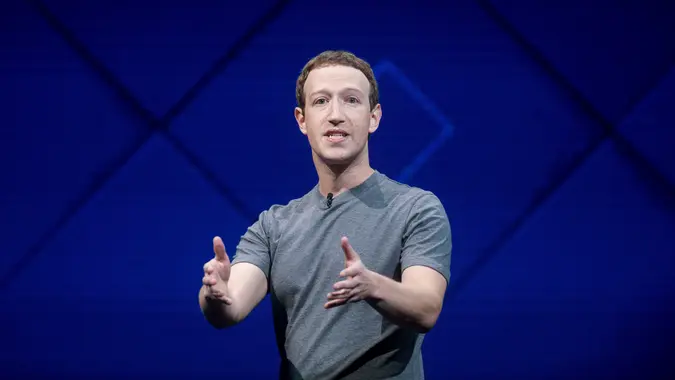 AP / Shutterstock.com
Mark Zuckerberg has been called many things in his lifetime — powerhouse, business magnate, visionary — but one thing he'll never be called is poor.
As of this month, the Meta CEO is worth an estimated $114 billion, according to Bloomberg, making him one of 10 centi-billionaires on the planet. He's considered one of the wealthiest figures in the world, spending much of his fortune on everything from charity to real estate to cars. 
While many of us have seen director Aaron Sorkin's critically acclaimed 2010 film, "The Social Network," based on Mark Zuckerberg's experience building Facebook–not as many are familiar with his life achievements. Here's the trajectory of some of his biggest career money milestones and takeaway lessons we can learn from his moves.
He Co-Founded Facebook
After launching the tech start-up from his dorm room at Harvard University, the social media platform went on to gain a million users by the end of 2004. By Facebook's 2012 IPO, Zuckerberg kept a majority share and 50% of the voting rights. 
Zuckerberg's passion for helping people be more connected to each other drives his ambition. Focusing on that bigger picture over the years has helped him stay on track with his goals.
As the business mogul put it: "Facebook's mission is to give people the power to share and make the world more open and connected."
He Acquired Other Popular Social Media Platforms
Zuckerberg expanded his sphere of influence acquiring Instagram in 2012–paying $1 billion for the photo-sharing app. He later purchased the social media platform Whatsapp in 2014 which significantly contributed to his burgeoning wealth. Both are considered some of his biggest accomplishments to date.
Make Your Money Work Better for You
This is one of the top money lessons we can learn from the billionaire: the importance of diversifying your income sources and not relying on one income stream. We should always be exploring side businesses, investments, or passive income that can provide additional sources of revenue. Diversifying is a great way to bolster your financial stability by establishing many pathways for generating income.
He's Invested in the Future
In 2015, Zuckerberg and his wife Priscilla Chan founded the Chan Zuckerberg Initiative, pledging to give 99% of their shares in Facebook to help solve society's toughest challenges — from eradicating disease and improving education, to addressing the needs of local communities.
In 2010, he gave $100 million to the Newark public school system to hire consultants as the district expanded charter school access. The initiative also announced an investment of $3 billion for curing the world's diseases. 
Giving back — by giving away a lot of money to good causes — is one of Zuckerberg's greatest investments. In 2013, he donated $990 million to charity, making him one of the top philanthropists that year.
The lesson here? Donating to charity can be personally rewarding and fulfilling. It provides a sense of purpose and satisfaction knowing your resources are making a difference in the lives of others.
But it also does more than that. A thriving community and a healthy environment can lead to long-term benefits for everyone, including yourself and your loved ones.
He Changed Facebook's Name to Meta
In one of his most ambitious achievements yet, Zuckerberg is creating a new digital world.
Make Your Money Work Better for You
In 2021, he introduced Meta as a social technology company, describing his vision as: "The metaverse will feel like a hybrid of today's online social experiences, sometimes expanded into three dimensions or projected into the physical world. It will let you share immersive experiences with other people even when you can't be together — and do things together you couldn't do in the physical world. It's the next evolution in a long line of social technologies, and it's ushering in a new chapter for our company."
According to New York Magazine, earlier this year, Zuckerberg's Metaverse has grown at the fastest rate since becoming a public company. After bottoming out last November, the company's shares have more than doubled, and Zuckerberg's personal wealth has increased by more than $30 billion.
All to say, the wealthy tycoon recognizes the power of long-term investing. Rather than chase after short-term gains, he encourages others to adopt an approach of patience and forward-thinking focus. 
You can follow his lead by putting your money into assets like stocks, real estate, or retirement accounts with a long-term perspective. This strategy enables your investments to grow over time and secure your financial well-being in the years to come.
More From GOBankingRates
Make Your Money Work Better for You