New Car Market: Prices Are About To Plummet — Is Now the Right Time To Buy?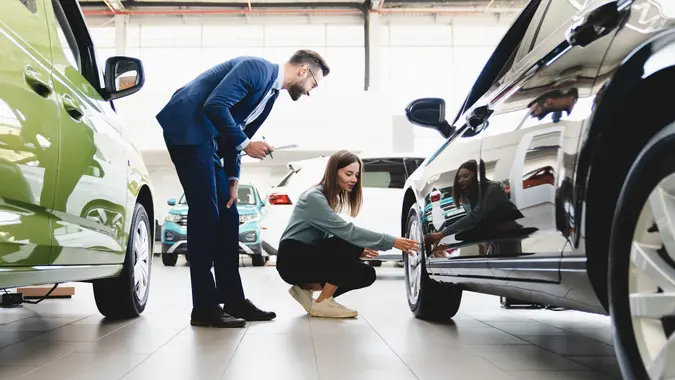 Inside Creative House / iStock.com
The U.S. car market has shifted into lower gear in only a matter of months. After average car prices hit record highs as recently as last summer, some analysts now predict that an oversupply of vehicles will lead to a price war that sends prices plummeting.
A report from UBS estimates that global car production will exceed sales by 6% this year, leaving an excess of 5 million vehicles that will require price cuts to get sold off of lots, Yahoo Finance reported. Those price cuts could be coming in this back half of 2023, and automakers are preparing for a price war. Some electric vehicle makers are already slashing prices.
"Given the bullish production schedules, we see high risk of overproduction and growing pricing pressure as a result," UBS said in a note to clients. "The price war has already started unfolding in the EV space, and we expect it to spread into the combustion engine segment [during the second half of 2023]."
Makers of family cars are most likely to suffer from price cuts, the analysts said, while luxury carmakers are expected to hold up better.
EV makers might take a major hit due to the combination of soaring energy costs and high prices that put many consumers out of reach, Yahoo Finance noted. In January, Elon Musk's Tesla slashed the price of its cars by up to £8,000 in the U.K. Some of its cheaper models are now around the same price range as mass-market brands such as Kia.
Make Your Money Work Better for You
Ford Motor Company and Lucid are among the other car manufacturers that have reacted to Tesla's cuts by lowering their own EV prices, according to the Proactive Investors website.
An August report from Kelley Blue Book found that new EV prices dropped about 19% from June of last year. Average new car transactions are still pretty flat, but that could change soon. "We can tell you that new vehicle price inflation has almost disappeared this year," the report said.
More From GOBankingRates