You'll Soon Pay Less at AMC Theaters Depending on Seat — Will the Move Be Well-Received?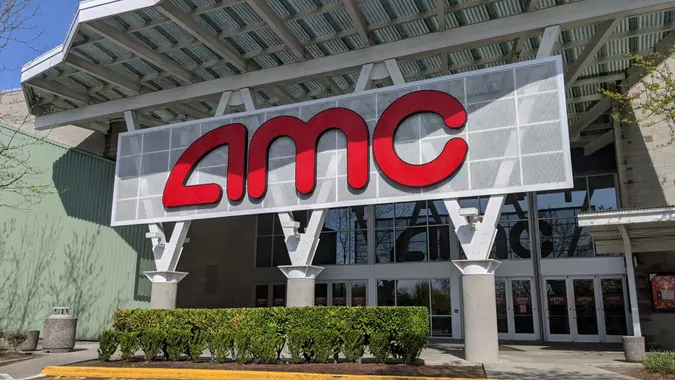 Colleen Michaels / Getty Images
AMC Entertainment is changing the way it charges moviegoers. Pricing will now depend on your chosen seat. The new initiative, announced on Monday, is called Sightline at AMC and gives customers a few different seating options at different costs.
The Future of Finances: Gen Z & How They Relate to Money
See: With a Recession Looming, Make These 3 Retirement Moves To Stay On Track
Standard Sightline
Described in the press release as "the most common in auditoriums," these seats will be available for the traditional cost of a ticket. 
Value Sightline
These seats are in the front row of any AMC theater and also include select Americans with Disability Act-compliant seats. They are available at a lower price than Standard Sightline seats. These reduced prices are only available to AMC Stubs members, including the free tier membership — AMC Insider.
Preferred Sightline
Typically the most coveted in any auditorium, the are the seats in the middle of the theater and are priced at a "slight premium" to Standard Sightline seats. AMC Stubs A-List members have the ability to make reservations in the Preferred Sightline Section at no additional cost. 
Make Your Money Work Better for You
In the press release, AMC stated that theaters that offer the pricing initiative will provide a detailed seat map that clearly outlines each seating option during the ticket purchase process online, on the AMC app and at the box office.   
Sightline at AMC doesn't apply to all movie showtimes — just those that begin after 4 p.m. at participating locations — and is not applicable on AMC's Discount Tuesdays. The new initiative has already rolled out to select AMC locations and will be expanded to all domestic AMC and AMC Dine-In locations by the end of the year, according to the company's press release.
This latest move by AMC is a clear push to generate money — and memberships, which equal money — after a tumultuous few years, during which the world's largest movie chain has stumbled to regain its footing amid the pandemic. In 2020, AMC reported a net loss of $4.6 billion. Many locations permanently closed their doors, and revenues for the company plummeted 77.3% to $1.2 billion in 2020, down from $5.5 billion in 2019, Variety reported.
Though the pandemic has largely died down since the successful rollout of the COVID-19 vaccines, AMC has yet to fully recover from its impact. Following a $110 million capital raise and reverse stock split proposal in December, its stocks plunged to a 52 week low, CNBC reported. In 2022, AMC stock was down nearly 82%.  
Make Your Money Work Better for You
Will the Sightline move pay off so that AMC can finally stabilize? It may help, but t's not yet clear whether consumers will warm to it. Ultimately, this means paying more for seats that previously were first come, first serve — and making the moviegoing experience more like the concert or sports-watching experience. It's a big change.    
Take Our Poll: What Are Your Financial Priorities in 2023?
Discover: How Much Will a Super Bowl Ad Cost in 2023?
"The success of this move and its reception by consumers is uncertain but may help increase the company revenue, which may be positive for the stock," said Andrew Lokenauth, personal finance expert and founder of Fluent in Finance. "This strategy closely aligns with pricing practices in other entertainment and sports venues and may help the company."
Make Your Money Work Better for You