Meet the Husband and Wife Team Behind an Innovative Pest Control Company Started During the Pandemic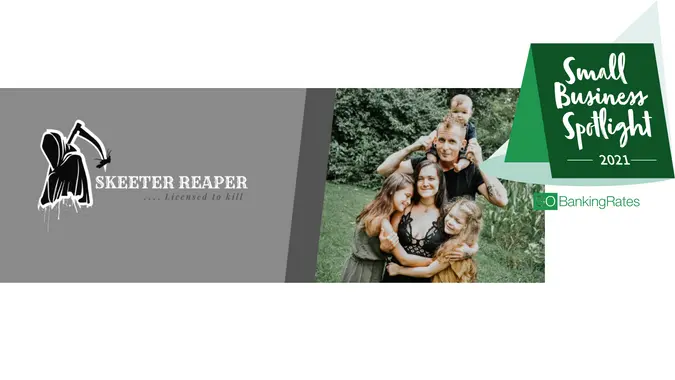 https://www.skeeterreaper.com/ / Skeeter Reaper
We here at GOBankingRates want to help get our nation's small businesses back on their feet after the COVID-19 pandemic. To do that, we're highlighting readers' favorite small businesses around the country, and shining a spotlight on what makes them special to their customers and their towns.
In this edition of our Small Business Spotlight series, we're featuring Skeeter Reaper, an Illinois-based family-owned and operated pest control business that prides itself on fast, efficient and transparent service. Here, we chat with co-owner Ashlee Gaither about how starting a business has benefited her and her husband's home life, the example she wants to set for her three children and why you should "start now" if you're dreaming of starting a business of your own.
2021 Small Business Spotlight: Check Out Our Small Business Stories, Plus the Nominated Businesses Near You
Was there a particular moment or experience that inspired you to start your business?
After the birth of our son, our third child, we knew we needed a change. Our son was born at the beginning of the COVID epidemic and things were shockingly eerie. Job security was a major concern, not to mention our family's health. My job in the foodservice industry was at a stand-still, as well as my recovery from an emergency C-section, and my husband [Dean] had to quickly get back to work. He was working from before the sun came up and wasn't home until almost dark. We both were at a loss for where to turn from here. We knew we couldn't have a valuable home life while being apart for so long.
Make Your Money Work Better for You
We decided that we would finally take action and take our skills and start our own business that we could be proud of. I handle all of the behind-the-scenes mechanics of the business, and my husband uses his skills and knowledge in pest control to administer the applications. It was intimidating to take such a leap, especially with so much at stake, but it has been so rewarding to have each other so close and to be able to build something together.
More Small-Business Success: Meet the Ohio Grandmother Who Launched a One-of-a-Kind Candle Company During the Pandemic
What did you take from past experiences or jobs that you knew you wanted to be a part of your new business?
My husband has over eight years of experience from prior lawn care positions in his past employment. I have studied psychology, art, management, web development and UI/UX design in college. I am a forever student, and I am still learning as we go. By taking all of our previous knowledge and experience and mixing it together, we have created a working potion that is Skeeter Reaper. We are always working on new ways to improve and test different methods for better results for our customers and prospective customers.
Make Your Money Work Better for You
Check Out: New Jersey Fitness Studio Provides a Haven for Women To Get Fit and Have Fun
What has been the most rewarding aspect of being a business owner?
The most rewarding aspect of being a business owner is the sheer magnitude of accomplishment that comes from building something from nothing and creating something beautiful and successful from it. We are so blessed to have the opportunity to work for ourselves and provide for our family. Nothing is better than being able to make time for our three children and show them that anything is possible through hard work and perseverance.
Related: Sister-Owned Visual Studio Captures the Art of Authentic Storytelling
How has the pandemic affected your business?
The pandemic has been difficult for many businesses. For us, we were fortunate enough to be able to start our business during the pandemic. We had the extra time from being on the stay-at-home order to pause and reflect on what matters most to us. We took this time to construct a new way of life for our family. We are thankful for being able to bring this business to fruition.
Make Your Money Work Better for You
Check Out: Atlanta Children's Theater Trains the Stars of Tomorrow
How can people continue to support your business during this time?
We are indebted to those who have supported us thus far and to those who will support us in the future. For anyone looking to protect their family from pests, please visit us at our website, SkeeterReaper.com, for more information on our services, subscription plans and pricing, and follow and like us on Facebook for our updates on current happenings and collaborations, and tips and tricks on how to further protect your family from outdoor pests. If you know anyone who can benefit from our services, please recommend our company to those in need. We truly appreciate all of the support and efforts to help other small businesses flourish.
Read More: A Musical Couple Teaches Kids of All Ages How To Rock Out
What advice would you give to someone who wants to start their own business?
The best advice I can give to anyone looking to start their own business is to start now. If you're on the fence and have reservations, don't let that hold you back. You've got this! If this is your passion, do not give up on yourself — the rest will work itself out. Use all of your resources. Your tribe is there to support you, and you will find that others will gravitate toward your direction and will match that energy to help raise your vibration. Start now. There is no greater tragedy than looking back and wishing you had initiated earlier.
This interview has been edited for clarity.
Last updated: June 29, 2021
Make Your Money Work Better for You